Where is Vinpearl land:
Vinpearl land belongs to Hon Tre, Tp. Nha Trang, Khanh Hoa. As one of the most famous tourist destinations in Nha Trang. Once visitors have come to Nha Trang to discover Vinpearl land. With the most exciting entertainment and entertainment services available today.
From the hotel in downtown Nha Trang, you can catch a taxi from the hotel to Vinpearl land, about 50,000 VND.
Once you get on the hanging fox, be prepared and have fun.
THRILLING GAME
6-slide track (Multi Slide)
With a height of up to 15m and a total length of 100m, the 6-lane slide game will be an exciting discovery for young people who want to adventure in thrilling games.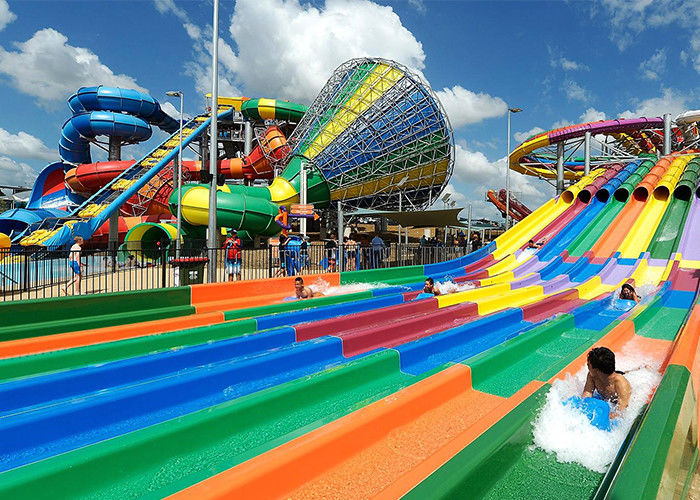 Kamikaze (Kamikaze) slide
Suicide army is a game for young people who want to affirm their recklessness, fearlessness, racing at the speed of up to 60km / h. With 2 different sliding directions, the suicide army gives the player the feeling of flying off a 21m high slide.
Body Slide (Body Slide)
Is a game suitable for all family members, 13m high body slides, there are 3 slides designed with a variety of colors, different structures, bringing challenges from easy to difficult for players. .
Space black hole slide (Space Hole)
Building on the idea of ​​one of the most bizarre phenomena in the universe – the phenomenon of black holes (which are objects of gravity so strong that all matter so close is sucked in), the game Hole Cosmic black will give visitors a sense of the speed of light in the 19m slide.
The Flying Boat slides over the hill (Flying Boat)
Flying Buoys and Hill-passing Buoys are games for 2 people from a height of 15m. On the twin floats with a great speed, you will feel like you are flying, being glided on the most modern high-speed trains.
Tsunami Slide (Tsunami)
Tsunami is a game of sticking with floats that gives you a lot of fear. Although only a height of 13m, the strong force of the wave will make even the bravest of people "stand still". Brave to overcome this initial stress and anxiety and participate in the game, you will have an extremely enjoyable experience.
FAMILY & KIDS GAME AREA
Kid's Pool (Kid's Pool)
This is a 900m2 swimming pool designed exclusively for young travelers, with a height of 1m to 1.3m. The colorful slides, pictures of cute and lovely creatures will bring a surprising and interesting feeling to children.
Wave Pool
With a wave-making lake of 1,500m2, visitors stand in front of the stormy sea. The lake creates waves with different levels of waves: there are smooth, gentle waves but there are also strong and intense waves. Visitors will experience many interesting and unexpected changes when participating in this game.
Rafting Slide
The 12m high slide, consisting of 4 slides with different turns and curves, each slide makes visitors feel excited and bring different experiences.
Family Rafting Slide (Family Rafting Slide)
For 6 members of a group of family or friends sitting around to protect each other while traveling on a vast river. In order to create a successful and interesting 12.5-meter-high waterfall journey, without impact, without knocking down, the members of the group must unite and coordinate in a coherent and focused way. on the journey to the highest level.
Lazy River
Lazy River is an ideal place to relax for visitors after stressful challenges and endless laughter at the thrilling game area, or the family game area.
STRONG FEELING GAME AREA
Adventure In The Mines
The Mines Adventure opens a unique adventure on the track up to 1000m with extreme thrills, the express train takes you through the mountain, exploring mysterious mines with bends. Spectacular, promises to bring the feeling of indescribable excitement!
Super speed music rotation (Booster Music Express)
One of the latest games with super-fast-paced music-based experience, giving you the ultimate feeling of freshness in every spin!
Place: Ocean Square
Alpine Coaster – Asia's first island skid system
Alpine Coaster Vinpearl Land with a length of 1,760m and the height difference between the two largest stations in Southeast Asia (133m). With a total of 50 sleds, Alpine Coaster will pick you up at the station at the foot of the mountain and take you to the summit station (at an altitude of 140m above the sea) using a straight line system that extends 540m. From here, visitors will enjoy walking, sightseeing, taking souvenir photos and admiring panoramic views of Nha Trang Bay or the beautiful coastal city. After that, Alpine Coaster will take visitors to experience the true thrill of sliding down a winding road of 1,220m.
High season (June 6,7,8): 9:00 – 22:00
Low season: 9:30 – 21:00 (Sunday to Thursday) and 9:30 – 22:00 (Friday, Saturday)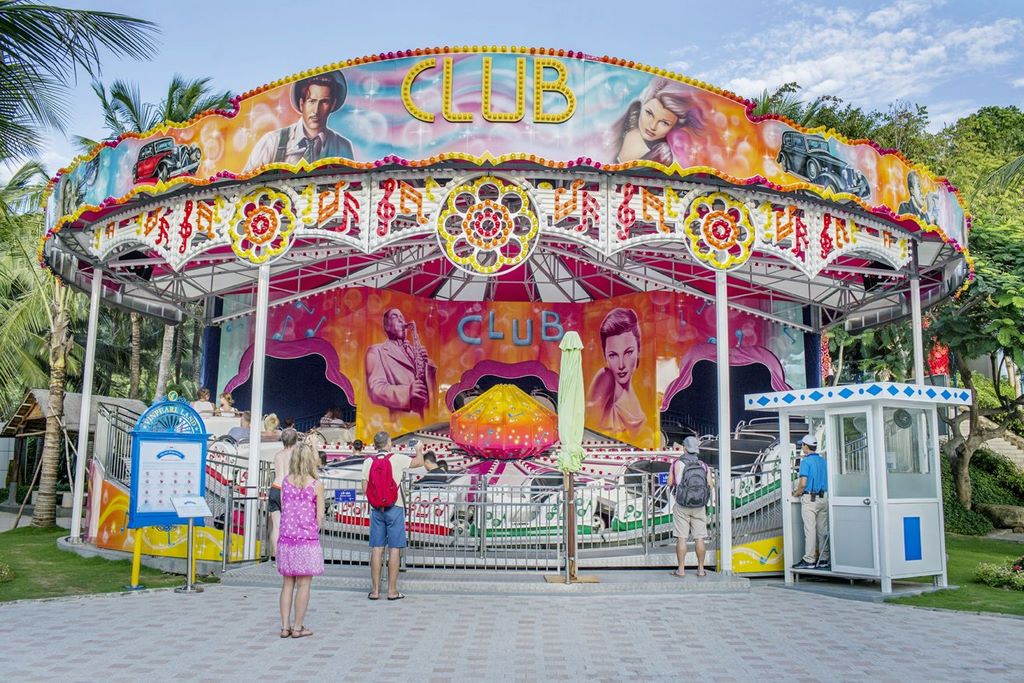 Thrilling Ferris (Evolution)
Thrilling ferris (three-way ferris) is one of the games listed in the list of adventure games at Vinpearl Land Nha Trang amusement park. The game is an opportunity for travelers who have courage, love the discovery to show their bravery
Swing Carousel
In a rotating or tilting position with a height of 3m, the cable carousel game makes you feel like you are flying in space, falling freely and splashing in the air.
Roller Coaster
True to its name, Roller coaster is a game that changes speed and direction abruptly. On the winding rails, the gliders will bring you to the feeling of strong swaying and thrilling moments.
Pirate Ship (Pirate Ship)
The pirate train rushes forward, drifting backwards will bring you the feeling of flying in the air and the excitement howling for you.
Sky Drop
Free falling tower brings breathtaking experience to anyone who is passionate about this game. From the ground, you will be pushed to the top of the tower with a height of over 20m; At this highest position, if you are brave enough, open your eyes to enjoy the panoramic view of the romantic blue sea before experiencing the feeling of complete freedom.
Giant Sky Chaser
A combination of altitude and speed, the game lets you experience the feeling of "racing" at an altitude of over 10m with colorful cars.
FAMILY AND KIDS GAME AREA
Bungee Jumping
Bungee is a jumping game for travelers who love and love the feeling of "flying" in the air with acrobatic movements, jumping and jumping with excitement. With a well-connected pillar, cables and seatbelt system, Bungee helps you complete jumping, swinging, safe and skillful acrobatics, not inferior to professional acrobats. .
Ferris Balloons
Join the children back to their childhood with the 12m high, colorful wheel turns and take full view of Nha Trang Bay and the Vinpearl Land Ferry Port area.
Merry-go-round
With the soaring rotation, the game Swing the animal not only brings excitement to the children but also brings a sense of recovery and memory of childhood memories for adults.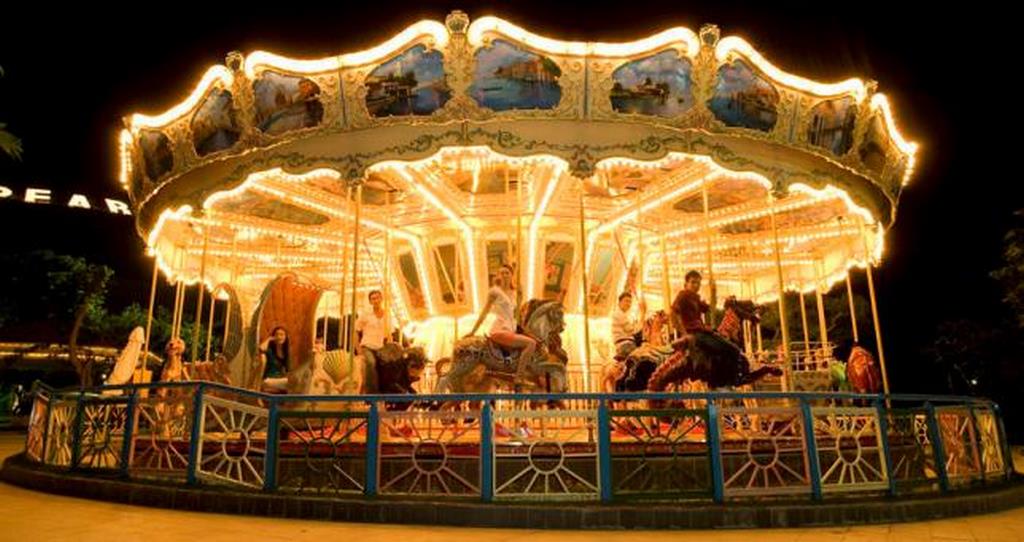 Elephant Ferris Wheel
Games with chairs designed in the form of funny elephants will take the kids on an exciting aerial tour. The special thing about the game is that the children can adjust to fly up or lower when participating in the game.
Rotating cup
Spin around in colorful cups. This is a highly safe game, suitable for children.
Bumper car
The tram system here is designed with high safety. This place promises to be a place that attracts a lot of players and brings refreshing moments for you and your family.
GAME AREA
Supermarket Games
A convergence of exciting and new electronic games such as horse racing, hammer beating, motor racing, shooting, auditon … Game supermarket in Vinpearl Land amusement park will bring you minutes. Relaxing and relaxing seconds with family and friends. Holding the card into Vinpearl Land Park, you can freely choose the games of the Game Supermarket of your liking to play unlimited times.
Child's Paradise
Children's paradise converges many new and interesting games for children such as: Supercar, Children train, Puppies, Floating houses, Ball houses, Rails on ducks, Games continuous …
Fairy Garden
The world of colorful fairy characters still appears in the childhood dream realized with little tourists visiting the "Fairy Garden" of Vinpearl Land Park in Nha Trang. At the "Fairy Garden", parents can send their children by the hour and be completely assured because the children will have fun and care.
Karaoke room
Karaoke room with modern audio equipment will be the place for you and your loved ones to sing. Songs and music with many different styles not only help you to express yourself freely, but also contribute to uniting family members and groups.
AQUARIUM
As the first large-scale Aquarium, belonging to the most modern Aquarium system in Vietnam, Nha Trang Aquarium always has a strange attraction to all visitors to visit and have fun at Vinpearl Land Amusement Park Nha Trang . The Aquarium has an area of ​​3,400m2, nurtures and displays more than 300 rare and fancy marine species, imported from many different countries, arranged and divided into areas: climate in North Asia, Marine Biology Zone in South Asia, Marine Biological Area in the Amazon climate, Marine Biology in coastal climate zone … The entire Aquarium is a 2-storey building block in the heart An artificial mountain, with a closed farming technology system, invested and built to meet the strict requirements of the world's technical standards. Move by the escalator system to explore Aquarium and admire the sea creatures in the heart of the modern tunnel, you will feel like you are traveling on the ocean floor, and have fun with countless species. Brightly colored sea creatures. In particular, Vinpearl Land Aquarium Nha Trang also offers visitors a shimmering world with unique art performances such as the show Mermaid – where visitors can admire the beautiful mermaids beautiful steps from a fairy, or fish feeding program – with healthy divers, playing and taking care of the inhabitants of Aquarium.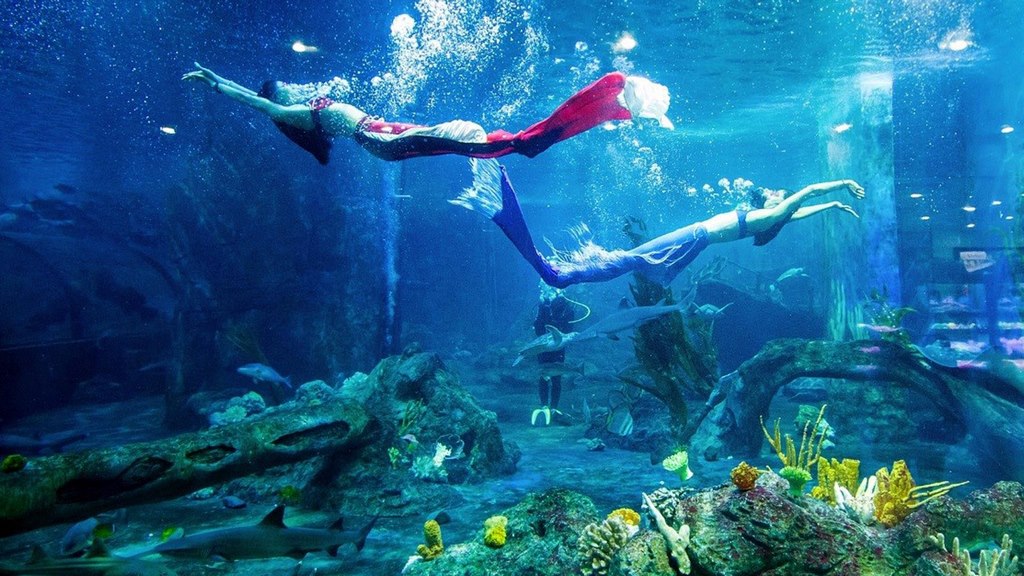 PERFORMING ARTS
In addition to the underwater, indoor and outdoor amusement parks, Vinpearl Land Nha Trang is also known for its sophisticated and modern performances that are only found in the major amusement parks of the World. The most prominent is the most modern music stage in Vietnam with a capacity of over 5,000 seats, smartly designed, and equipped with excellent sound, light, fire and water systems. This is also a familiar place chosen to organize national and international cultural and social events such as Miss Vietnam 2006, Charming Vietnam 16, Final Round of the Hoa contest. Miss Vietnam World 2007, Miss Vietnam World 2010, Miss Earth 2010 … In addition, visitors to Vinpearl Land Nha Trang also cannot miss the opportunity to participate in many interactive shows. such as Street Carnival, Street Magic, stilts … at Dolphin Square and Ocean Square at fixed times every day or weekend.
CUISINE VILLAGE
Stretching on a romantic beach with a natural paved road, the food village is an ideal destination for guests who love the peaceful, fresh and romantic atmosphere. Every day, at Food Village's restaurants, guests can choose to have meals with a variety of ready menus from 100,000 VND to 250,000 VND. Under the skillful and talented hands of professional chefs, whether in the luxurious restaurant space or sitting under the open courtyard overlooking the romantic sea, visitors can rest assured to enjoy the delicious dishes in accordance with his hobbies.
Especially, on the occasion of Tet holidays, in order to meet the passion and desire to explore the cuisine of travelers, the food village often organizes unique party programs with a rich menu. Can be buffet buffet with dishes featuring regional flavors or the "set menu" at the request of guests. In the spacious and airy space, amidst salty sea breeze, visitors can both enjoy delicious food, listen to the murmuring waves and enjoy the poetic scenery that can only be found in Food Village's Vinpearl Land Nha Trang.
SHOPPING STREET
Inspired by the tranquility and poeticness of the ancient town of Hoi An, the shopping street at Vinpearl Land Nha Trang is designed to embellish and bring a space of traditional colors but still sophisticated, modern, and creative. shopping inspiration for travelers walking here.
Shopping street has a total area of more than 6,000 m2 with luxury booths with an area of 24 – 160m2. Main products sold in Shopping Street are jewelry, fine handicrafts, street wear, beachwear, and traditional specialties from all Vietnamese craft villages …
Ocean Film Castle
For the first time, you will have the opportunity to enjoy ultra-sharp projection technology with a realistic 4D effect with a giant movie room of up to 200 seats and 3 dome screens with an area of 320m2.
Audience will feel like living in the ocean world and join the adventure with sea creatures and the Mermaid through the movie Coral Island Fun – exclusive at Vinpearl Land Nha Trang.
MAGAZINE
Magic Castle was officially put into operation at Vinpearl Land Nha Trang on April 30, 2016 to serve customers on the occasion of the Ceremony. This is said to be one of the attractive new destinations at Vinpearl Land Nha Trang!
Located next to the indoor electronic supermarket in Ferry Port Square, right after its opening, the Magic Castle has been loved by numerous customers.
The ground floor of the Castle is a Fairy Garden with games for children in fairy-colored space. Parents are also comfortable to sit and enjoy Yummy Land's glass of water watching the baby.
1st floor of the castle with 2 4D movie rooms will bring you moments of relaxation but no less thrill with adventure movies with 4D sharp effect technology ..
The 2nd floor of the Castle with special 3D paintings is loved by young people to record very unique pictures.