1. Nem Ninh Hoa
Nem Ninh Hoa has long been a delicious dish in Nha Trang, but anyone who comes here must try it once and bring it back as a gift to relatives and friends. This grilled spring rolls is famous for becoming a brand name for Ninh Hoa – Nha Trang region thanks to its own recipes and unique flavors that are hard to find anywhere. There are two types of spring rolls that you can try: spring rolls and baked rolls.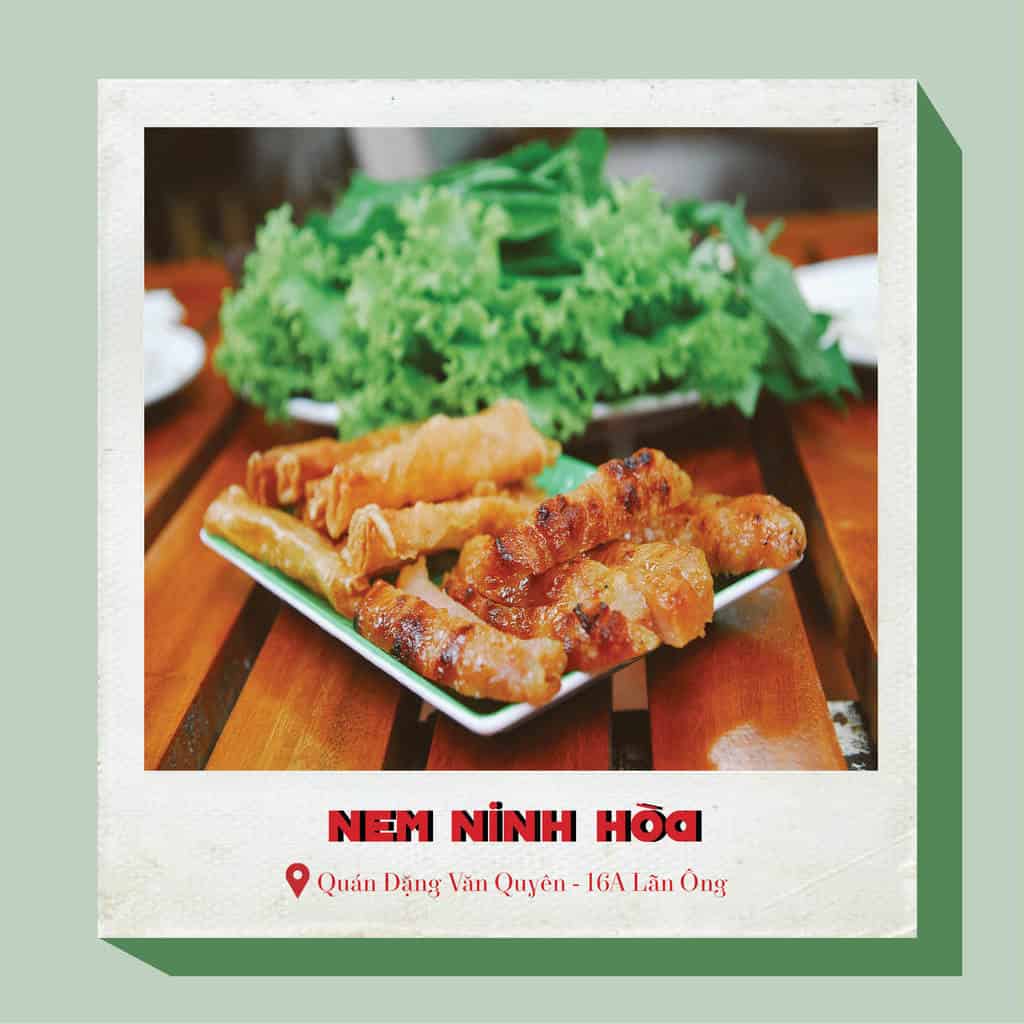 Want to enjoy the best grilled spring rolls in Nha Trang, you must come to the famous Dang Van Quyen restaurant from the 1950s to the present.
Nem chua is inherently famous. This crunchy and sour dish often appears on the tray of Central people and is served with silk rolls. And baked rolls are not too strange, but already branded Ninh Hoa, the way of processing will be different, according to the specific recipe of the region, so you should definitely try it.
Address:
Dang Van Quyen grilled spring rolls: 16A Lan Ong (Facility 1) / Số 02 – 04 Phan Bội Châu (Facility 2).
Delicious sour spring rolls from Ninh Hoa: Cay Bang Fish noodle shop, 6 Han Thuyen.
2. Noodles jellyfish
Jellyfish noodle is the second dish in the menu of delicious food in Nha Trang that you cannot leave without eating. Jellyfish noodle dish when you eat must make you say immediately "This is the taste of the sea!" Thanks to the sweet broth from fish and seafood ingredients are also extremely rich.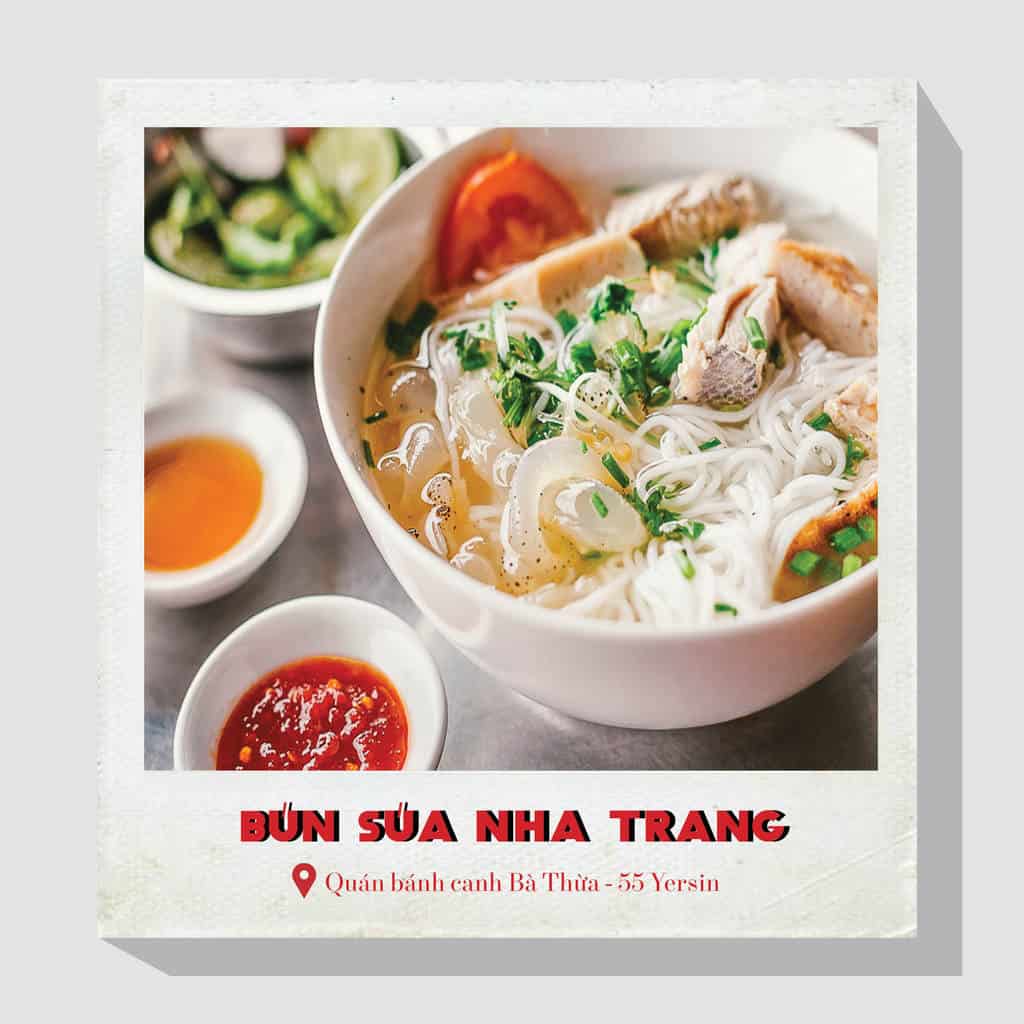 Jellyfish has a crunchy texture and is both delicious and delicious
Ba Thua soup cake – 55 Yersin, Van Thang
Nguyen Loan Restaurant – No. 123 Ngo Gia Tu.
Doc Lóc jelly noodle soup – Yersin – Ba Trieu crossroads.
Nam Beo Restaurant – Lot B2, Cho Dam Apartment, Phan Boi Chau, Xuong Huan (near Dam market).
3. Bun, fish cake soup
If you have mentioned jellyfish noodles, how can you ignore fish ball noodles / soup? This is a popular, popular dish that is very popular among Nha Trang people. Unlike the fish ball vermicelli you've seen or tried before, Nha Trang grilled fish with water noodles is fried fried fish dish, not cooked. This fish ball dish is made from fish that are fished on the same day, when you eat, you will feel the freshness hard to resist.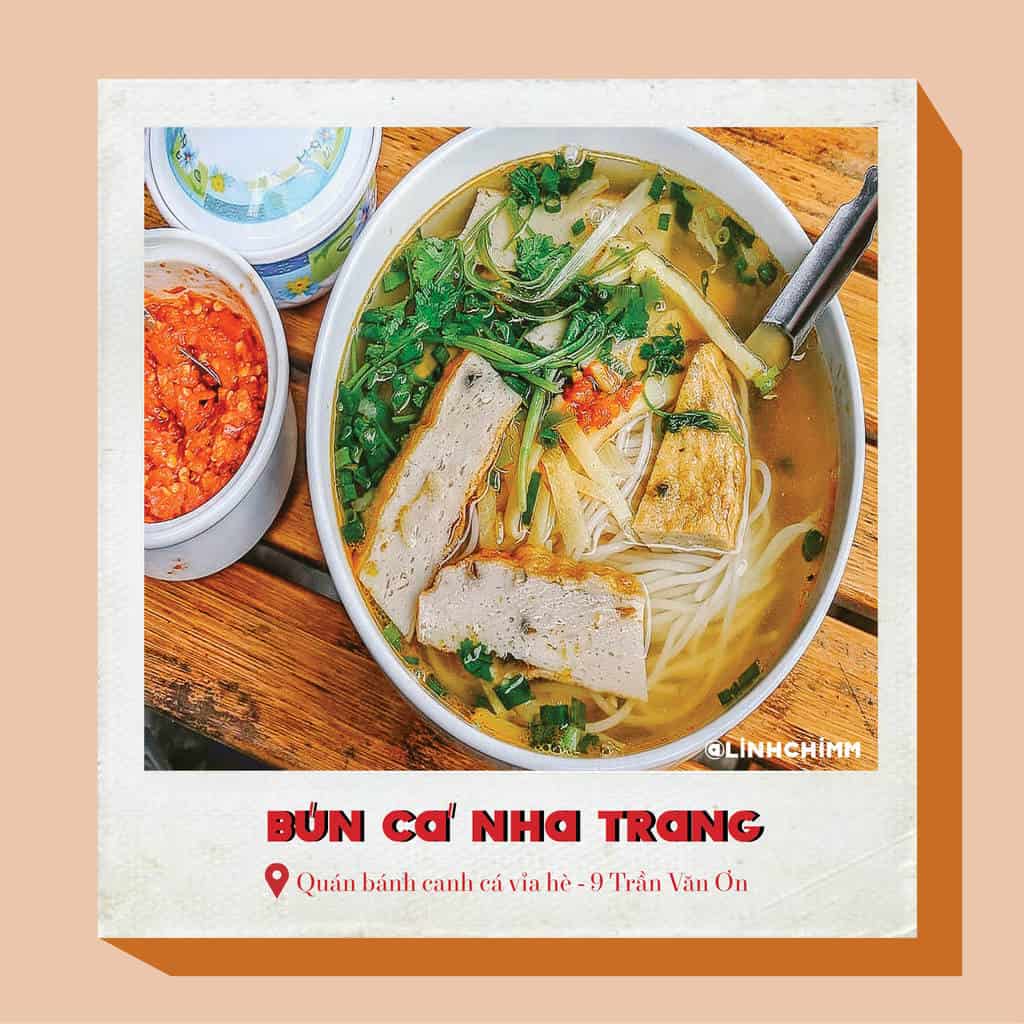 The fish cake sweet soup is also made from fish.
Address:
Cakes with sidewalk – 9 Tran Van On, Loc Tho
German Fish Vermicelli – B8 Phan Bội Châu
4. Custard cake
Can cake is one of the famous specialties of "Little Paris" in Dalat, but Nha Trang base cake has a different way of bearing the impression of the coastal city, it will definitely make you eat forever. Cakes are usually only filled with quail eggs, pork, minced beef, but the coastal city people will naturally add in the seafood dishes they are most proud of such as squid, shrimp, baby octopus or mussels.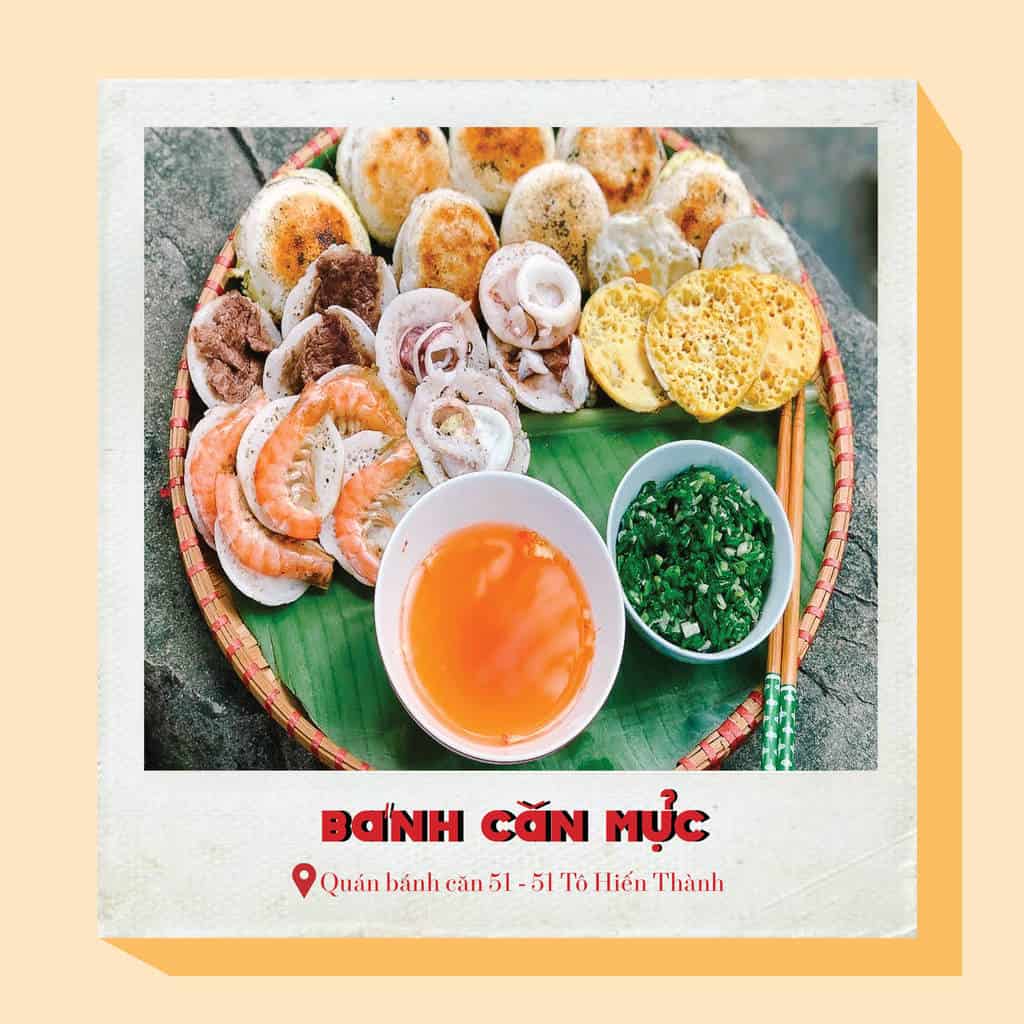 Add a spoonful of onion fat, a little crumb bread crumbs, a few pieces of shredded mango and raw vegetables.
Morning: Cake base 151 Hoang Van Thu.
Noon to Evening: Ms Quan Quan's Coffin Cake is located on Thap Ba Street (7A) – opposite to Thap Ba.
Banh base 165 Nguyen Trai (The shop is located near Nguyen Trai – Cao Ba Quat crossroads).
Banh Can 51 To Hien Thanh.
Late night: Banh cu 109, No. 18, 2/4 street.
5. Ink rim
If you mention delicious dishes in Nha Trang, you cannot forget the squid rim. Like spring rolls, squid rim is also one of the specialties Nha Trang is often bought as gifts after each trip. Squid rim in Nha Trang often use dried squid, exposed to 7 sunny, sweet, fragrant and not too chewy.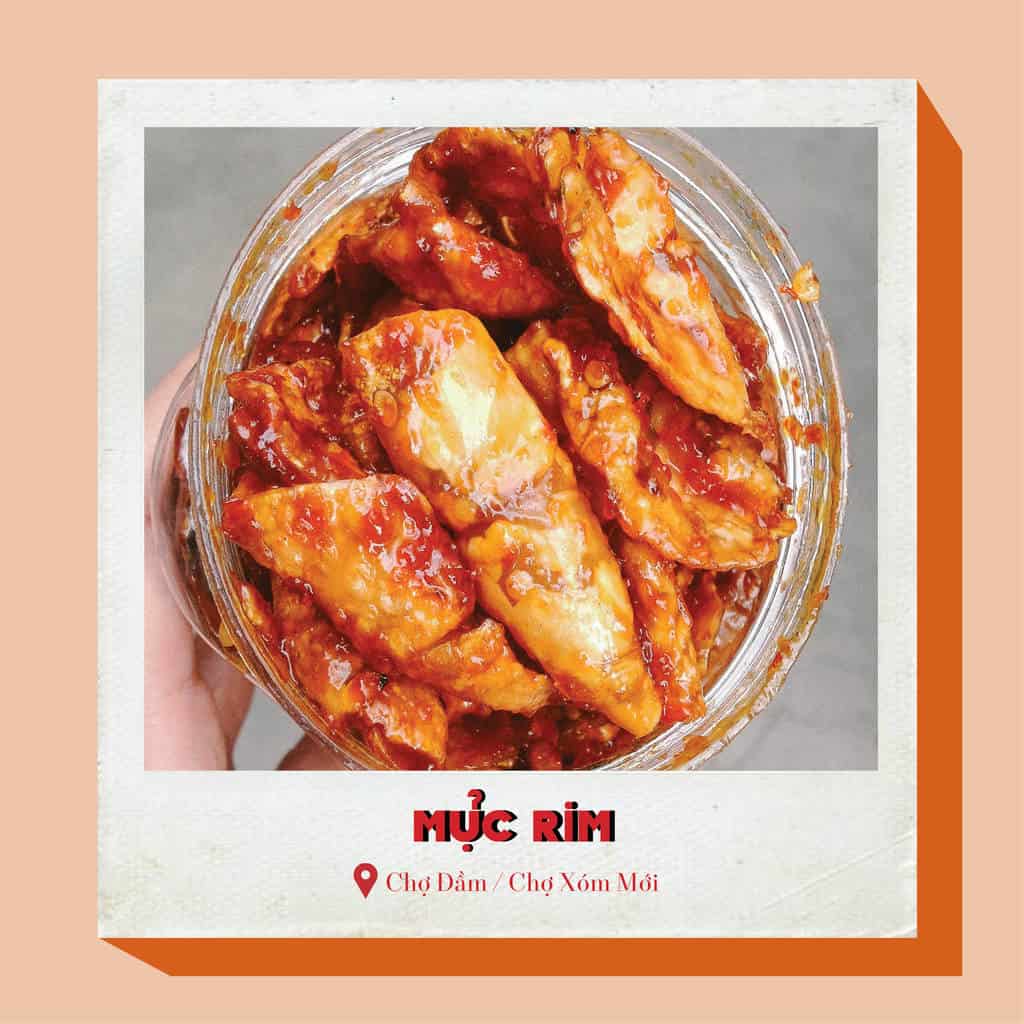 Squid rim is a famous snack for Nha Trang people.
In addition to the tamarind rim, people in Nha Trang also like to bring dried or baked squid to chili. Squid rim can be eaten with white rice, white porridge, salad or eaten as a snack. Because this is a very popular dish in Nha Trang, it is very easy to find so you can go to the markets to buy.
Dam Nha Trang Market: 09 Apartment B, Dam market
New neighbor's market: 49 Ngo gia Tu
6. Mango rice paper
Mango rice paper is a delicious dish in Nha Trang that you can only find the right taste in Nha Trang. Mango rice paper is not a rice paper mixed with shredded mango as the famous mixed rice paper snack of Saigon people but a mango used as the main ingredient, along with the usual rice paper rice flour, to create so mango rice paper.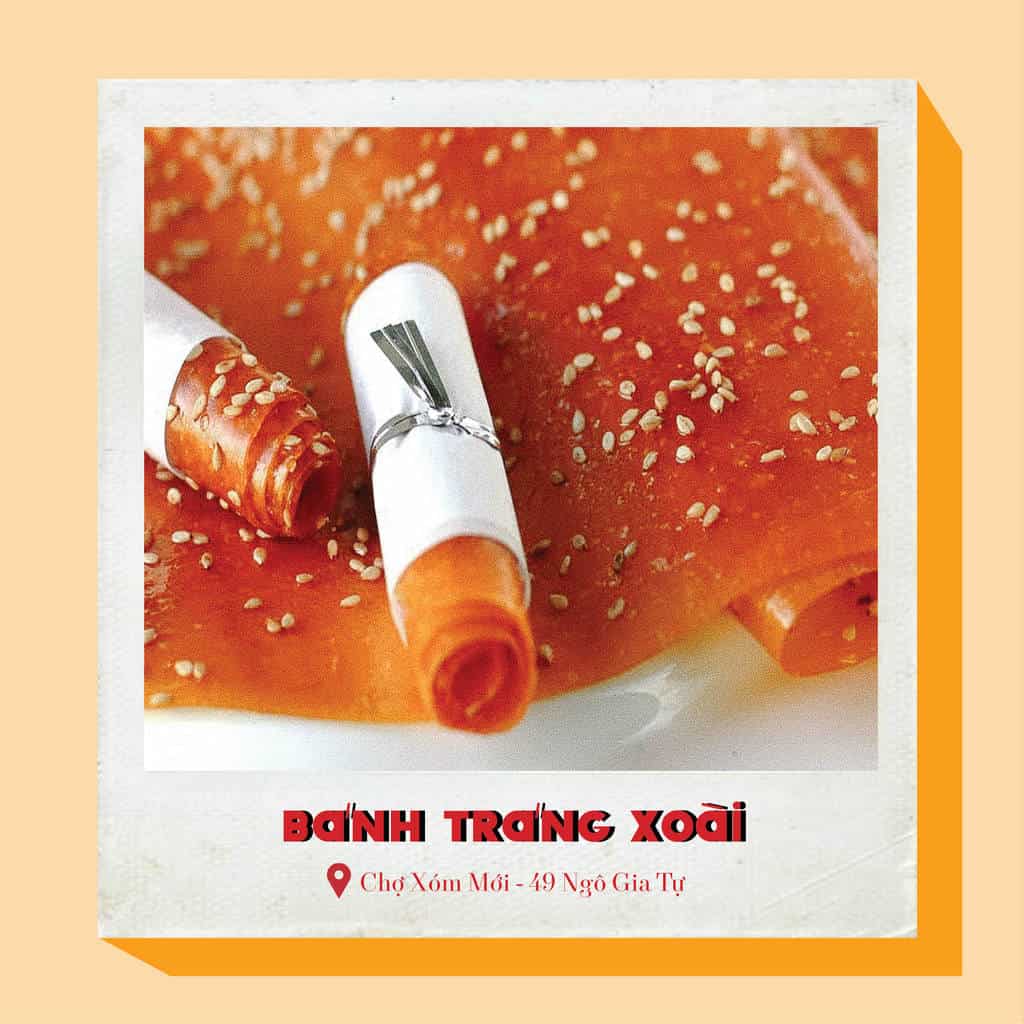 A delicious mango rice paper must have a golden color, not too dark, not too light, easy to tear and not cut the sweetness of sugar.
This famous Nha Trang delicious dish first appeared in Cam Ranh, Khanh Hoa – where is known as the land of mangoes. Because mangoes are grown too much, ripe mangoes but not sold in time, so they devised ways to make mangoes as rice paper, both preserving for a long time and preserving the delicious, sour and sweet taste of mango.
The average price of one kg of mango rice paper will be between VND 70,000 and VND 100,000. You can find it at any grocery stores and markets in Nha Trang. Or you can go to the following suggested locations to buy:
New Xom Market and shops in Dam market
11E Thai Nguyen shop
127 Yersin shop
7. Salad with shellfish
One of the most delicious dishes in Nha Trang that you can easily find at any restaurant is the fish salad. Mackerel is a small fish, clear and especially bloodless, so it is not fishy like other fish salad. Mai fish are only used for salad, not for any other food.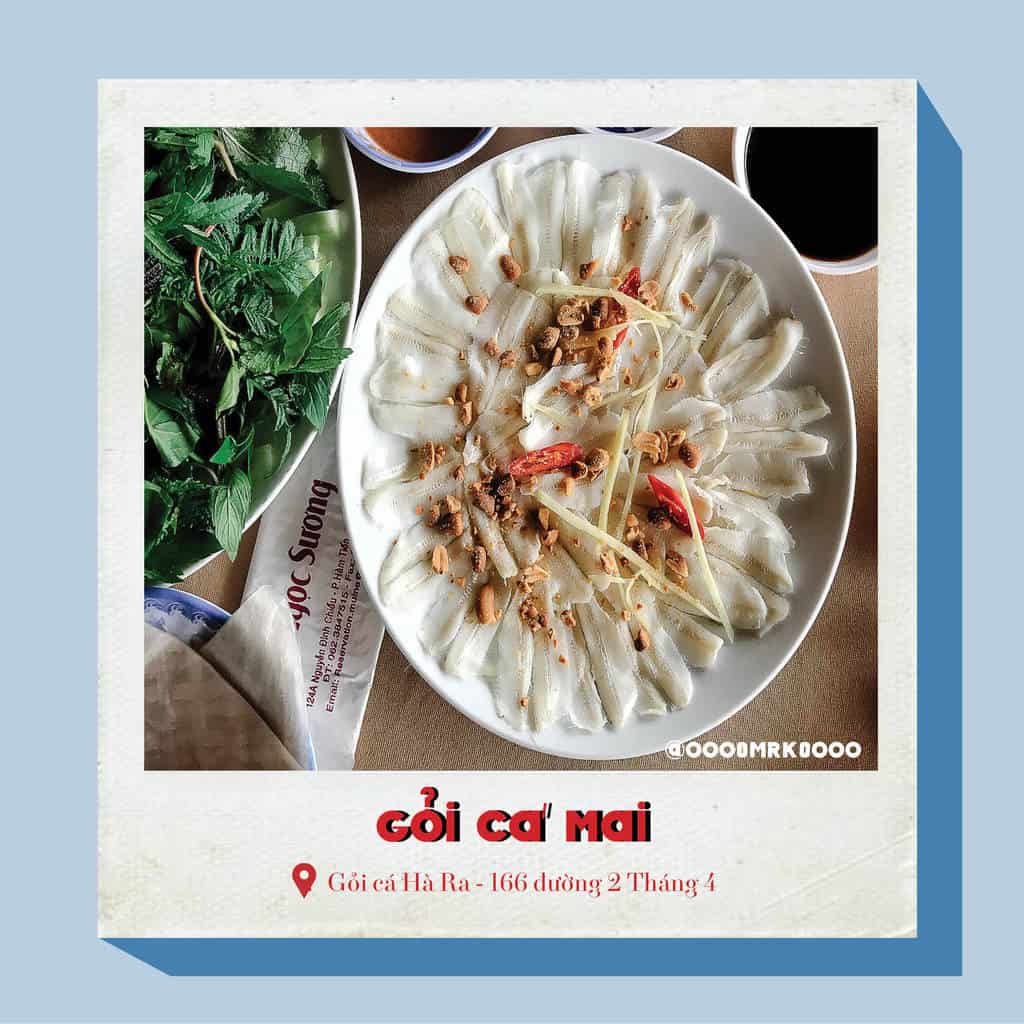 Salad with apricot fish is an appetizing dish that is easy to find in any restaurant, from popular to luxurious.
A salad of mackerel must be sweet enough from the fish, mild sour from lemon and spicy from chili. The dish of dipping sauce, usually made from apricot bone, is also carefully cared for so as to enhance the taste of the salad as much as possible.
Ha Ra fish salad: 166 April 2 street, Vinh Phuoc ward
8. Dien Khanh Wet Cake
Try wet cakes at Dien Khanh "wet cake street" is one of the certain experiences to try when coming to Nha Trang. This neighborhood is actually a street in the area of Dien Khanh town, due to the appearance of many wet cake shops open from 4 am till late to serve the casual needs of diners. So it is called Dien Khanh wet bread.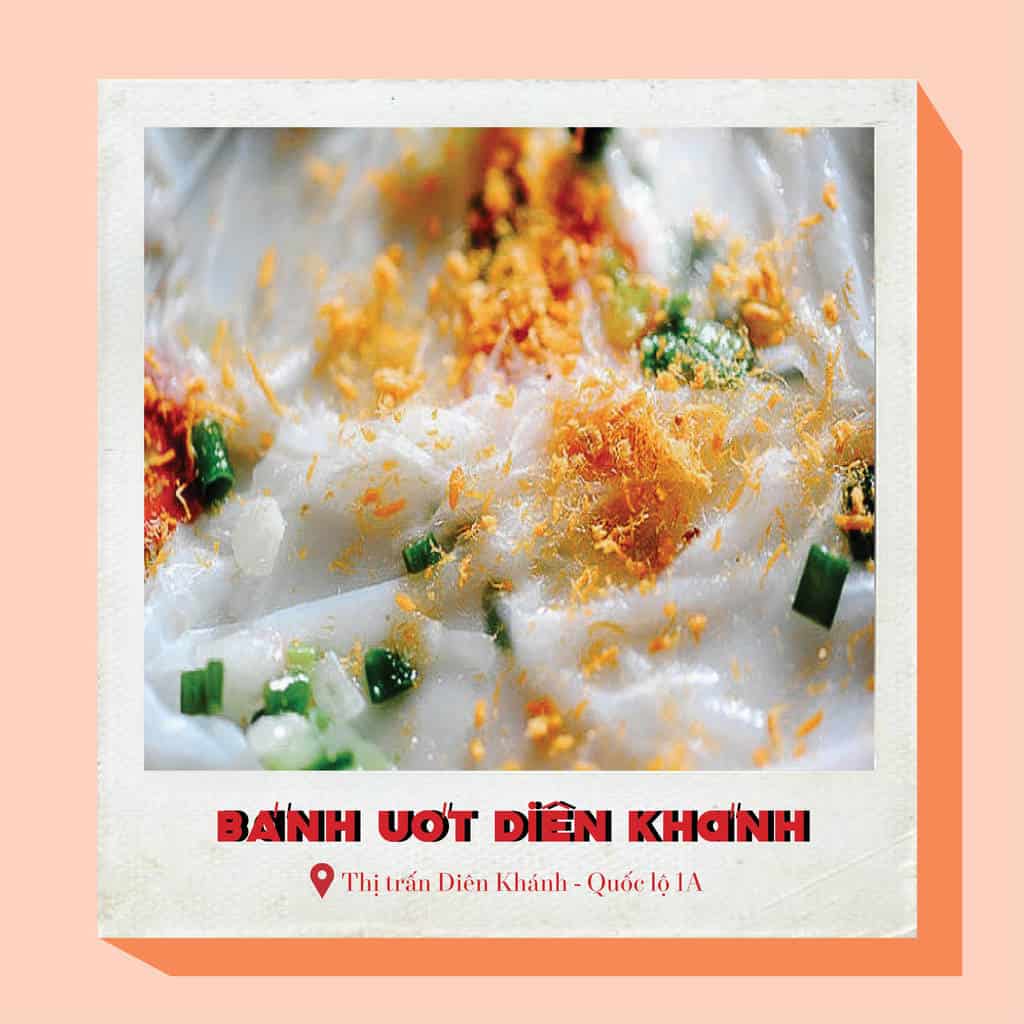 A layer of wet cake is quite thin, so it does not eat and smell of the side dishes.
So, what's so attractive about this wet cake? Dien Khanh wet cake is actually not too sophisticatedly processed. The hot cakes are delicious, so when a customer orders them, the givers start to heat the oven and rinse on the spot. Each Dien Khanh wet cake is added to the surface a bit of onion fat and shrimp paste looks extremely eye-catching, served with the price and spring rolls. More specifically, each plate of wet cake is only about VND 2,000, extremely cheap.
Dien Khanh Town – Go straight on Highway 1A, 10 km west of Nha Trang city center.
9. Nha Trang fried pancake cake
Similar to banh chung, people in Nha Trang prefer to eat banh xeo with seafood instead of pork like in other regions. The most famous kind of pancakes at the stall is also the delicious fresh squid, rich in coastal flavor.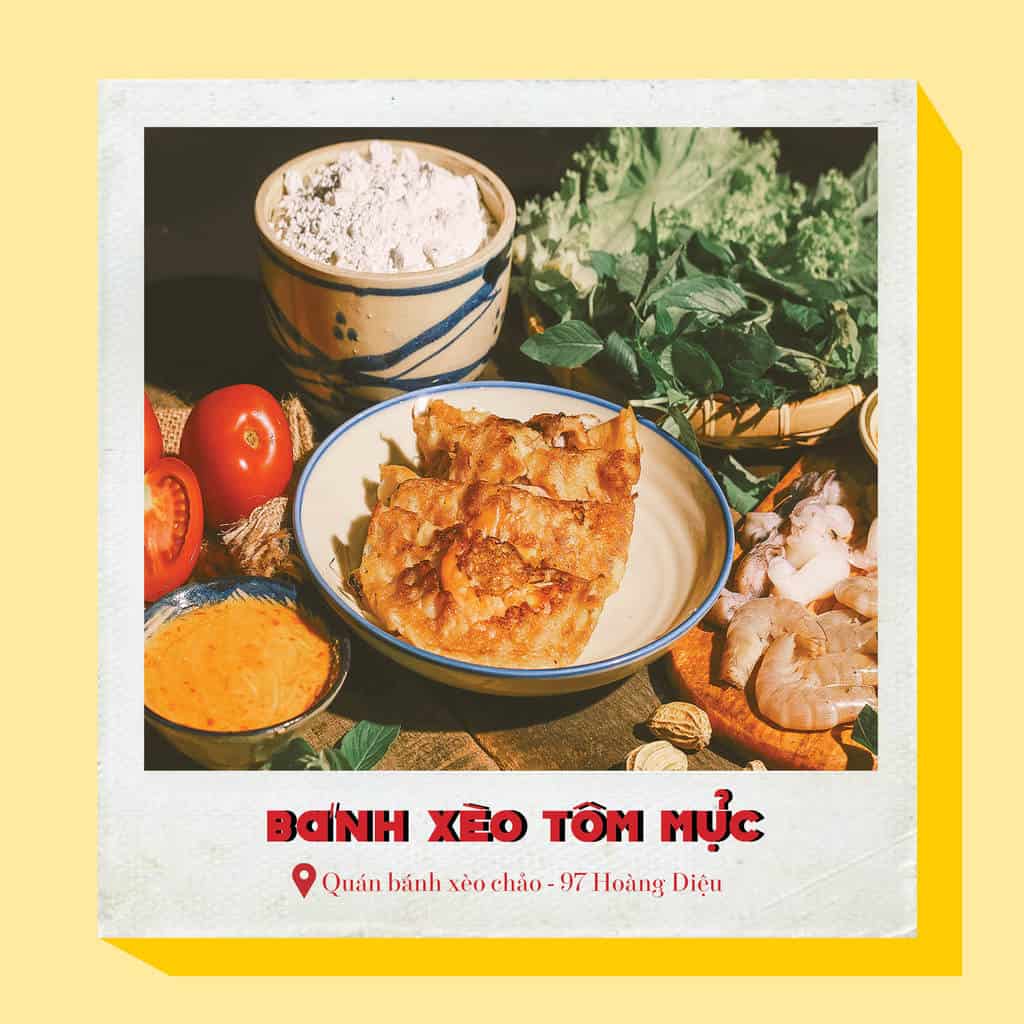 A squid pancake with shrimp costs from 5,000 to 10,000 VND.
The strange highlight of this dish is the baby milk, still fresh when caught from the sea, only washed, left as a whole, not cut into the ink as usual processing. When you bite into the squid, the gall bladder bursts, tastes slightly salty, lighter than salt, extremely rich and makes the dish more delicious. This honey is very good for health so do not worry. You can refer to the following addresses to enjoy this unique dish:
Pancakes with shrimp and squid pan – 97 Hoang Dieu
Nem 52 – 29 – 31 Le Loi restaurant
Her eight pancake pancakes – 6 Thap Ba
10. Lac Canh Grilled Beef
Surely you will be surprised that why to the coastal city that Traveloka suggested you go to eat … grilled beef? This concept is completely wrong because this is not an ordinary beef dish, but a Lac Canh beef with a famous reputation that has appeared for more than 40 years. Lac Canh is not a place like Ninh Hoa spring rolls or Dien Khanh wet cake but the name of a popular restaurant specializing in cow and their most famous dish is grilled beef.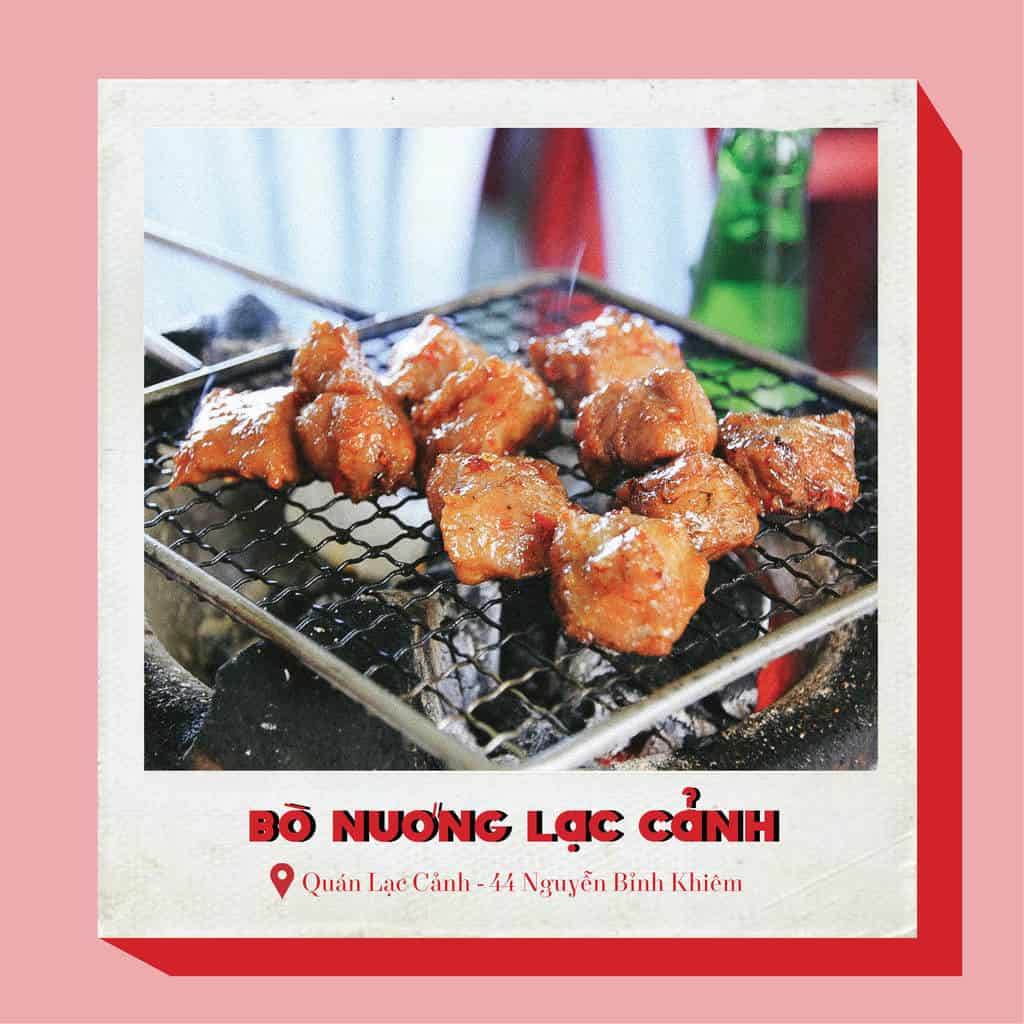 Lac Canh beef is famous for each firm, non-chewy meat, marinated with strong taste, just eaten.
Grilled beef is served with bread. You can eat it as a sandwich or the way the locals use it is to remove the inside of the bread, the bread cracks torn into pieces, soak into the remaining beef marinade in the dish and grill it. . It is great to eat with cows.
Lac Canh Restaurant – 44 Nguyen Binh Khiem, Xuong Huan.
In an average trip of 3 days 2 nights in Nha Trang, you can go through 10 delicious dishes of Nha Trang with extremely "nutty" prices that ensure you are hard to find anywhere else. To Nha Trang, have to eat "happy" stomach then enough to destroy all the frequency of super beautiful virtual places in Nha Trang. Therefore, you definitely do not ignore them the next time you come to Nha Trang!