What does Nha Trang play? Among the tourist destinations in Nha Trang, the 13 fun places in Nha Trang in the article below are the best suggestions that you should definitely visit when you come here!
1. Vinpearl Land – the number 1 amusement park in Nha Trang
Address: Hon Tre Island, Vĩnh Nguyên Ward, TP. Nha Trang, Khanh Hoa province
Opening time: 8:30 – 21:00 daily
Ticket price: about 880,000 VND / person.
Visit Vinpearl Land – the largest amusement park in Nha Trang will surely bring you and your family the most wonderful and unforgettable relaxation. Vinpearl Land Nha Trang is not inferior to any amusement park in the world. This will probably make you have fun on the way home.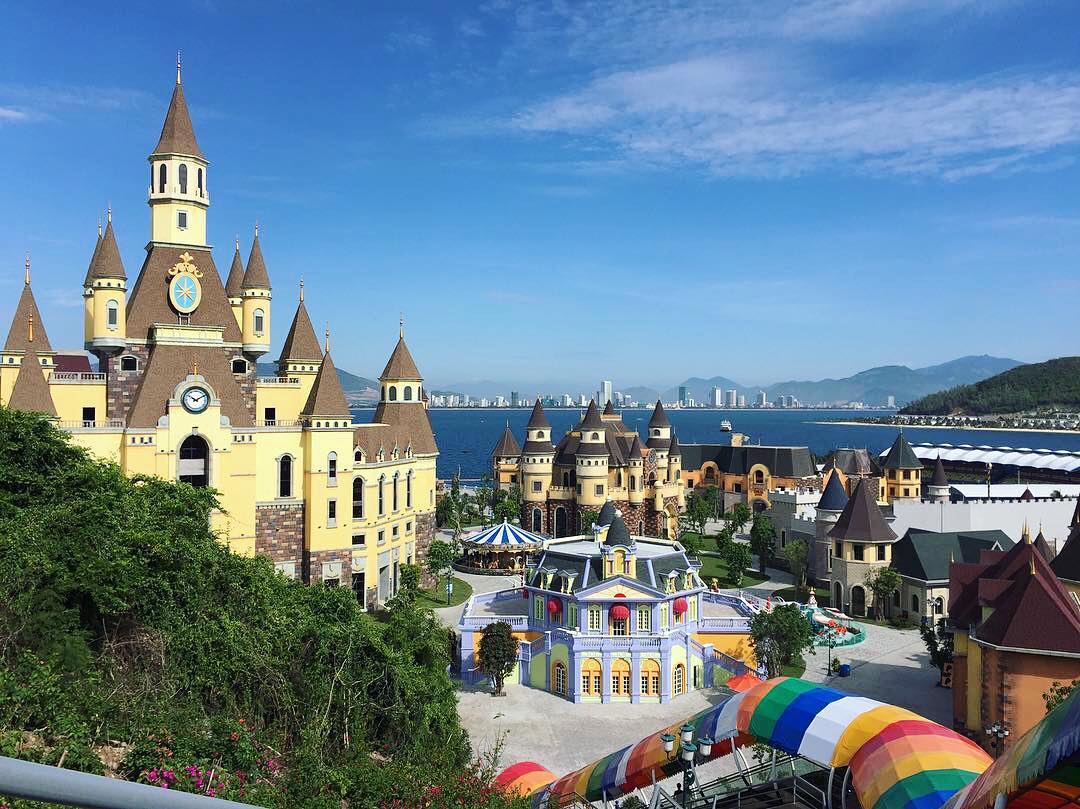 Games at Vinpearl Land Nha Trang
Outdoor play area: More suitable for those who love feeling adventurous. Certainly games such as cable-stayed swings, roller coaster … will satisfy you.
Indoor play area: Suitable for families with young children. The games in this area can not only stimulate the imagination of the children but also be able to further connect the feelings of the members.
Aquarium: Giving you the feeling of wallowing in the ocean. The aquarium impresses with the beauty of the sea creatures.

A few notes when you need to know
When traveling to Vinpearl Land Nha Trang, remember that only a 0.5 liter bottle of mineral water is allowed and no food is allowed.
Going to the water park you should prepare a swimsuit. This fun place prohibits wearing pants with buttons and pockets such as jeans, khaki, cloth … If you do not bring swimsuits, you will have to buy swimwear directly at quite expensive prices. There is no swimsuit for rent, however, you can rent towels for 20,000 VND / unit.
Don't forget your sunscreen and your hat to bring along.
Experience to Vinpear Land Nha Trang
To go to Vinpearl Land you can go in many different ways from by cable car, speedboat, boat … The cable car station to Vinpearl is located at the end of Tran Phu Street. This place is about 4 – 5km from the center. For more details, see the article below.
2. Hon Tam tourist area
Address: Tam Island, Nha Trang, Khanh Hoa
What to go play in Nha Trang? This is a question that many young people ask before preparing to explore this sea. One of the places DulichToday introduces next in the series of the most interesting places to visit in Nha Trang 2019 is the amusement park on Hon Tam Island.
Hon Tam Resort is one of the amusement parks in Nha Trang that is liked by many tourists. Hon Tam resort is invested with a system of restaurants, swimming pools, resorts, modern entertainment areas with recreational games on the sea but still retain the inherent wildness of nature.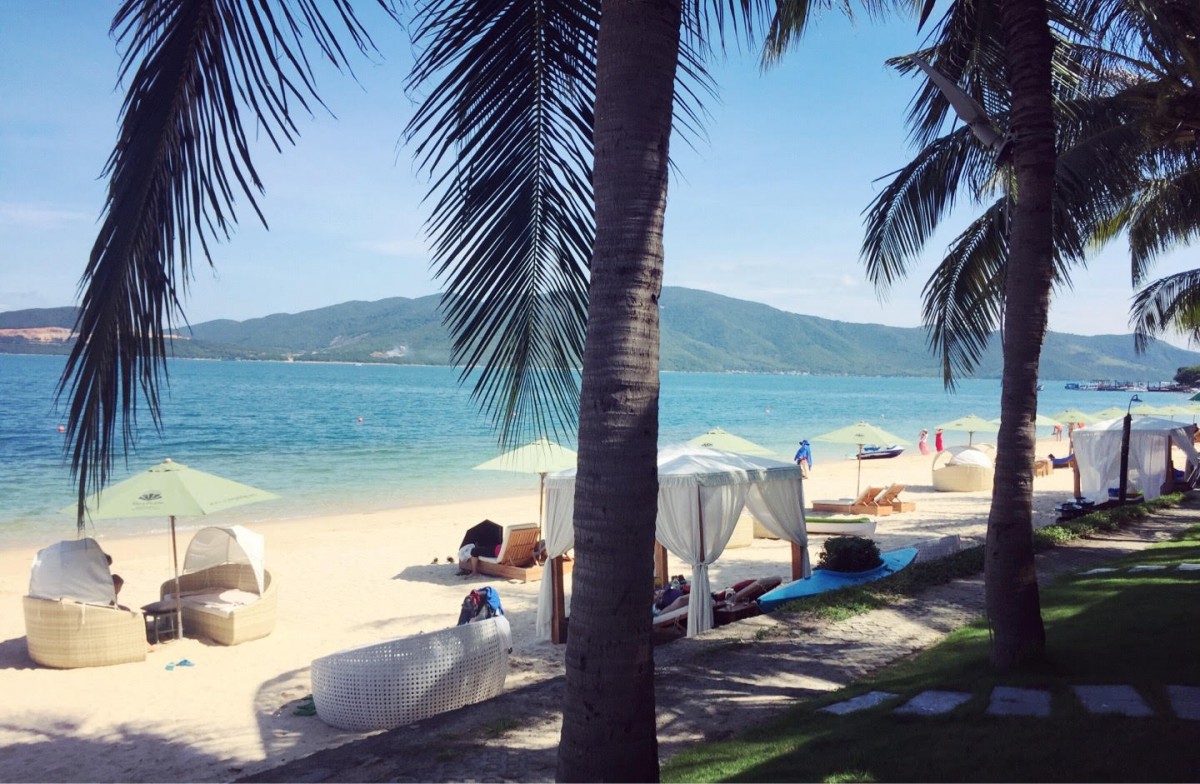 What has Hon Tam Island?
Hon Tam is a fun place for Nha Trang to include many thrilling entertainment games. Famous for not only because of the beautiful natural scenery like in the fairy but Hon Tam is also famous by the classy resort accompanied by the top entertainment area in Nha Trang. Hon Tam area is invested to build into a resort area divided into 4 main areas: golf course, Sparkling Waves – amusement park in Nha Trang with many thrilling games on the sea, resorts and Sunset Villas .
With high-class facilities and services, Hon Tam Resort is suitable for relaxation for families, or honeymoon couples. Ignoring the daily hustle and bustle completely with the sunrise, the sunset on Nha Trang beach will definitely be a great choice.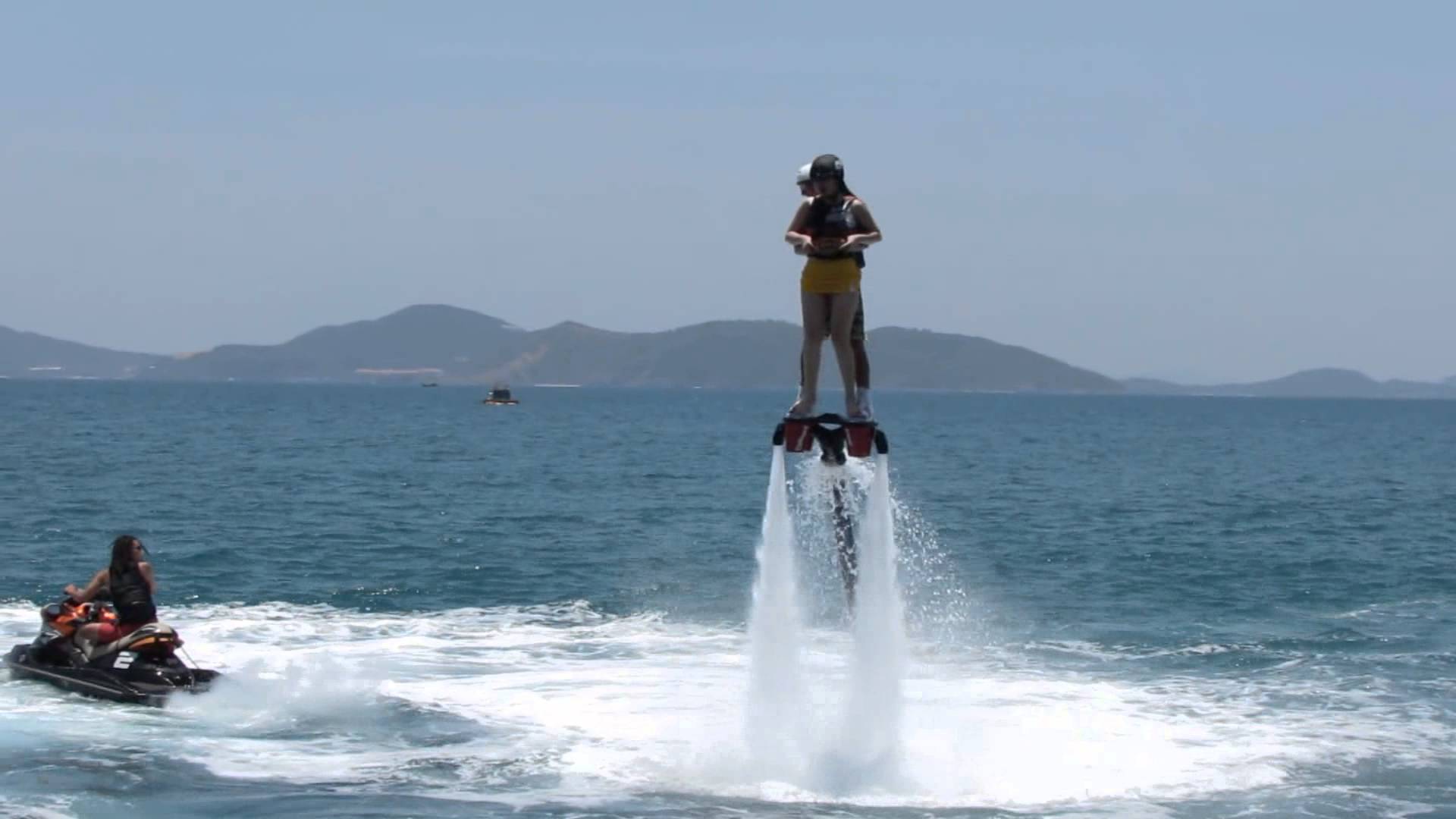 How to get to Hon Tam
To reach Hon Tam you can only go by canoe or boat. From Hon Tam wharf, canoeing takes about 10 minutes and the boat takes about 25 minutes to reach the island.
3. Nha Trang Oceanography Institute
Address: 01 Cầu Đá, Trần Phú, TP. Nha Trang, Khanh Hoa Province, Vietnam
Opening time: 6:00 am – 6:00 pm daily, open all weekend.
Entrance fee: 40,000 VND / adult ticket, 20,000 VND / student ticket, 10,000 VND / student ticket.
Museum of Oceanography, located in the Institute of Oceanography, is one of the most favorite places to visit when visiting Nha Trang. Visiting here, you and your family will admire the beauty of new marine creatures. The Oceanography Museum is invested to upgrade and develop in addition to research purposes, but also has a higher purpose than to serve community education.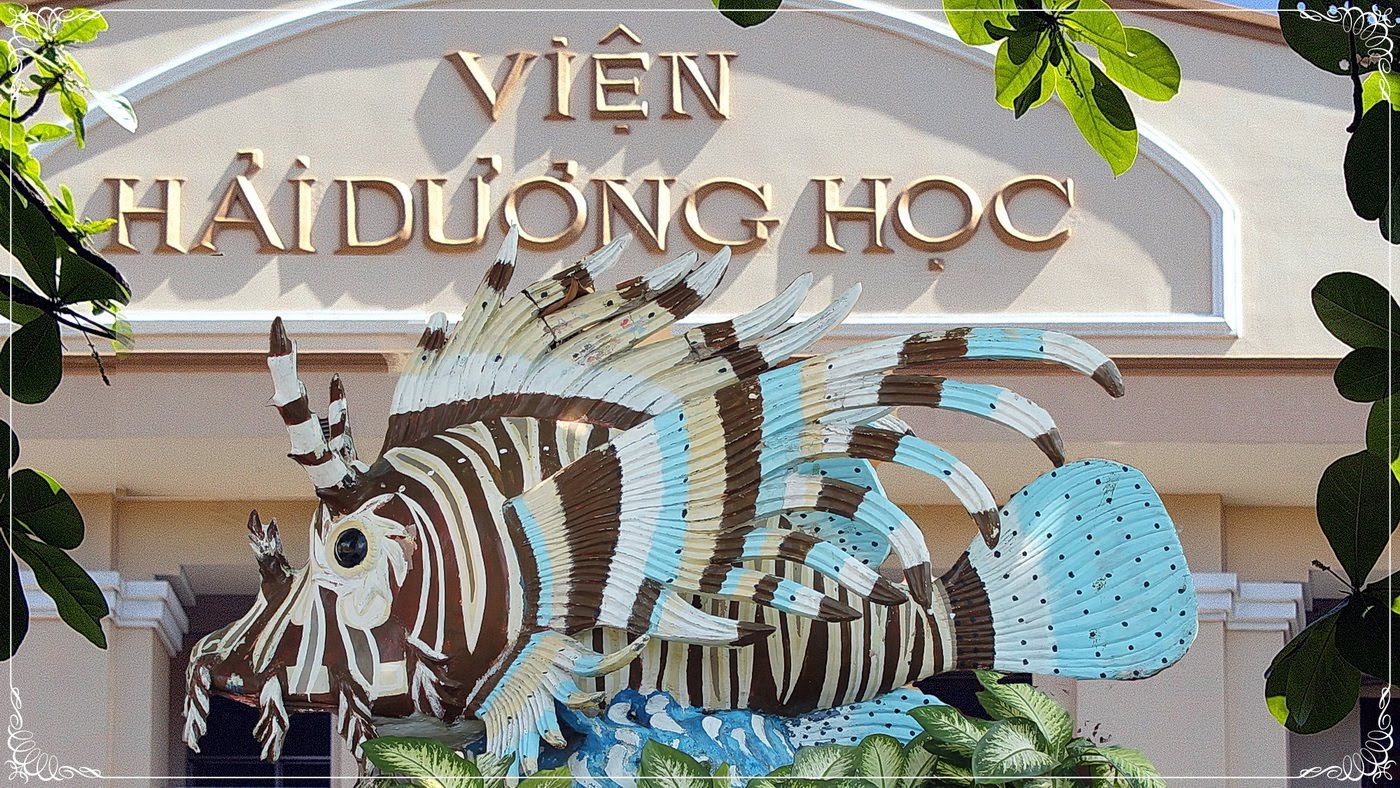 What is interesting about the Institute of Oceanography?
Museum of Oceanography is home to more than 23,000 specimens of more than 5000 species of rare marine animals and plants divided into 5 areas:
Area for rearing marine creatures and mangrove forests
Large specimen area
Artificial reef area
Hoang Sa – Truong Sa Island sea resources area
Marine biodiversity area
Each region stores and displays separate marine life specimens, most of which are existing species and endangered species in the waters of Vietnam, Cambodia and surrounding areas.
The most striking thing is that in the Museum of Oceanography Nha Trang also displays and preserves a very precious natural historical relic, a giant whale skeleton with a length of 18m and 3m in height, which has been buried in the ground of residential houses. Red River Delta at least more than 200 years.
Go to Nha Trang Oceanography Institute
By motorbike or taxi: The Institute of Hai Duong is near Cau Da pier, about 6 km southeast of Nha Trang city center. Tourists traveling by taxi will cost about 100,000 VND, but if you ride a motorbike you can go along Tran Phu Street.
Transfer to the Institute of Oceanography by bus: If traveling by bus, you can take bus number 04 down at Cau Da point, one point before the end of Vinpearl port.
4. SeaLife Nha Trang – the largest beach play area in Vietnam
Address: Cam Hải Đông commune, Cam Lâm district, Khánh Hòa province
Sealife is a play area in Nha Trang with extremely unique beach activities. Coming here, in addition to experiencing the fun activities from the games on the sea, you can also experience the feeling of playing on the largest floating house in Vietnam up to 2000m2.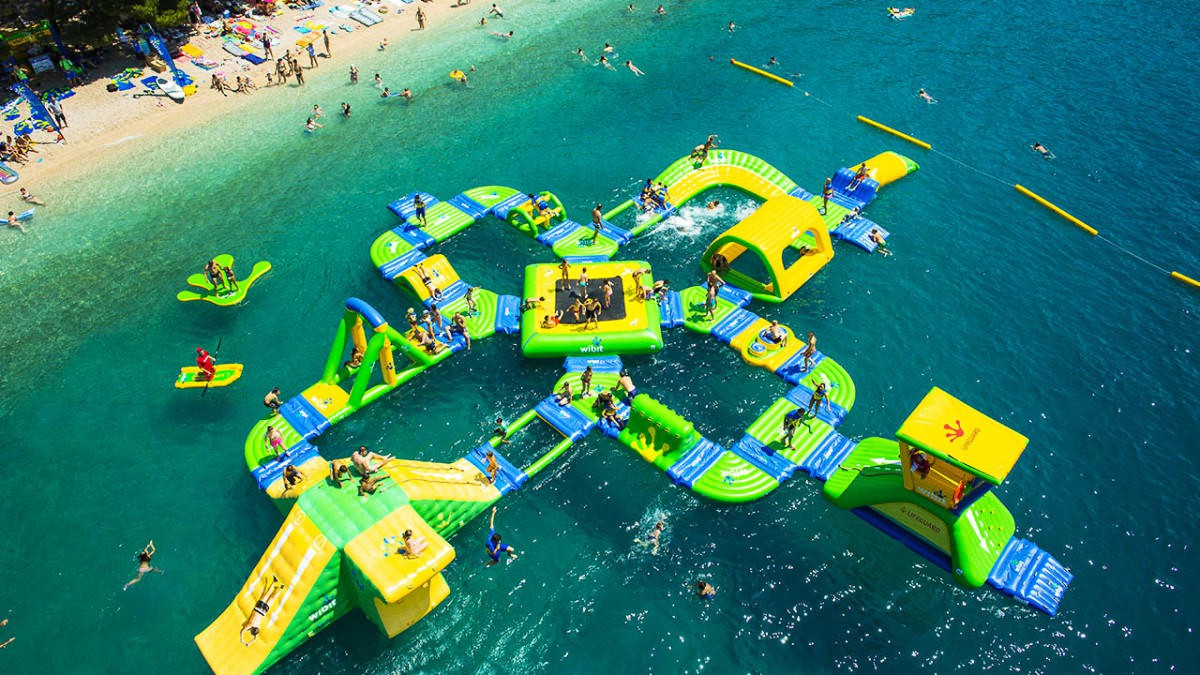 Sealife is the largest floating park in Vietnam so far. The park is divided into two main areas for children and adults with lots of suitable recreational activities such as power, skiing, climbing, relay … Do not worry about safety when having fun. Play here because safety is always a top priority and rescue teams are always on hand. You will experience many new games such as riding a motorbike at sea, riding a motorbike, playing a floating park, paragliding, riding a banana float, …
How to get to Sealife?
Sealife is located on Long Beach in Nha Trang, about 20 km from the center of Nha Trang city. You can take a taxi or rent a motorbike to come here. For young people who like backpacking, DulichToday encourages you to rent a motorbike to come here because the route from Nha Trang to Bai Dai is really beautiful.
5. I-Resort hot spring amusement area
Address: Vĩnh Ngọc, TP Nha Trang
Ticket price: 250,000 VND / ticket
I Resort is one of 13 entertainment venues in Nha Trang famous for mud baths and mineral bath services. This is also the favorite place for many tourists to come here to relax with entertainment activities.
Featuring a lush green space with beautiful scenery, I-Resort aims to not only be a hot mud bathing area in Nha Trang but also suitable as a day resort.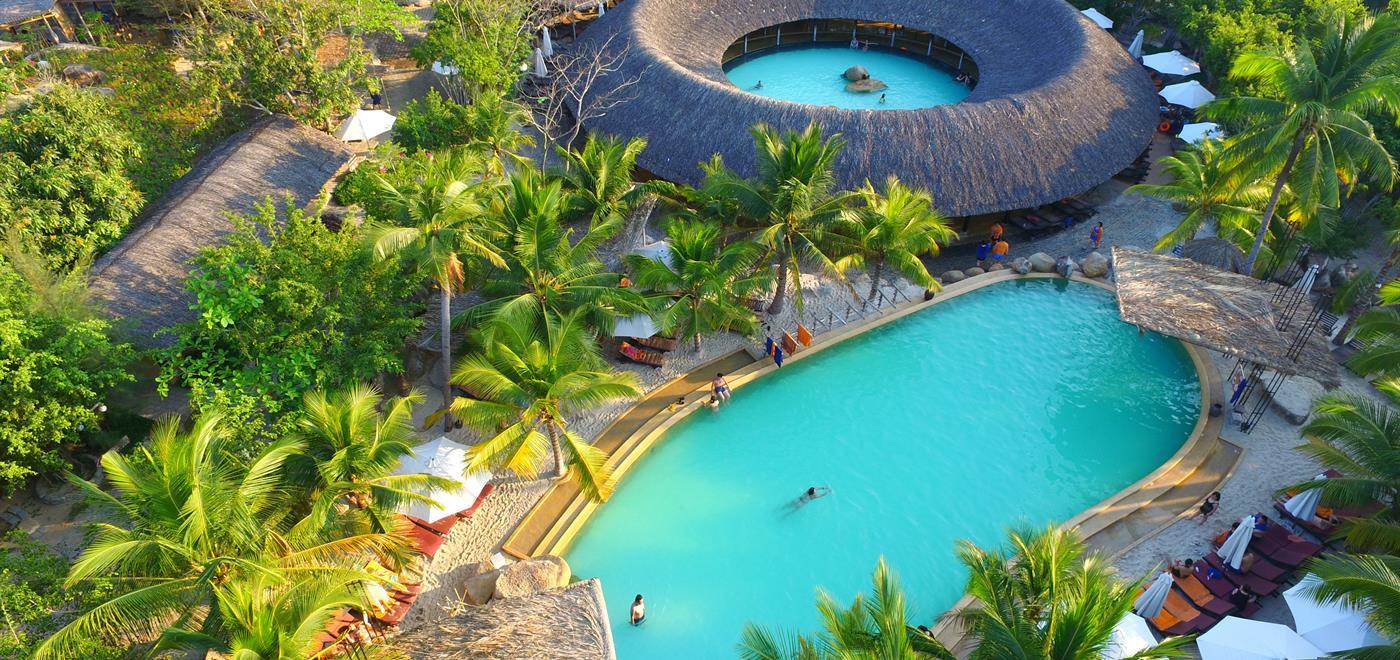 Not only possessing unique and luxurious architecture, I-Resort also attracts majestic mountains and poetic Cai river. Therefore, this place is really a place for you to explore and relax to enjoy the resort services in a sophisticated and luxurious space while bringing peace and rustic among the nature of Nha Trang beach. Page.
You can experience many mud bath services of I Resort with your relatives when coming to this resort. Bath in Tien Sa, mud baths combined with many spa services, saunas and massages and delight to soak in hot springs and have large swimming pools …
You have to pay 250k for an entrance ticket. Often if you go alone, the staff will sit down with other people to go alone. Tank can be a group of 2 people, 4 people. You don't need to bring anything with you. At I Resort will lend you swimsuits and lock your locker. Mud bathing process will be: mud bath, mud discharge by hydraulic spray, then through the pool soaked in hot mineral water. With more advanced service packages, you will enjoy many better services such as massag, private rooms, restaurants …
How to get to I resort?
You can get to I Resort by various means such as motorbike, taxi or bus. If you are a tourist far away, not familiar with the way to travel, taxi or motorbike taxi is not a bad choice. From the center of Nha Trang city, taking a taxi to I resort will cost about VND 400,000 / 7-seat car.
Next, when it comes to "where to go to Nha Trang to play", it is impossible not to mention the games on the sea that bring strong feelings. Coral Bay is where you can enjoy the game "taste" the sea.
6. What to play in Nha Trang? Snorkeling in Coral Bay
Address: Bai Cui, Nha Trang city, Khanh Hoa
Admission: 30,000 VND for adults and 20,000 VND for children
What to play in Coral Bay?
Bathing: the beach on the blue coral reef, the gentle waves are a suitable place for you to swim, enjoy the cool fresh sea air and play water games like jetski, parachute, banana float …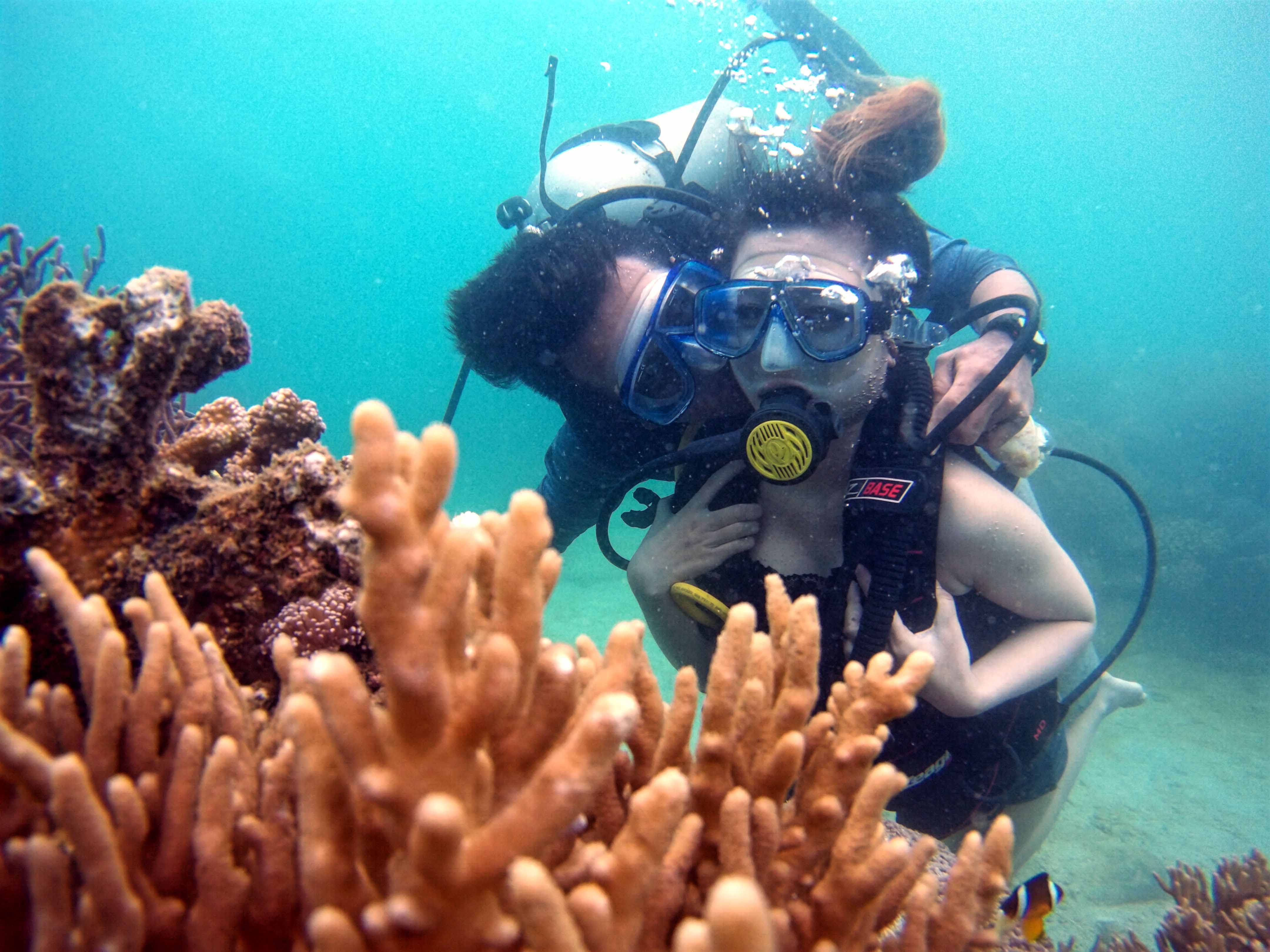 Snorkeling to see the coral is one of the most interesting activities in Coral Bay: The average price is 600,000 VND – 700,000 VND / person / 1 dive. If you want to dive again, you will lose another 200,000. These diving tours will include package, including island cruise, meals, snacks … Consider the accompanying services of each tour before you decide to book a tour at any unit.
Walk on the bottom of the sea: Average price is about 650,000 – 800,000 VND / 1 time in 30 minutes depending on the season (rainy season, summer, holiday season, Tet).
Move to Coral Bay
Coral Bay is a tourist spot in Hon Mot and is located near Hon Mun reserve, about 20 minutes from the mainland by boat or 40 minutes by boat. To get to Coral Bay you have to hire boats, canoes from Cau Da port or negotiate to join ships with other tourist boats. Canoe rental price: VND 300,000 / time. For boats: 250,000 VND / time. Or you can refer to the scuba diving tour below, the prestigious tour location with very reasonable price is almost the cheapest then.
When arriving at Nha Trang Coral Bay, tourists will be free of lounges and operate at the beach. Not only that, there are also restaurants, dining and entertainment areas for tourists in need.
7. Hon Mieu – an interesting place to play in Nha Trang
Address: Tri Nguyen Hamlet, Vinh Nguyen Ward, Nha Trang City, Khanh Hoa Province
Hon Mieu is not only a well-known island with pristine beauty but also a fun place in Nha Trang in the 1-day tour of Nha Trang to the 3 islands most visited by tourists when visiting the beautiful bay. this.
This place still retains the traditional features of Vietnam's fishing village. Inherently, a "shrine" is the driving style of the "temple" because on the island there is a temple in the south. You can visit this temple if you have the opportunity to visit Hon Mieu. Hon Mieu is also the closest island among the islands located in Nha Trang.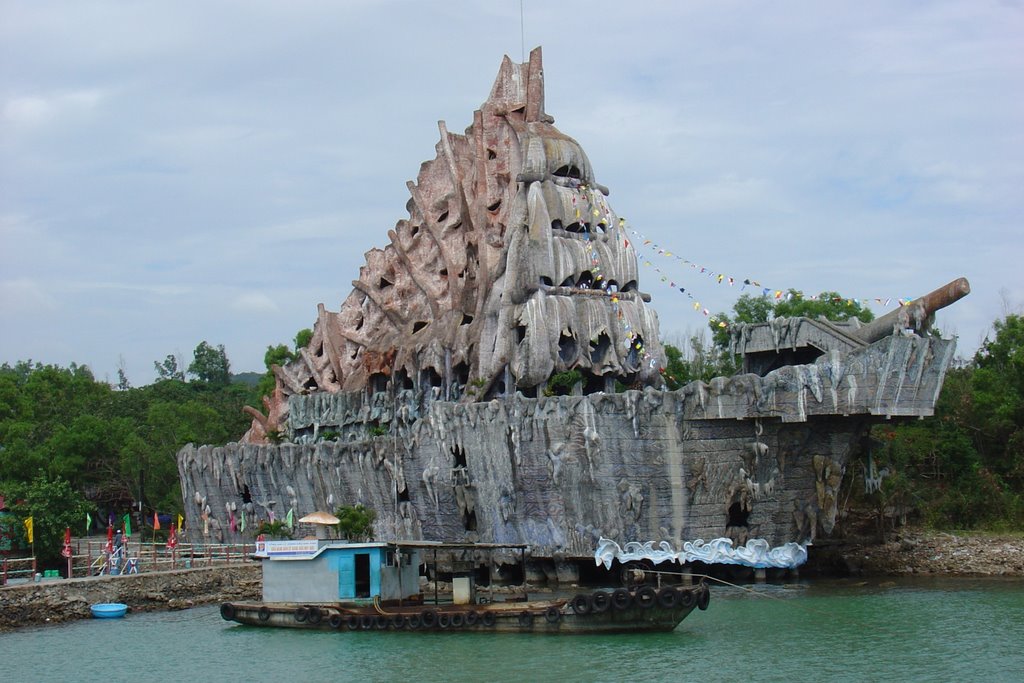 Hon Mieu Island is also known as Bong Lai Island. Coming to Hon Mieu, visitors enjoy watching the wild beauty of nature and the vastness of the sea. It has two famous tourist destinations: Tri Nguyen Aquarium and Bai Soi beach.
Not only swimming, enjoying the dishes from fresh seafood, visitors can also have fun on the beach games such as parachuting, diving, water motor, …
How to go to Mieu Island?
Hon Mieu is about 5 km southeast of Nha Trang city center, about 1 km from the mainland. To reach Hon Mieu you must take a boat or canoe to go to the island. From the center of Nha Trang city, you go to Cau Da port and buy a train ticket to Hon Mieu or buy a tour of 3 islands a day (tour price is about 200,000 VND / tour).
If traveling in a large group, DulichToday recommends that you rent a canoe to the island and have fun as you like. From Cau Da port, visitors only take 5 minutes by canoe or 15-20 minutes to go by wooden boat to Mieu island.
8. Play area in Nha Trang Egg Hundred
Address: Nguyen Tat Thanh Boulevard, Phuoc Dong Commune, Nha Trang City, Khanh Hoa Province.
Opening hours: from 09:00 to 19:00
Not only a recreation and entertainment place, Tram Egg tourist area is also a fun place in Nha Trang to attract tourists. Mud bath with hundreds of eggs features spa treatments from the mud. Guests can choose from many different mud bath services.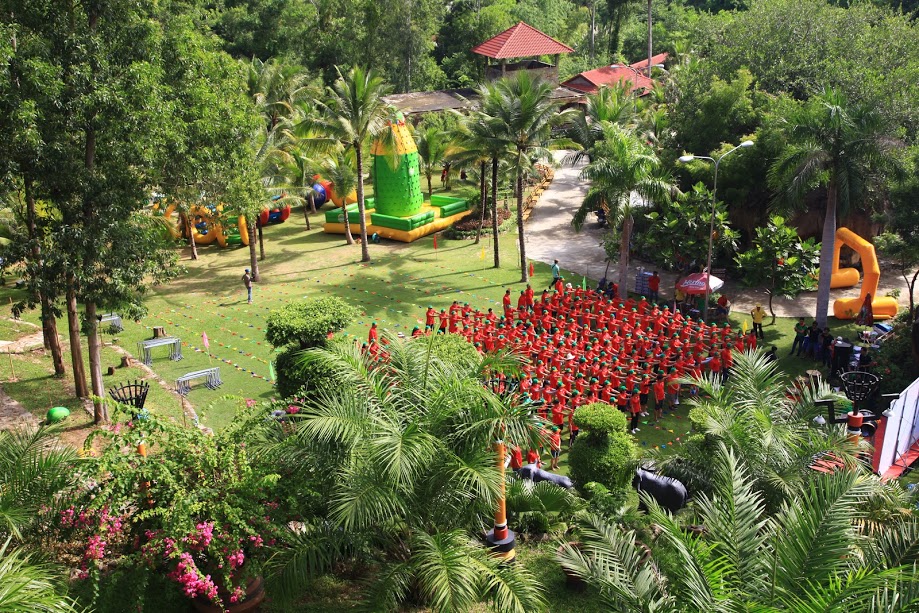 Egg Hundred Resort has a very special name because it chooses the images of the eggs as the main image, from the welcome gate, along the way or the bath, bringing a unique beauty that cannot be mixed.
You can take a mud bath, soak in hot mineral mud, play games in the picnic area, egg garden, business park … Especially this place is very suitable for organizing teambuilding activities in green eco hills. Eye contact and the neighborhood of Champa reproduce the typical life features of the Cham people.
Move to Hundred Eggs resorts
Amusement park in Nha Trang with mud bathing service is located about 8km from the center of Nha Trang city. To get here, you can take a taxi, motorbike taxi, bus or drive yourself.
Take the bus: Take route 05 down at the end of Binh Tan Bridge or to the end of the station in Hon Ro, then take a taxi to the tourist area of ​​Egg Hundred Nha Trang. Bus time is about 10 minutes.
Self drive: From the center of Nha Trang city, follow Tran Phu street to the South, turn right to Hoang Dieu street – turn left to Nguyen Duc Canh street – go straight through Binh Tan bridge – turn to Nguyen Tat Thanh street Continue about 4km to the tourist site Egg Hundred.
9. WaterLand amusement park in Thach Lam stream
Address: Suoi Cat commune, Cam Lam district, Khanh Hoa
Opening hours: 7:00 – 17:00 h
Waterland Suoi Thach Lam is suitable for organizing picnics and building trips. Visitors here will be immersed in the charming nature of mountains and waterfalls. The resort is located in a very beautiful position at the foot of Mount Hon Ba.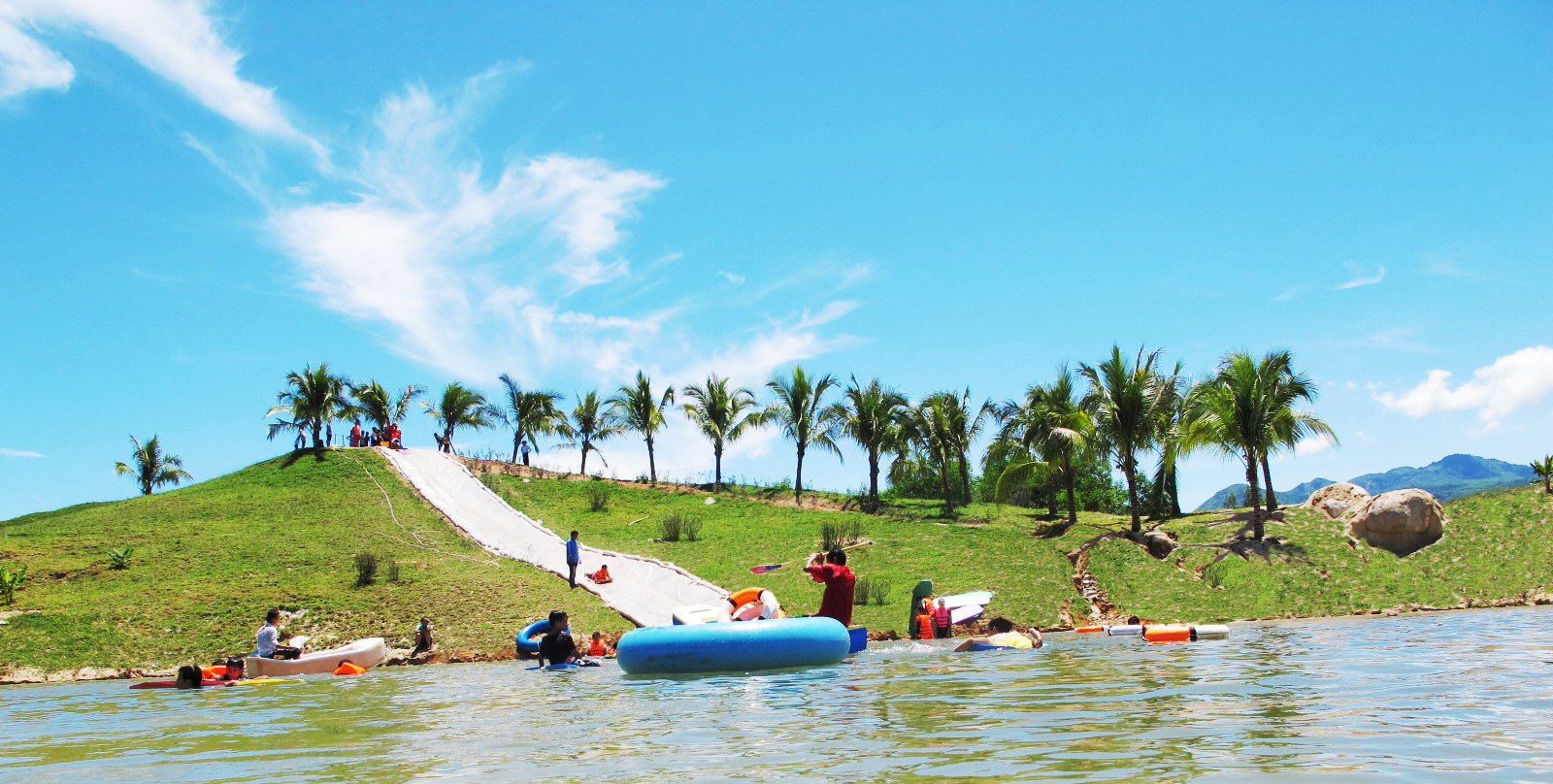 What to play in Thach Lam Waterland?
Thach Lam Waterland is a recreation area, sports and entertainment in Nha Trang associated with nature. Coming to this resort, you will experience many new fun activities such as dropping a boat across the waterfall by a stream, shooting paint guns, sliding grass …
Thach Lam Waterland includes many different areas with many interesting games such as:
Day Ngoc Lake (where there are games such as: floats, buoys, floats sliding from high hills)
Thach Lam Stream (canoeing, waterfall), paintball shooting, high-slope grass slide
Mini gofl area with large space suitable for companies, groups to organize team building.
Baby's construction site, camping site … suitable for families with young children
How to come to Waterland Suoi Thach Lam?
If you're traveling in a group or with a family member, the easiest way is to take a taxi to Waterland. Average taxi fare is about VND 10,000 / Km.
If traveling by motorbike, the simplest route is you go to Cao Ba Quat – Highway 1A – Suoi Cat.
Want to save money on transportation, you can also choose the bus as a means of transportation to Waterland Thach Lam stream. In the center of Nha Trang city, you take the Phuong Trang bus to the junction of Cat stream. Then follow the instructions on the Fb of Shilin about 3km to reach. Cat stream junction has a sign with a taxi number, but you will have to go with a high price: 50,000 VND / 3km. Experience is that you should call in advance to ask about the taxi price so that it will not be cut.
10. Hot tower of Ponagar tower
Address: 2/4 Street, Vĩnh Phước, TP. Nha Trang, Khanh Hoa
Opening hours: 6:00 am – 5:30 pm daily
Ticket price: 22,000 VND
Ponagar Tower is also a fun place to visit in Nha Trang. Ms. Pogarna's tower was built during the Hindu period which is flourishing in the ancient Cham kingdom with ancient and unique architecture.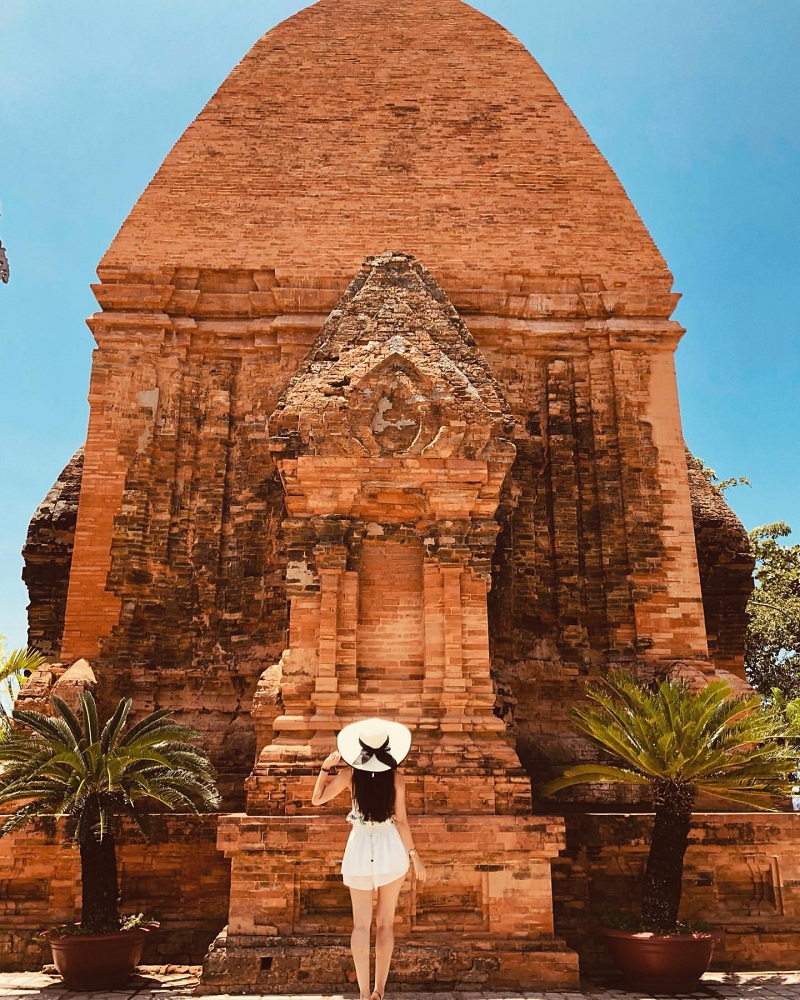 Outstanding sightseeing activities in Ponagar Tower
Tower architecture is very unique from the large to small towers. In addition, this place is also impressed with visitors by the stone steles dating back to the ancient Champa kingdom. To understand the history as well as the stories here, you can hire a guide to explain about Mrs. Poganar tower – a very famous entertainment place in Nha Trang.
Mud bathing in Thap Ba Poganar: Mud bathing at Thap Ba hot spring resort offers many unexpected benefits with fares from only VND 100,000.
Instruction to move to Ponagar Tower
Ponagar Tower is about 3, 4km north of Nha Trang city center. To get to Thap Ba you can choose a taxi (about VND 50,000) or motorbike taxi (about VND 30,000). If you rent a motorbike to travel, you can follow Tran Phu Street, cross Tran Phu Bridge, then turn left to Thap Ba Street. Continue to go all the way to Thap Ba and the relics of Thap Ba Ponagar. If you go by bus you can take the bus number 04, get off at Thap Ba.
11. Hon Mun Nha Trang
Address: Hon Mun, Vinh Nguyen, Nha Trang City, Khanh Hoa
Hon Mun is one of the most interesting diving destinations in Nha Trang. Coming to Hon Mun, you can explore Nha Trang sea with games such as scuba diving, watching coral by glass bottom boat, floating bar …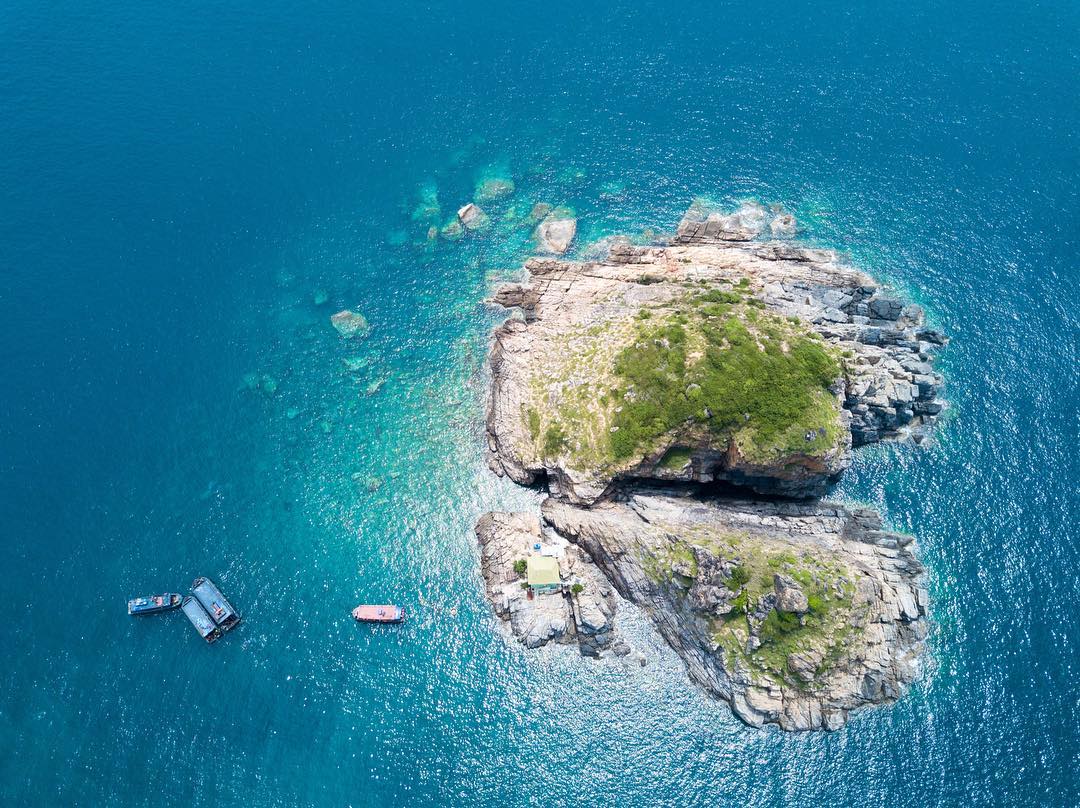 Hon Mun is one of the most beautiful islands in Nha Trang. Not only attractive by the extremely diverse marine ecosystem, Hon Mun's beaches with clear turquoise sea and white sand stimulate visitors to come here. You can enjoy a wonderful glass of coctail from the floating bar and watch the beautiful Nha Trang Bay.
How to get to Hon Mun?
Boating or canoeing is the only way to reach Hon Mun Island up to this time. Cau Da Port is a port with many boats to reach Hon Mun Island. The ticket for canoe is about 300,000 VND / person, the price for a boat trip is 250,000 VND / person. The train will take about 45 minutes to reach the island.
12. Sailing Club – a fun place to play in Nha Trang "dancing all night"
Address: 72-74 Trần Phú, Lộc Thọ, Nha Trang City, Khánh Hòa
Ticket price: 150,000 (with 1 drink included)
Sailing Cub is a fun place in Nha Trang not to be missed for those traveling when wondering what to eat in Nha Trang. This is also one of the oldest bars in Nha Trang, the symbol of Nha Trang tourism.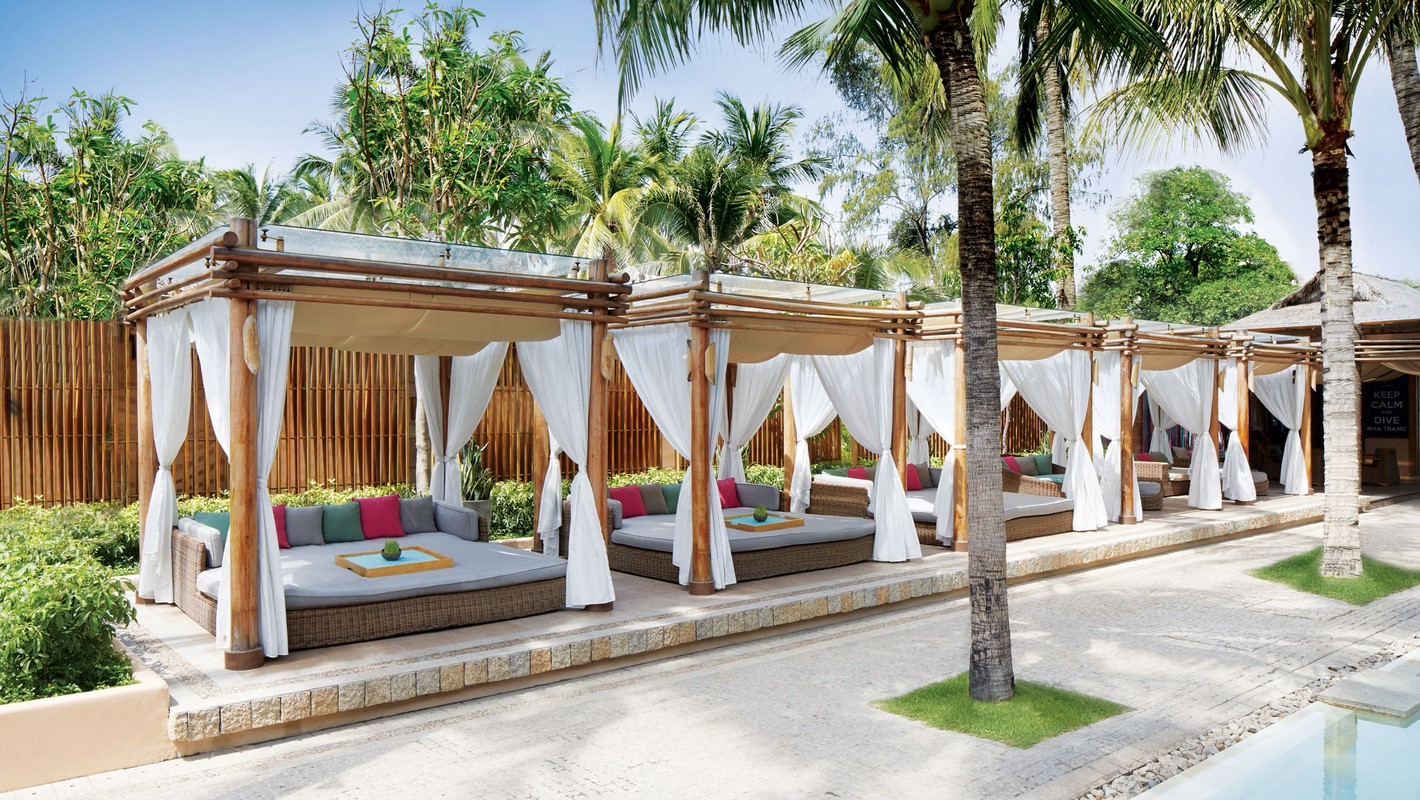 What to play at Sailing Club?
Speaking of Sailing Club is referring to the exciting music parties on the beach every weekend (Beach Party). Coming to Sailing Club, the DJ of the bar will give you all the best with exciting music. The bar will be crowded and most bustling from 10 pm back to the night.
The location of the Sailing Club is also in a prime location when located right next to Nha Trang beach. Enjoy a glass of coctail or a bottle of cold beer and immerse yourself in the vibrant music party that visitors often do when coming here. You can also enjoy great delicacies here at noon like fast food, European food, Vietnamese food.
A small note for anyone coming here by motorbike is a bar with a private parking lot, but you have to pay a parking fee.
13. Yang Bay Waterfall
Address: Hamlet Nga Hai – Khanh Phu – Khanh Vinh – Khanh Hoa
Opening hours: 7:30 – 17:00
Ticket price: children: VND 70,000 / adult: VND 100,000
Yang Bay Waterfall is an extremely attractive backpacker destination for those who love nature and want to explore nature.
What is great about Yang Bay Waterfall?
If you want to change a little bit of atmosphere and want to avoid the intense sun on the island, Yang Bay waterfall resort is a fun place in Nha Trang suitable for you to change the wind.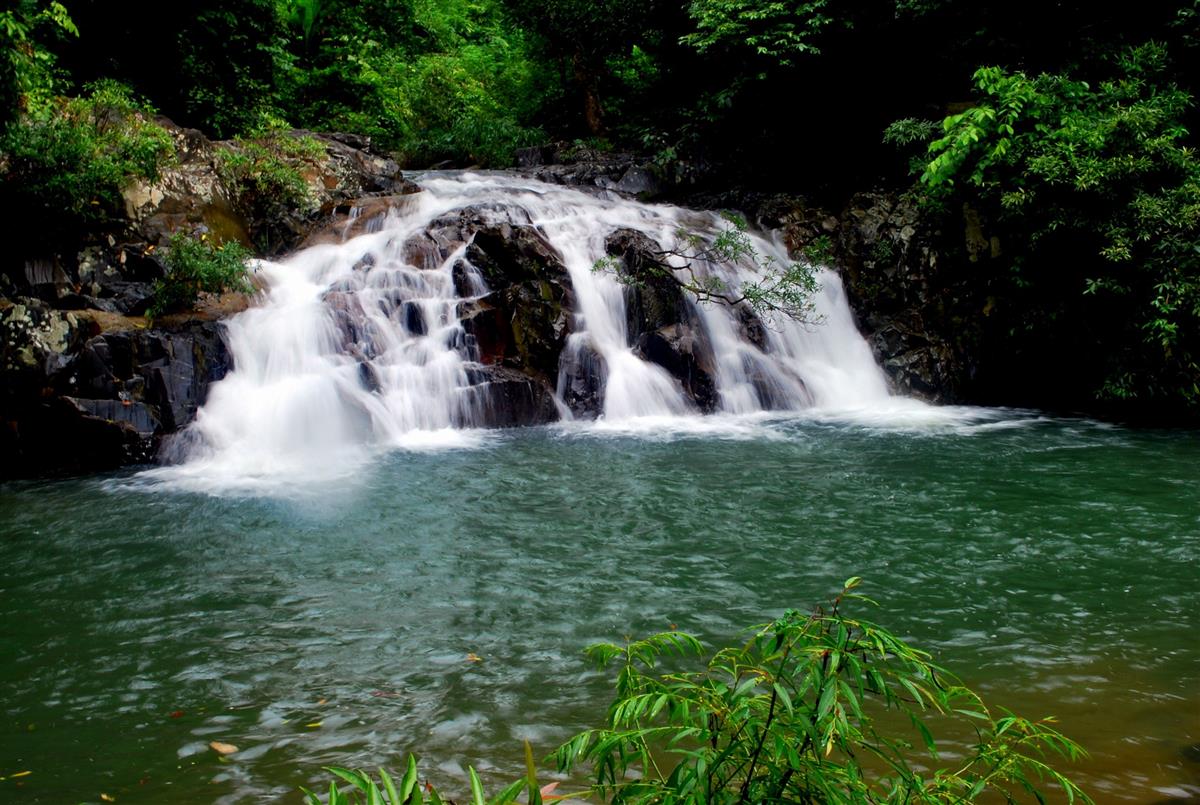 Tourists come here not only to enjoy the beauty of the green mountains, the majestic Yang Bay waterfall but also experience many interesting activities such as crocodile fishing, watching pig racing, ostriches, bears. Yang Bay waterfall play area also has a hot spring bath service for VND 100,000 per ticket for children and adults VND 150,000.
Note: You can bring food to go on a picnic with your loved ones or groups when coming to this fun spot. The resort also has an on-site restaurant but the food is not really good and the price is a bit high compared to the outside so you pay attention.
Guide to travel, means to Yang Bay waterfall, Khanh Hoa
The location is quite far from the city (about 50 km), so if you plan to have fun exploring Nha Trang for a long time, do not miss Yang Bay waterfall resort. You can rent a motorbike for 50,000 – 120,000 VND for 1 day to get to this tourist destination. Or if you go in a large group, follow the group, it is best to rent a car to come here.
Hopefully the detailed information about the 13 most interesting places in Nha Trang in 2019 will help you add to your travel dictionary the ideal stops. I wish you a happy travel to Nha Trang.