1. Vivid Homestay Nha Trang – Homestay Nha Trang near the Hon Chong beach
Address: 3/37 Pham Van Dong, Vinh Phuoc, Nha Trang, Khanh Hoa
Reference room price: 500,000 VND / room / night
Far from Hon Chong beach: 200m
Vivid Seaside Homestay Nha Trang is located on Pham Van Dong street just 200m from the beach. If you book a room early, you can choose a room with a view overlooking the beautiful sea just like a resort.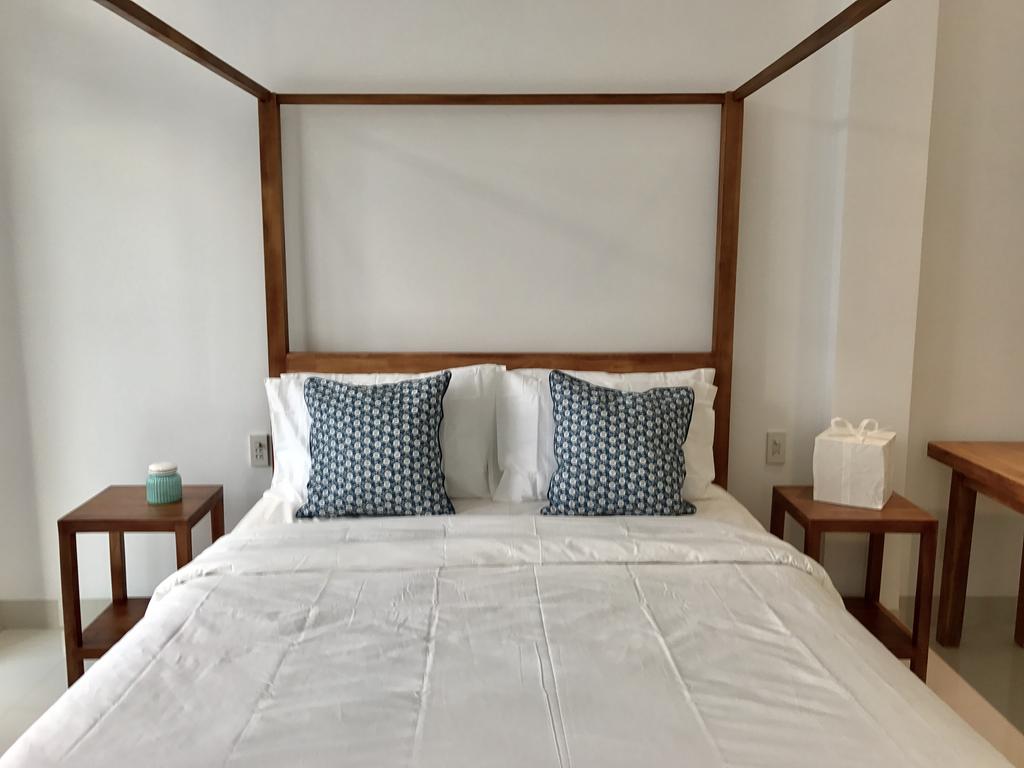 Accommodation at the homestay is not large, but it has a "Western" design with white bed sheets, beautiful white curtains, like a dream. Outside the balcony, there are beautiful small tables and chairs for you to drink tea and enjoy the scenery of Nha Trang beach in the early morning and late night.
Cleanliness is always a priority at Vivid Seaside homestay Nha Trang. Even the homestay is careful to clean the room for guests during breakfast so guests always feel neat and tidy when entering the room. Inside the homestay, there is also a restaurant and spa, which is very convenient for travelers who want to relax or eat here. When staying in this wonderful Vivid Seaside Homestay, guests also enjoy a comfortable living space, 24-hour security, daily room service, photocopying and many other supportive services. other.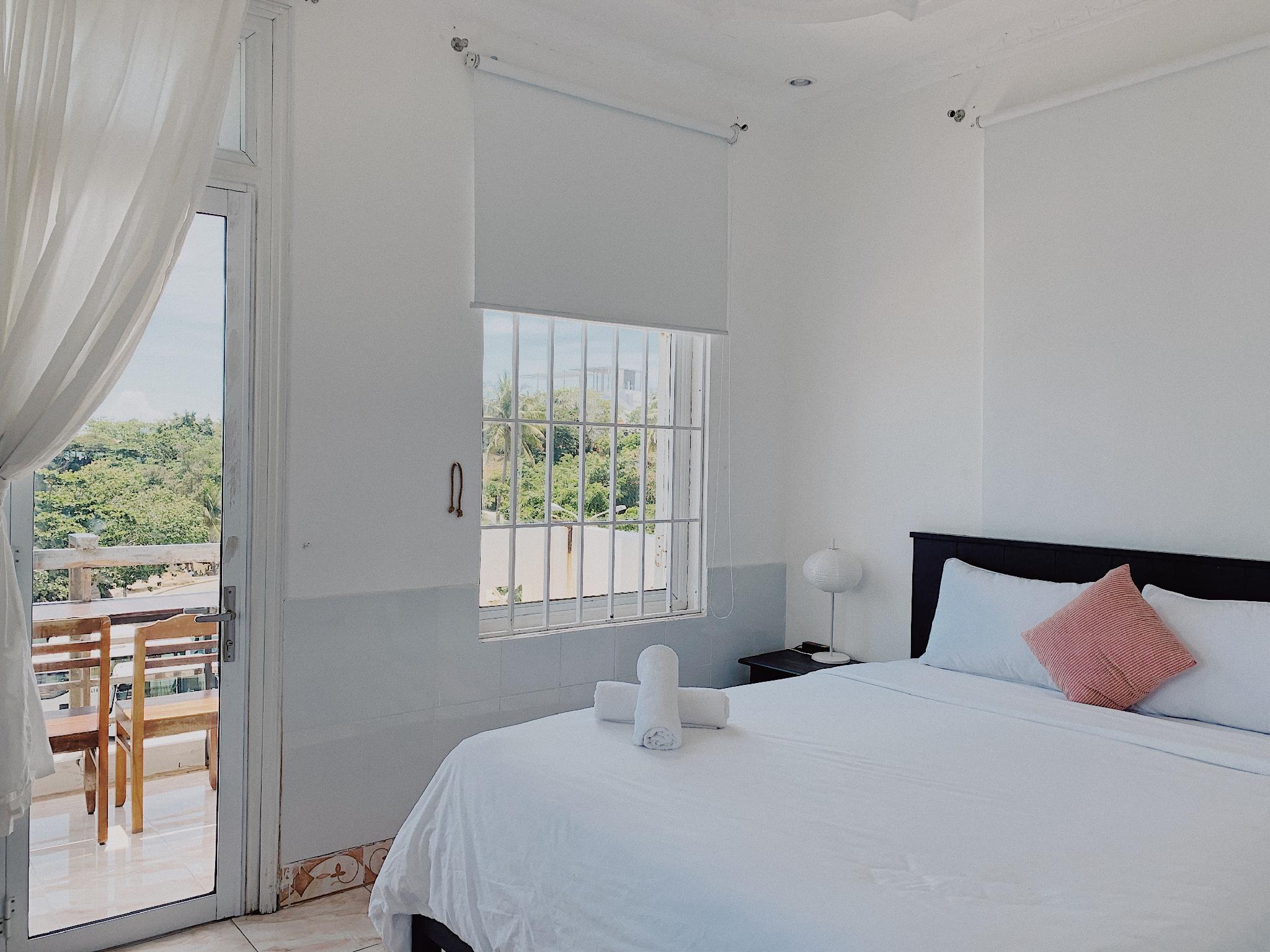 Location Vivid Seaside homestay Nha Trang is extremely convenient to go to tourist destinations in the city. Vivid Seaside homestay is 1.2 km from Ponagar Tower, 2.3 km from Dam Market and 29 km from Cam Ranh International Airport.
2. An An – Cheap Nha Trang homestay near the sea
Address: 10b / 34 Phạm Văn Đồng, Nha Trang, Khánh Hòa
Price reference room: from 120,000 VND – 600,000 VND
Far from Hon Chong beach: 400m
Renting a homestay in Nha Trang is both comfortable, cheap and beautiful but also near the sea is the desire of many young people when visiting Nha Trang. If you have not chosen any of the above homestays, An An may be the destination for you.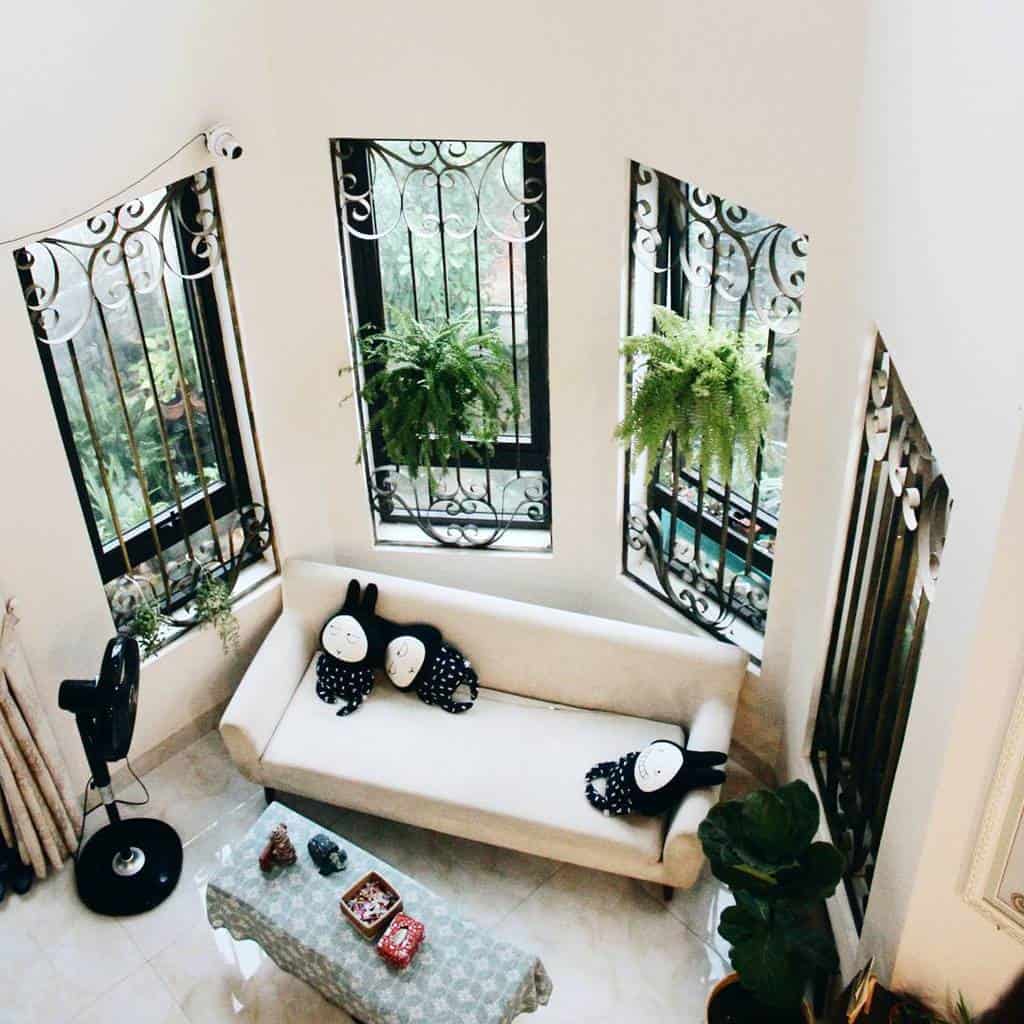 Located in one of the roads with the most hotels and homestays in Nha Trang, An An still makes visitors known a lot by the speciality here. Homestay is famous for cute and cute furnished rooms that can give you an extremely deep picture.
The feeling that every visitor has experienced while staying at An An is a warm, peaceful feeling. Everything here makes visitors feel comfortable from the washing machine, drying yard, cooking kitchen …
An an homestay Nha Trang attracts visitors by the airy, cool, quiet space to create a peaceful feeling like being at home. The service style of the butler and the hostess is also the point that many visitors desire to return to here again.
Not only suitable for groups of friends, An an homestay Nha Trang is also very suitable for families or couples traveling. Come here, your family can freely cook, party, process, eat and drink. It is also very convenient to travel by bus, close to Hon Chong beach (only a few dozen steps from the beach), just 1 km from Poganar Tower.
3. Homie homestay in Nha Trang
Address: 47 / 15C Nguyễn Thiện Thuật, Tp. Nha Trang
Price reference room: from 800,000 VND / person / night
How to Nha Trang beach: 450m
Homie holiday is a beautiful homestay in Nha Trang from decoration style to beautiful in serving customers. Homestay is designed in an idyllic, rustic architecture, close to pastel colors gently bright. Staying at homie makes you feel like you are in your own home.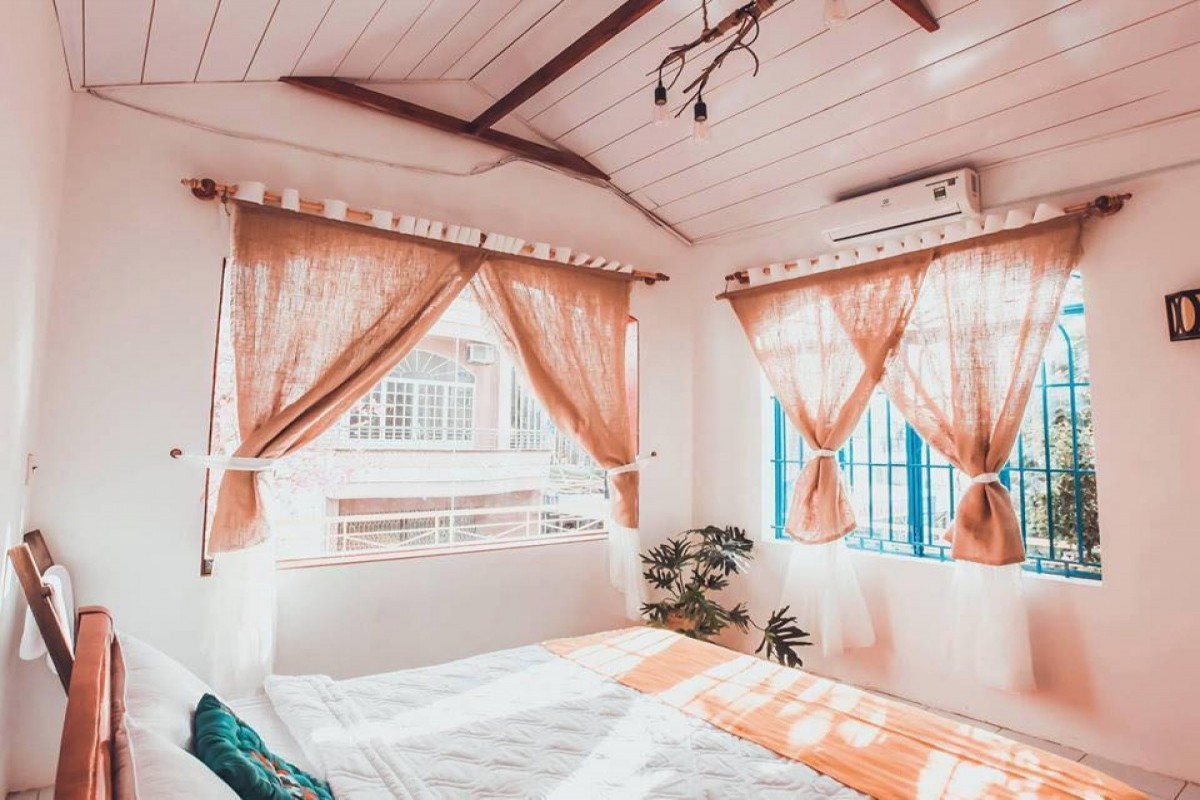 Room is spacious, clean, dotted with small decorative details displaying the sea throughout the room.Homie is designed with 3 spacious bedrooms suitable for travel with family or lover. Homie at home is also an impressive dictionary for visitors with full equipment and appliances for your cooking skills such as refrigerators, microwaves, ovens, spices …
Homie homestay Nha Trang owns a prime location right on the front near the Western Quarter of Nha Trang City. Homie is just a 3-minute walk from the beach, surrounded by supermarkets, restaurants and extremely busy cafes. From homestay, it takes you only 5 minutes to visit Nha Trang Night Market to enjoy the specialties of Nha Trang.
If you want to visit more distant tourist destinations, Homie has available motorbikes for rent at VND 150,000 / vehicle / day. What are you afraid to do without launching a car around Nha Trang Want to visit Vinpearl, travel to the islands, the homestay is also available to assist you with booking tours and reservations.
4. Tabalo – Cheap Nha Trang homestay
Address: 34/2/7 Nguyễn Thiện Thuật, Nha Trang, Khánh Hòa
Price reference room: 50,000 VND – 70,000 VND / person / night
How to Nha Trang beach: 500m
Tabalo is one of the cheap homestays in Nha Trang with great quality. Tabalo homestay Nha Trang Khanh Hoa is only 500m from the sea. It only takes you from 10 ′ to 15 ′ to go to Nha Trang beach to enjoy vitaminsea. Coming to Tabalo homestay, you will feel like you are located in a cabin of a luxury cruise ship, not a normal hotel or homestay. The rooms are quite small but still completely comfortable feeling.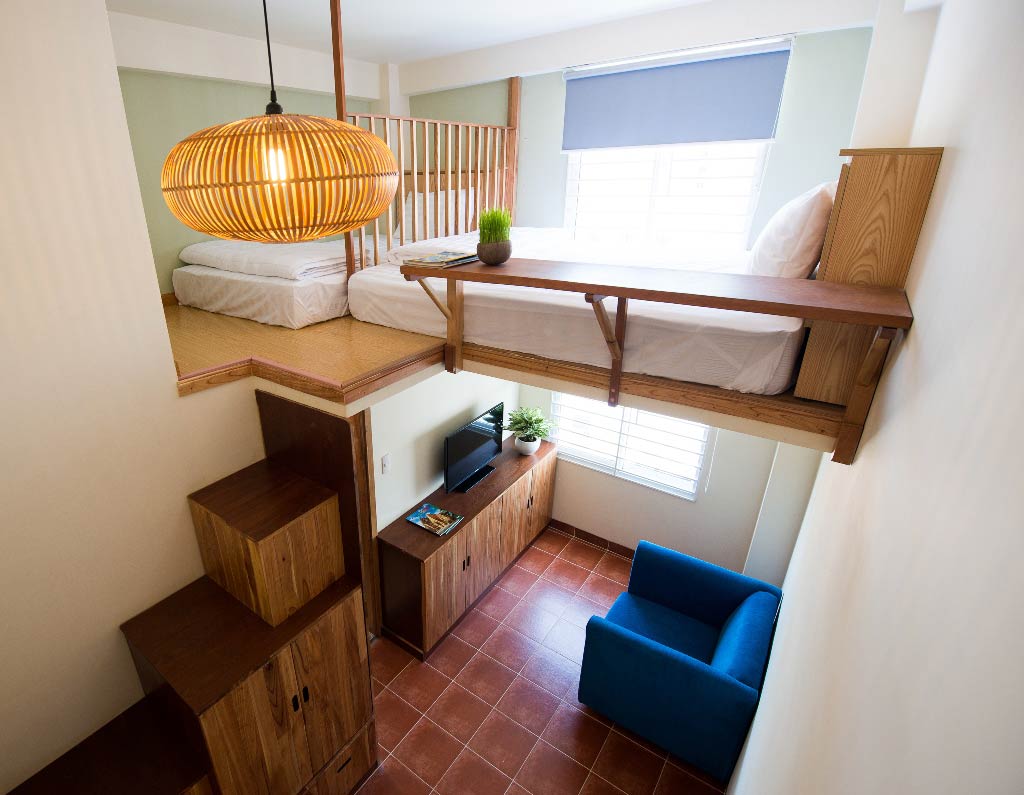 Tabalo homestay Nha Trang's furniture from cabinets to shelves, TV shelves are made of wood. Handy furniture, stairs leading to bed combined with wardrobe and storage shelves. The bed is comfortable, air-conditioned room, a standard television unlike many other homestay equipped with quite sketchy, through speakers. Everything is clean, from toilets, bathrooms, bedrooms are cleaned every day, the cabin is cool and comfortable.
If you want to review your feelings about Tabalo, where can you review? Please write on the walls in the room immediately. The positive emotions and interests of each customer will be kept extremely meaningful.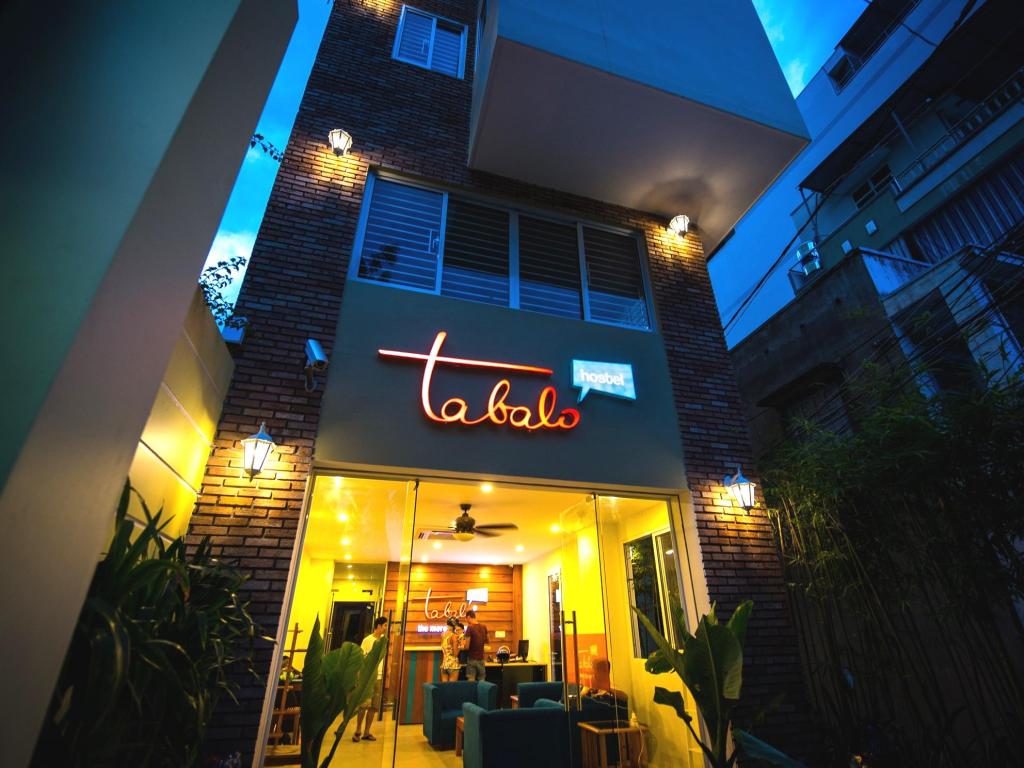 In the morning, you will also be served with omelets and instant noodles, extremely thoughtful and enthusiastic. If the criteria for evaluating a quality homestay, Tabalo is encapsulated in 2 words is cheap – beautiful, too suitable for the criteria of backpackers.
Located on Nguyen Thien Thuat Street, from Tabalo homestay Nha Trang easy access to all entertainment places in the city center. You can stroll around to some tourist attractions near Tabalo homestay Nha Trang such as April 2 Square, Tram Huong tower.
5. S House Homestay Nha Trang – super nice homestay
Address: 20 Bắc Sơn, Phường Vĩnh Hải, Nha Trang, Khánh Hòa
Price reference room: from 450,000 – 550,000 VND / room / night
How to Nha Trang beach: 2km
SHouse homestay Nha Trang is only 2km from the sea, so visitors are completely convenient for moving to the beach. The location of Shouse is just enough to avoid the noise of the tourist crowd but close enough for you to visit there. You can also rent a motorbike with your friends and walk around the city to admire the coastal city of Nha Trang and enjoy some local dishes on your own.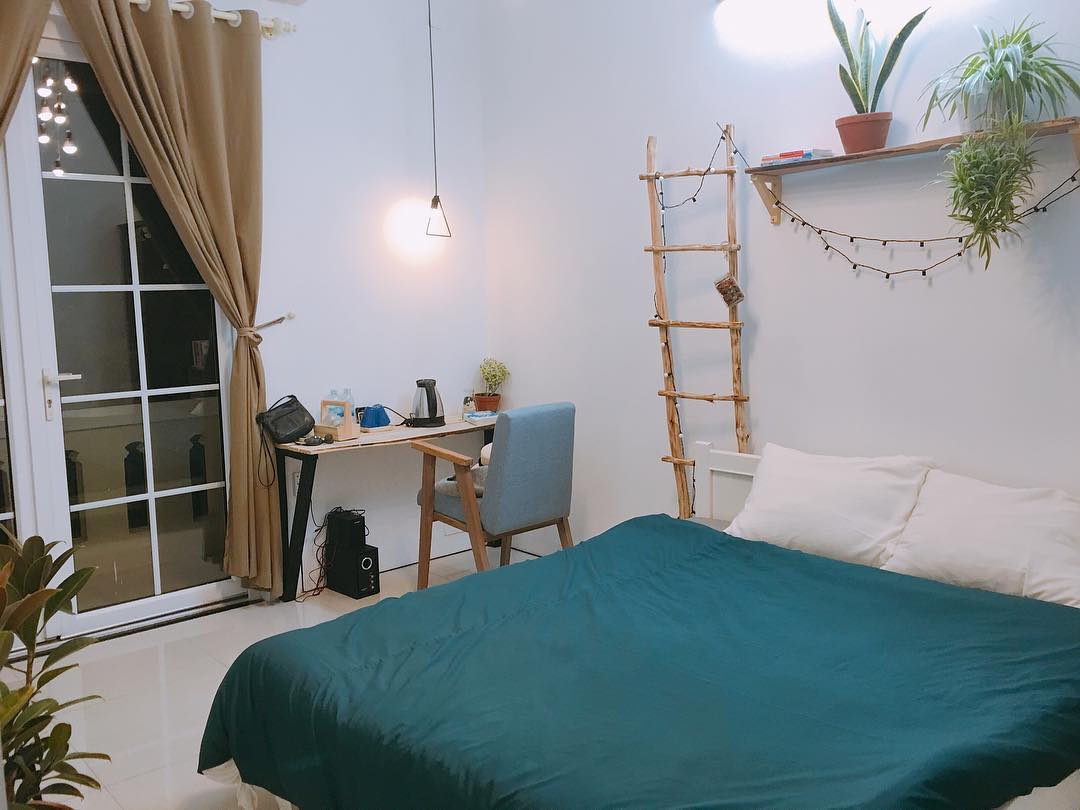 S House homestay has an extremely cute architecture that young people can like at first sight and can frame beautiful photos in any corner. The architecture is true to the homestay's motto: friendly, pleasant, comfortable, clean, warm. All are arranged in harmony from the bookshelf in the room to the greenery.
S House – Homestay in Nha Trang has a total of 7 rooms including 1 large room for 4 people, 5 rooms for 2 people and 1 dorm room with 4 bunk beds accommodating up to 8 people. if you travel with a large group of friends.
Known as one of the beautiful homestay in Nha Trang famous for virtual living corner, everything in S House can create super quality photos for young people. Homestay uses white tones as the key, trees and brocade details and motifs as highlights.
S House offers guests a space that is both warm but comfortable and pleasant. All interior is made from wood with natural, delicate colors. Shouse also has lovely little gardens for those who love plants.
S House homestay Nha Trang is located only 2 km from the city center but it is located in a new residential area, not too crowded and noisy, enough to rest but also enough to conveniently visit the city. Homestay is also very close to some tourist destinations that visitors can fully walk to visit these tourist destinations such as Long Son Pagoda (700m), Nha Trang Railway Station (750m), King Kito Chief Church (1.6km).
7. Ccasa homestay – homestay Nha Trang container
Address: 40 Sao Bien, Nha Trang, Khanh Hoa
Price reference room: from 200,000 VND / person / night
Far from Hon Chong beach: 1,1km
As the only homestay in Nha Trang introduced by the famous architectural magazine Archdaily (USA), Ccasa homestay first appeared and was built according to container architecture. This Nha Trang homestay container with open design and garden space creates an extremely cool space.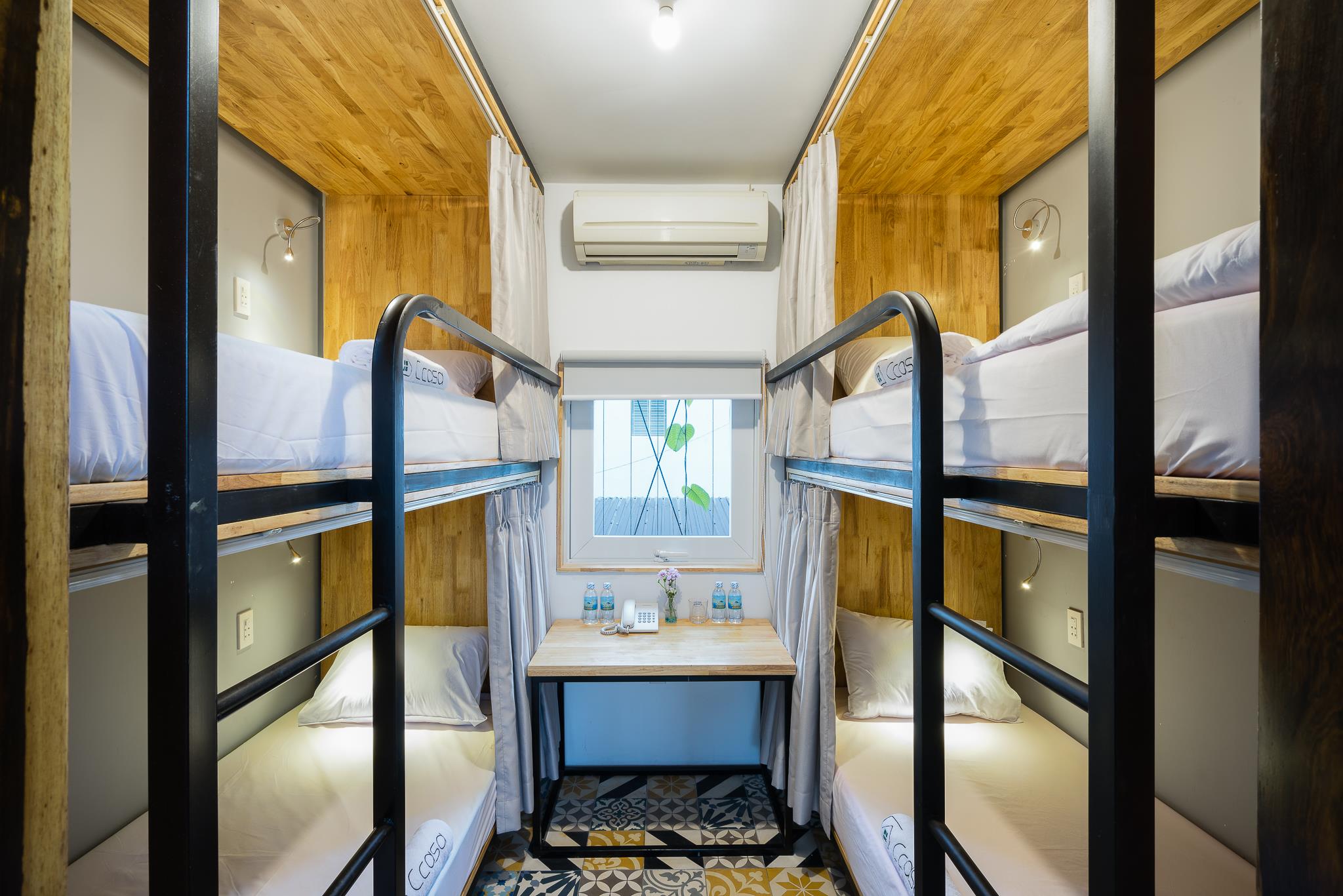 The terrace with the grilles stretching through the skylight is an area that no one should miss when coming to Ccasa. Along with that, everything from architecture, rooms, services to virtual living quarters is encapsulated in 2 words "Excellence".
If you want to have a BBQ party, Ccasa is also equipped with a comfortable kitchen and a private grill for you. There are also rows of super nice wooden tables with green vines at the back, which is suitable for morning coffee and afternoon refreshments. This is also a place to exchange and chat between members when coming to Ccasa's house. You can make lots of new friends with all nationalities in the world while here.
Ccasa is really not only a cheap homestay in Nha Trang but also highlighted by unique architectural style. Designed by containers, Ccasa impresses visitors at first sight. Impressed not only by the fancy architectural style, this homestay container also creates a lot of sympathy for tourists by the dedicated and professional service of the staff. Truly you will be living like your own home. The homestay owner or staff are friendly and welcoming to guests like friends.
Homestay Nha Trang near the sea container is extremely suitable for young people who like to live in a group, not suitable for those who require luxurious space and high privacy. Toilet with spacious aisle, adequate bathroom – not large or small with hot and cold systems for you to relax after a long day of playing and visiting. Strong faucets, generally the right kind of hostel, homestay now.
Facilities: beautiful surroundings with virtual living angles everywhere. Everyone is friendly and welcoming, this gives everyone a pleasant feeling when coming here.
Do not miss the tourist attractions near Ccasa Hostel: Hon Chong – Hon Vo, Ba Ponaga tower, mud-bathing resort I-resort.
8. My homestay Nha Trang – 1km from the sea
Address: 8/19 Nguyễn Thiện Thuật, Tân Lập, Nha Trang City, Khánh Hòa
Price reference room: from 170,000 VND / person / night
How to Nha Trang beach: 1km
Located on Nguyen Thien Thuat street, My homestay is just 800m from Nha Trang beach and only a 9 minute walk. Despite being a dormitory room, myhomestay still creates a private space for guests. Each bed in the homestay is separated by wooden walls and curtains to ensure its own space. To maximize the tranquility in the rooms, the homestay owner has designed the bathroom outside.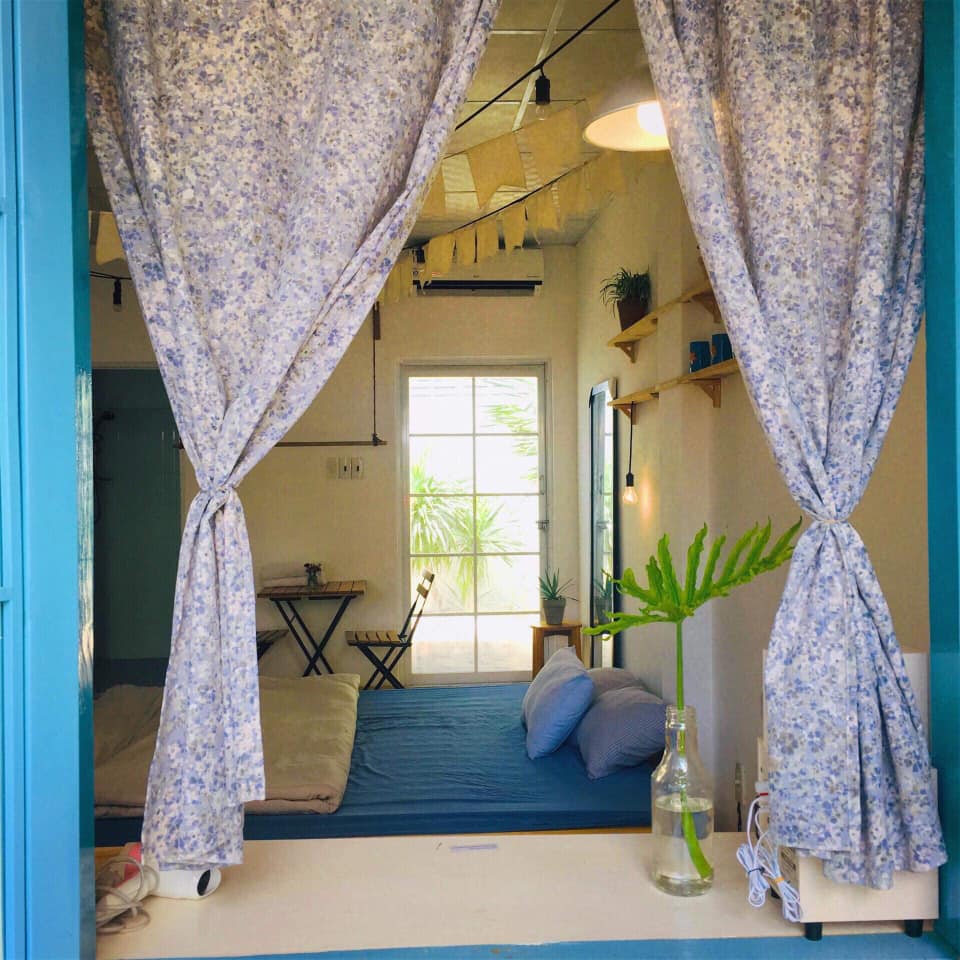 Guests can make meals for themselves or their lovers at the kitchen of My homestay Nha Trang with all necessary items such as kitchen, fridge, microwave. You also do not need to go out to buy breakfast because the homestay offers breakfast at no additional charge.
This Nha Trang homestay service is also extremely professional. Staff at the front desk are available 24/7 and can speak English, French, Korean and Vietnamese fluently. Staff are available to help with luggage storage or tour arrangements if you want to go somewhere.
One outstanding advantage of the homestay location that visitors should note is that the homestay is only 50m from the bus stop. Near the bus stop, it is very convenient for traveling from Cam Ranh Airport to homestay and from homestay to other tourist destinations throughout Nha Trang. If you want to transfer from the airport by car, the homestay also provides shuttle service and requires an extra fee. My homestay is also available for guests who want to cycle around in the city.
9. Mai Khanh homestay in Nha Trang
Address: 65/4 Nguyễn Thiện Thuật, Lộc Thọ, Nha Trang City, Khánh Hòa
Price reference room: from 150,000 VND / person / night
How to Nha Trang beach: 700m
Mai Khanh is one of the beautiful homestays in Nha Trang and only 700m from the beach, Mai Khanh impresses guests by its clean, spacious and comfortable space. Staying at Mai Khanh homestay Nha Trang, most tourists are delighted by the warmth that the inn owner brings. Free entry and exit time, so you can dance "overnight" in Nha Trang and go to your room at any time without worrying about not being able to access your homestay.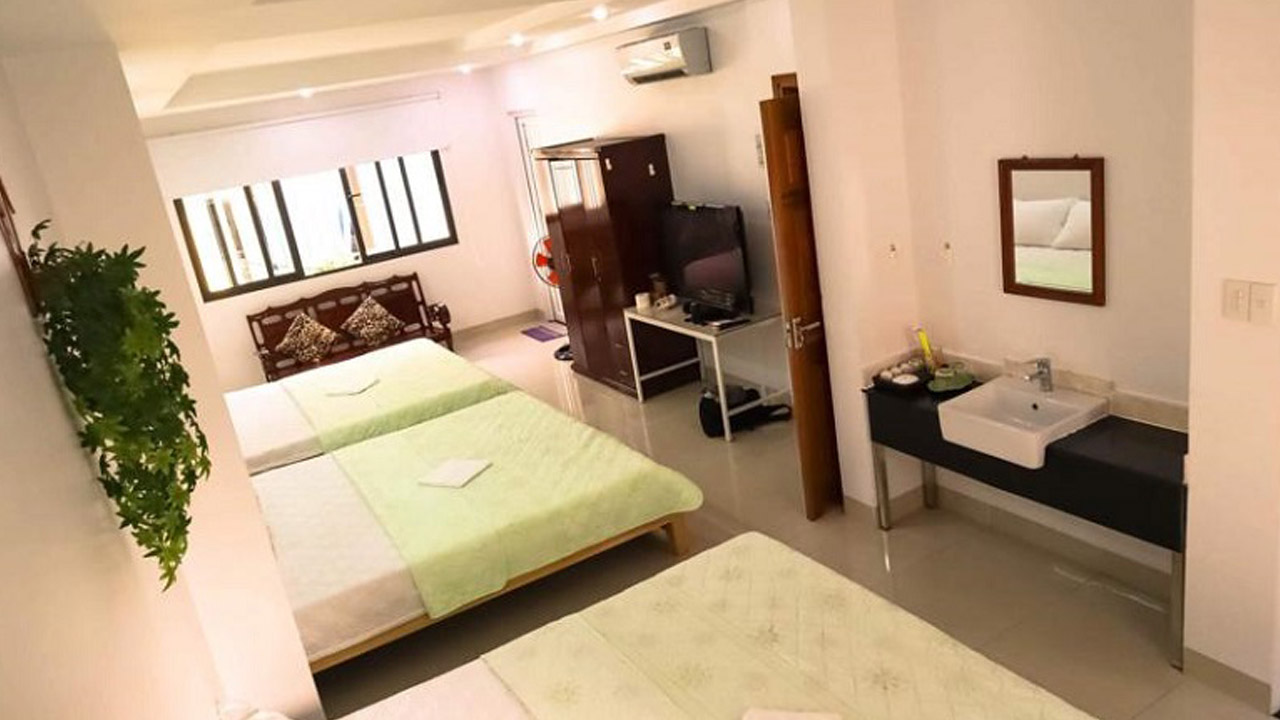 Homestay provides just the necessary services for you to have the most comfortable feeling like being at home from bed, bathroom, toilet, kitchen, … Mai Khanh Homestay provides equipped rooms air conditioning and free private parking.
Mai Khanh homestay is very close to Nha Trang beach, the homestay is only about 700 m from the sea. To go to the beach you only take about 5 minutes walk. Located in the city center area, Mai Khanh is very close to tourist attractions in the city such as Tram Huong Tower (400m), 2/4 Square (400 m), Vietnam Sailing Center (700 m) .
10. Vivid Boutique Hometel
Address: 14 Mac Dinh Chi, Phuoc Tien, Nha Trang City, Khanh Hoa
Price reference room: from 300,000 VND
How to Nha Trang beach: 1.4km
Vivid is a super nice, super new homestay that Dulichtoday would recommend to you. As one of the beautiful homestays in Nha Trang Vivid Boutique impresses overnight visitors with simple yet cozy beauty. The small space is beautiful with white background and dotted with a few colors from the green sofa, striped pillows, carpet … The room space is designed to be able to get the most natural light to make it feel fresh pleasure for visitors. Another great point is the location of the homestay very close to the market, restaurants and the beach. From homestay, it only takes about 10 minutes to reach Nha Trang beach!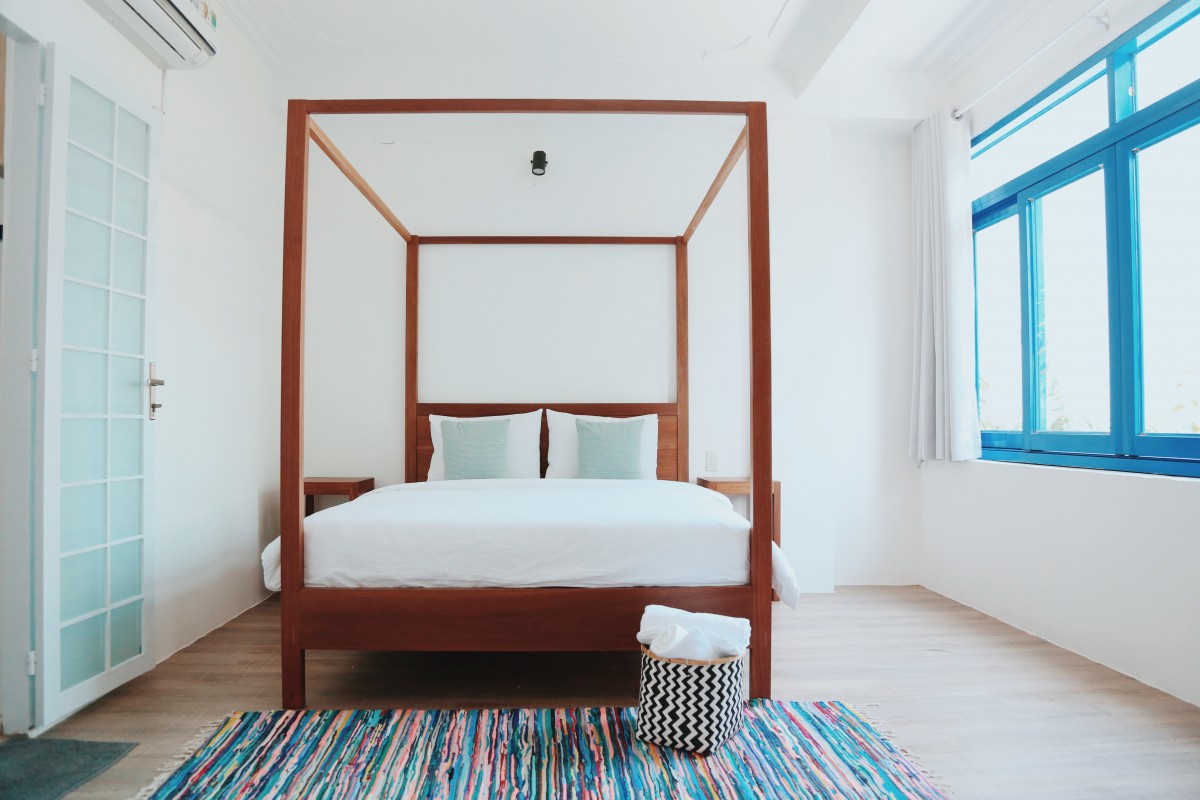 Room rates at Vivid Boutique Hometel are also extremely affordable from only VND 300,000 – VND 550,000 / room. Most of the rooms are double beds for 2 people but if you are traveling with a group of 4 people, you can rent a Deluxe Twin room for only 550,000 VND. During peak seasons room rates may be higher. However, on the common ground. Refer to the promotion price list in October of Vivid Boutique Hometel below:
Room type Room rate
Budget Double (small double room) 300,000
Standard Double (standard double room) 350,000
Superior Double 400,000
Deluxe Balcony (Standard room with balcony) 500,000
Deluxe 2 beds 4 people 550,000
To book a room at Vivid Boutique Hometel you can book through reputable booking websites such as agoda, booking, traveloka to receive many discounted promotions.
11. Kokoro homestay in Nha Trang
Address: 04 Đặng Tất, Vĩnh Hải, Nha Trang City, Khánh Hòa
Price reference room: from 500,000 VND
Far from Hon Chong beach: 900m
Kokoro homestay is a Nha Trang homestay just 50 meters from the sea. Nestled small and beautiful at 4 Dang Tat Street, when coming to Kokoro homestay, visitors will have a really different view. Kokoro homestay is designed and decorated in a minimalist style – minimalist but delicate of Japanese. Homestay was also established from a Japanese and has just been in operation since the beginning of 2018 until now.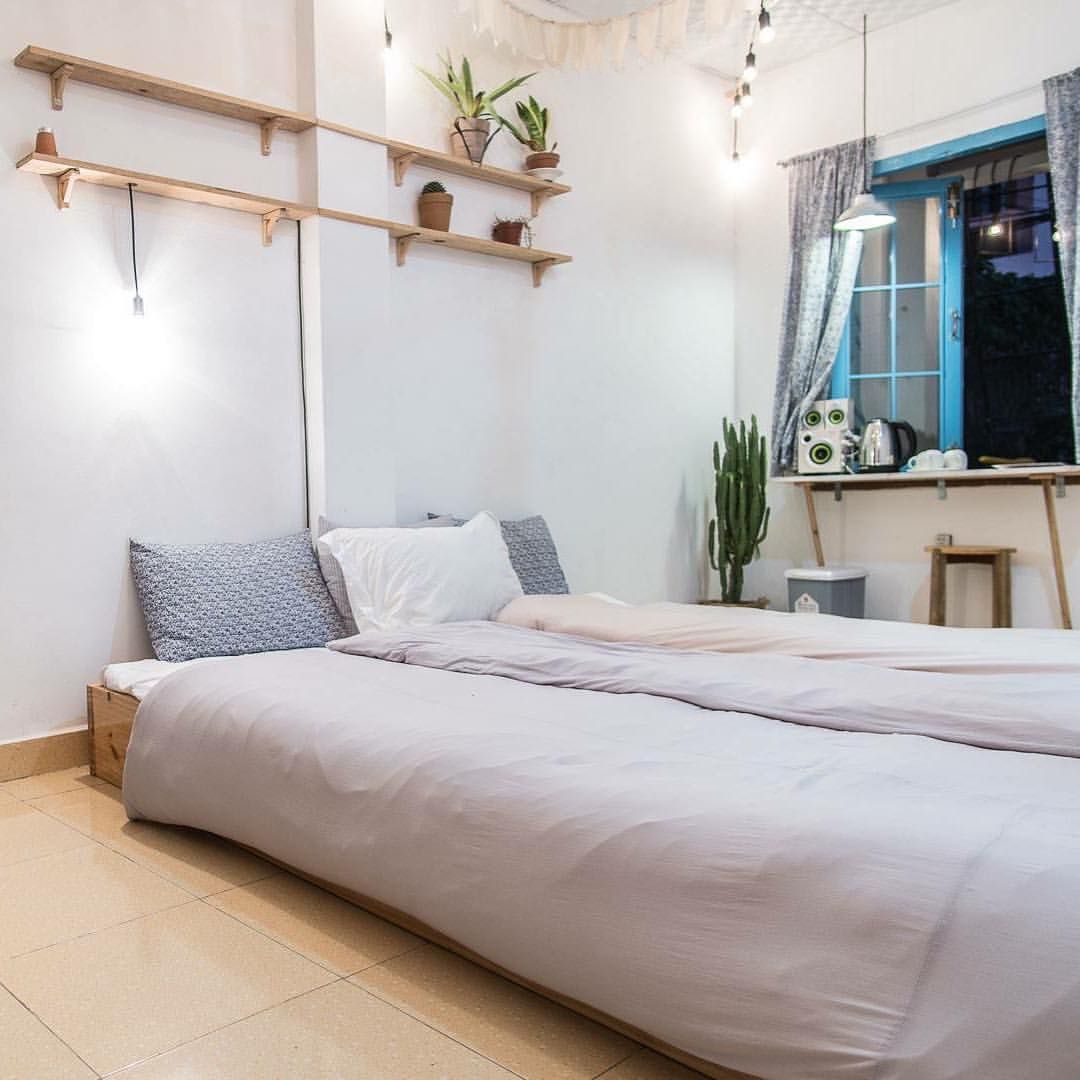 With 4 bedrooms, taking white as the main color and derco into the romantic green space of creepers, cacti, adding a bit of warm wood and yellow lights from the chandelier, everything in Kokoro makes everything the hearts of tourists collapsed. Each bedroom at Kokoro has a different capacity to suit the needs of traveling with family, friends or lover.
At Kokoro homestay, there is also a cafe serving tourists inside and outside the homestay with super delicious drink – IVU cafe. At night, IVU lights up with a romantic atmosphere. Sip a cup of coffee and enjoy the cool breeze from the sea enough to beat all tiredness.
Room type Room rate
Room 1 double bed 500,000 VND
Room 2 double beds 700,000 VND
Room 1 large bed (3.4 people) 700,000 VND
12. Vitamin Sea homestay
Address: 39c Yet Kieu, Van Thang, Nha Trang City, Khanh Hoa
Price reference room: from 110,000 VND
How to Nha Trang beach: 1.3 km
Vitamin Sea hostel is located right in the city center, about a 10-minute walk from Nha Trang beach. The coordinates in the city center are expensive but the room rates of Vitamin Sea are super cheap, only about 110,000 VND – 680,000 VND depending on the type of room and the number of people living. Right from the name Vitamin Sea has made visitors to this place feel the atmosphere of the sea from the inside out. Homestay is derco with the theme of the sea is the main. You can easily tell from the blue of the sea water painted on the walls mixed with white – the color of sponges and adorned with fish, boats and paddles swimming everywhere in the homestay.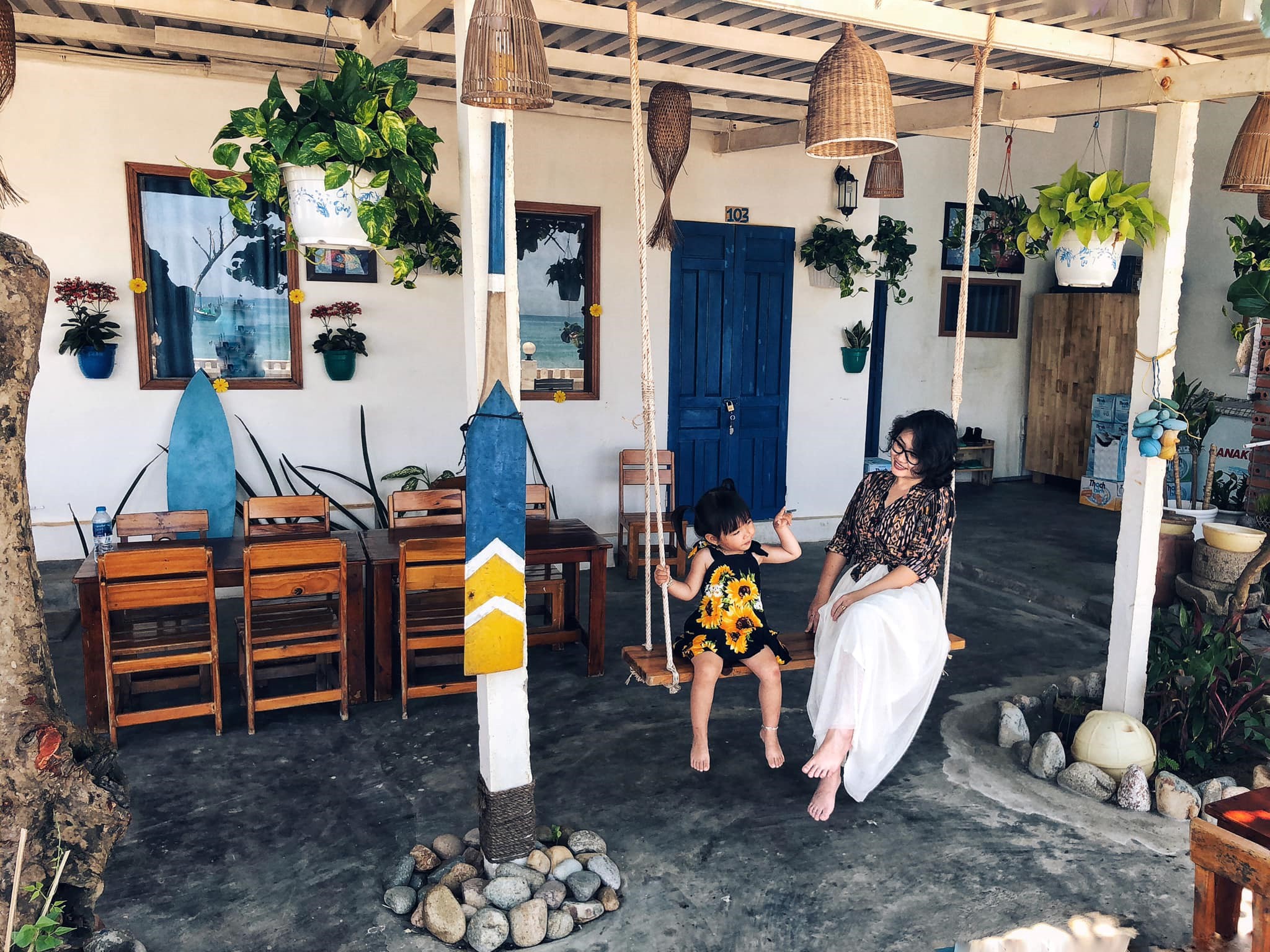 The dorm room system of Vitamin Sea is beautifully designed and convenient. The interior of the room is arranged according to minimalist rules, making the room become more spacious and airy. The homestay has two dorm rooms with a capacity of 8 beds each. Each bed is equipped with lights, sockets and personal cabinets. Two toilets and bathrooms avoid overcrowding every morning. Besides, the space is also very open with enough light taken from the surrounding windows.
Note: Homestay does not have a heater, only the solar system, so if you have to go on a rainy or sunny day, there is no hot water to bath, so you should pay attention to this issue!
13. Diagon Alley homestay
Address: 24/1 Bau Mac, Vinh Thanh, Nha Trang City, Khanh Hoa
Room price reference: 130,000 VND
How to Nha Trang beach: 6.4 km
If you are a fan of Harry Potter, as soon as you hear about "Diagonal Alley", most people think of the crowded, crowded alley. "Diagonal Alley" in Nha Trang is completely different from Diagonal Alley in Harry Potter. Named "Diagonal Alley" because the road to the homestay is zigzag and difficult to challenge with those who do not have patience. Therefore, for homestay guests, in the first place, the landlord is told that guests should just head to the alley and call that someone will lead you to take place.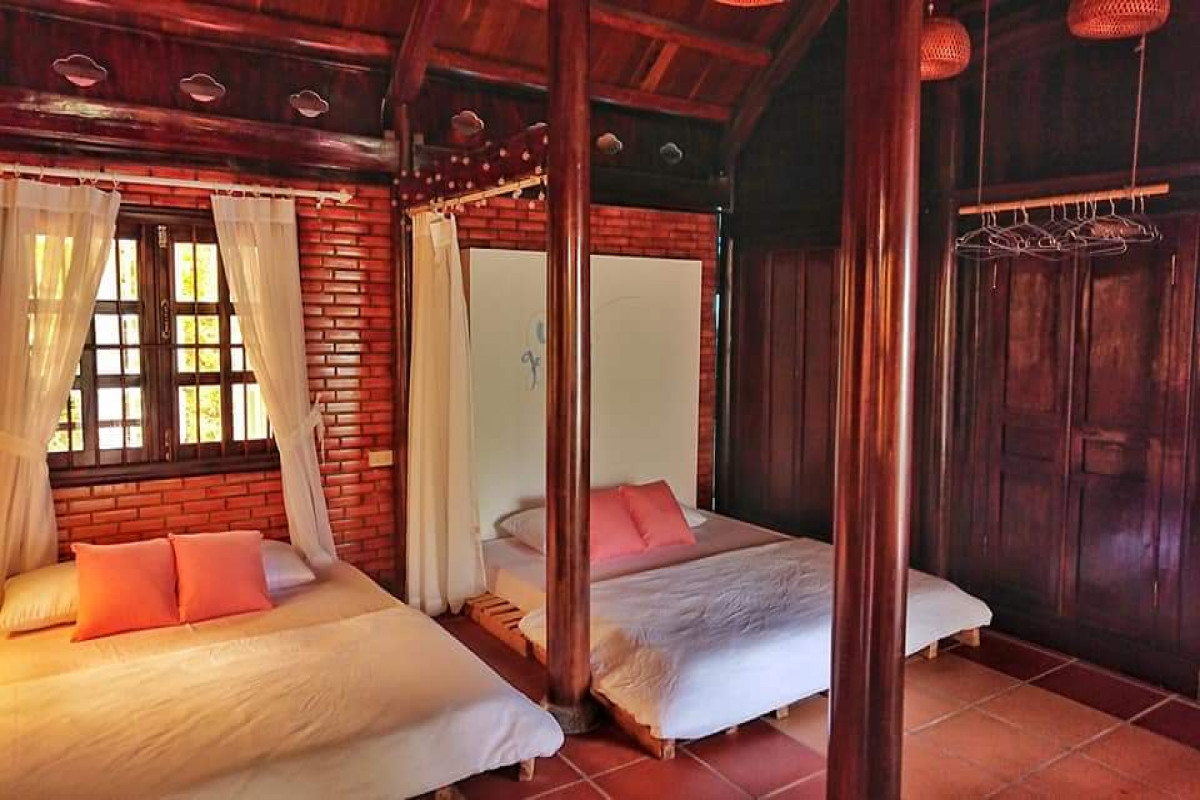 Xeo Alley has a completely different architectural style than other homestays in Nha Trang. Choose according to traditional garden house architecture like luxury villas. The space inside Diagon Alley is extremely spacious with a green nursery, which is meticulously cared for by the owner. The typical Vietnamese space is recreated with wooden furniture and decorative objects such as bamboo and neohouzeaua, the road to hang lanterns characterized "Hoi An".
Xeo Alley also has 4 diverse room types suitable for many different groups of guests such as dorm rooms, small wooden rooms, large wooden rooms, and Tree rooms. Refer to room rates at Diagon Alley in the table below.
Room type Room rate
Dorm (bed) VND 130,000
Small wooden room (2 people) 500,000 VND
Large wooden room (4-6 people) VND 800,000
Tree Room (2-3 people) VND 550,000
Note: The alley is a bit far from the center but in return the air is airy, spacious and very suitable for children to play around.
14. The River Side homestay
Address: Con Ngoc Ngoc, Nha Trang City, Khanh Hoa
Price reference room: from 150,000 VND
How to Nha Trang beach: 2.6 km
House on the river homestay is a beautiful homestay in Nha Trang emerging as an oasis of Coconut in the dunes of the De dune (Ngoc Thao islet). The name of the homestay also speaks about the location of the homestay. Homestay is a small house located on the Cai river. Although the location is a bit difficult to find but the space at the River House, not every homestay in Nha Trang can bring it to visitors. The house is located close to the river, nestled in the luxuriant coconut gardens. Here you can just enjoy the sunrise on the sea or more interesting is watching the sunset on the river.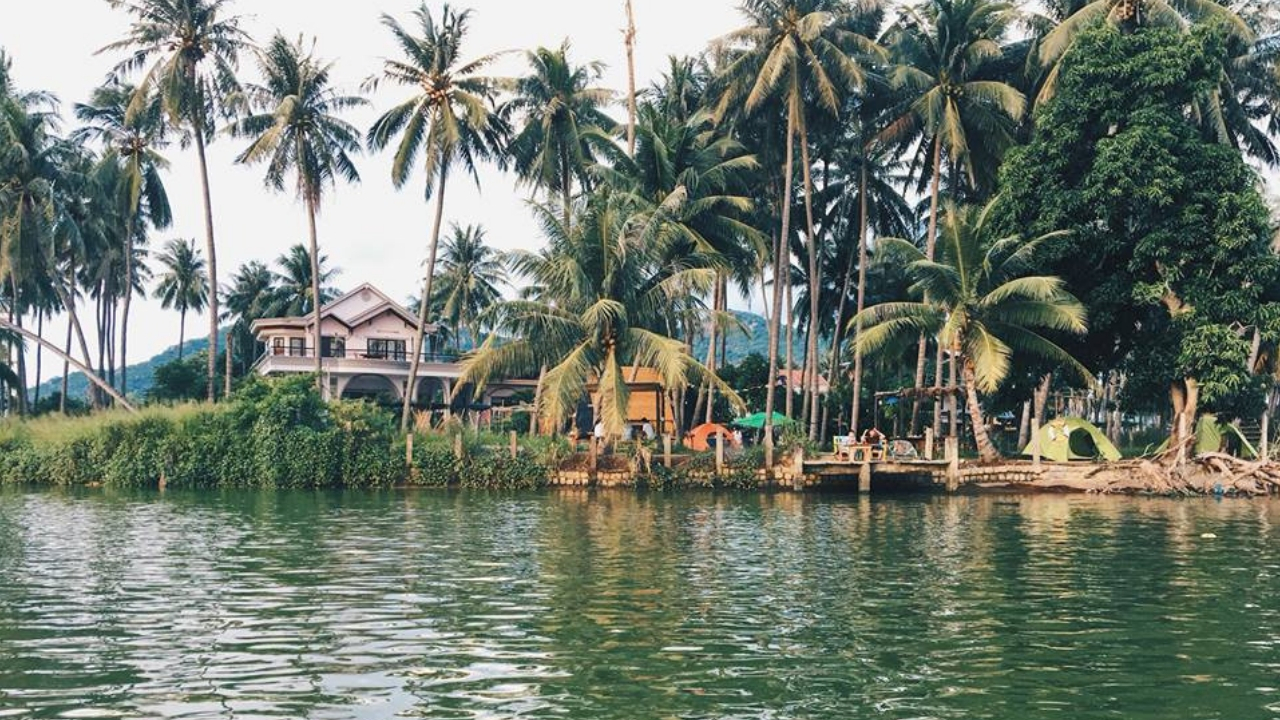 The House on the River homestay has a system of private rooms and dorm rooms, outdoors to serve the needs of the guests when coming here. Room rates are also very affordable. (150,000 VND / dorm bed, 250,000 VND / room from 2 people). The cool space at the Riverside House is suitable for an evening of BBQ fire or enjoy a cup of coffee and enjoy a quiet evening with friends.
Looking for a new difference in Nha Trang, do not miss the Homestay by the River. Make a reservation to avoid room availability early in the tourist season!
15. La la house homestay
Address: 81/20 Hoàng Diệu, Vĩnh Hòa, Nha Trang City, Khánh Hòa
Price reference room: 150,000 VND
How to Nha Trang beach: 1 km
You want to find a beautiful, small, beautiful, new Nha Trang homestay, then Lala House homestay is a great residence. 1km from the sea, from La la House visitors can easily walk around the beach. Homestay is also located right in the crowded residential area, which is convenient for moving and traveling. Located 250m from Hoang Dieu, 600m from Tan Binh market and located right on the road starting to the airport, near Vinpearl entertainment and ports to the islands, the location of La la house is really a plus point of this homestay.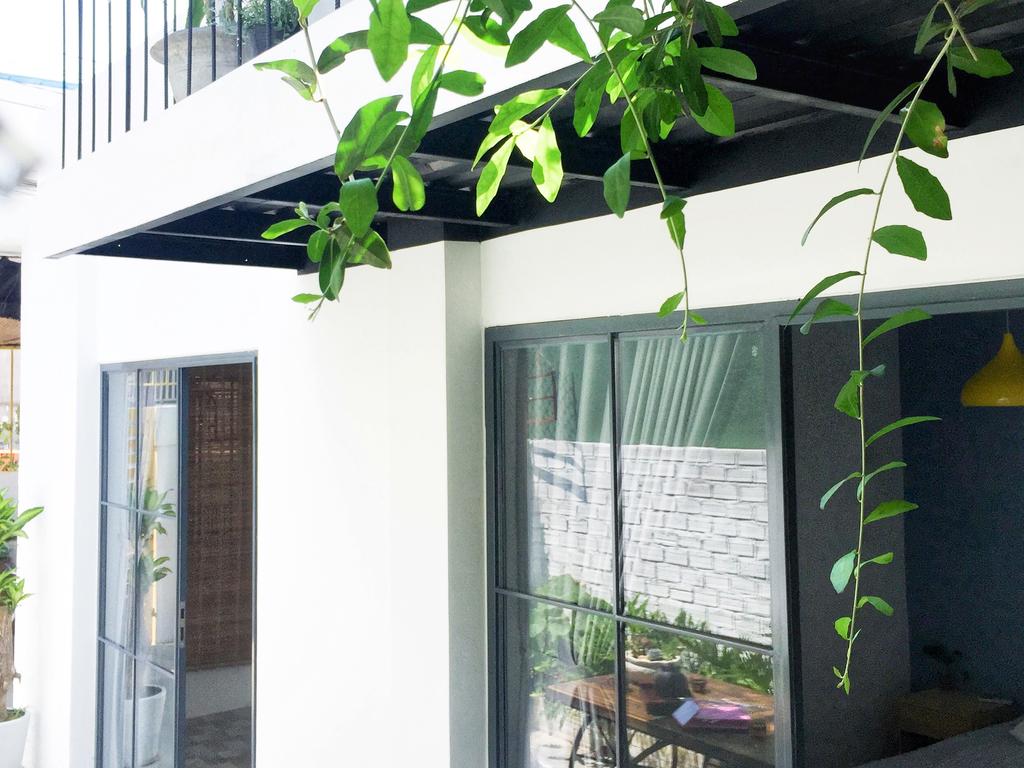 La la house homestay Nha Trang includes 6 single rooms for 2 people (VND 400,000 / room) and 1 dorm room (VND 150,000 / person / bed) accommodating 4 people suitable for groups of 4-6 people. Homestay is decorated with bright colors to bring a fresh feeling to the room. The beautiful little trees are decorated very cleverly to bring a relaxing feeling to the guests.
Choose La la house homestay as a stopover for the trip to Nha Trang, remember to contact the homestay owner in advance to ask about the availability of rooms!
16. 57 – Cheap Nha Trang homestay
Address: 57 Mai Xuan Thuong, Nha Trang, Khanh Hoa
Reference room price: 120,000 VND
How to Nha Trang beach: 1 km
Homestay 57 is one of the cheapest homestays in Nha Trang that DulichToday introduces to you. Price for 1 night sleeping here is only VND 120,000 / person / night. Homestay is located at 57 Mai Xuan Thuong. Homestay 57 is less than 1km from the sea, extremely convenient for strolling to see the sea of ​​other travelers. Not only that, the location near the market, supermarket is convenient for your shopping activities.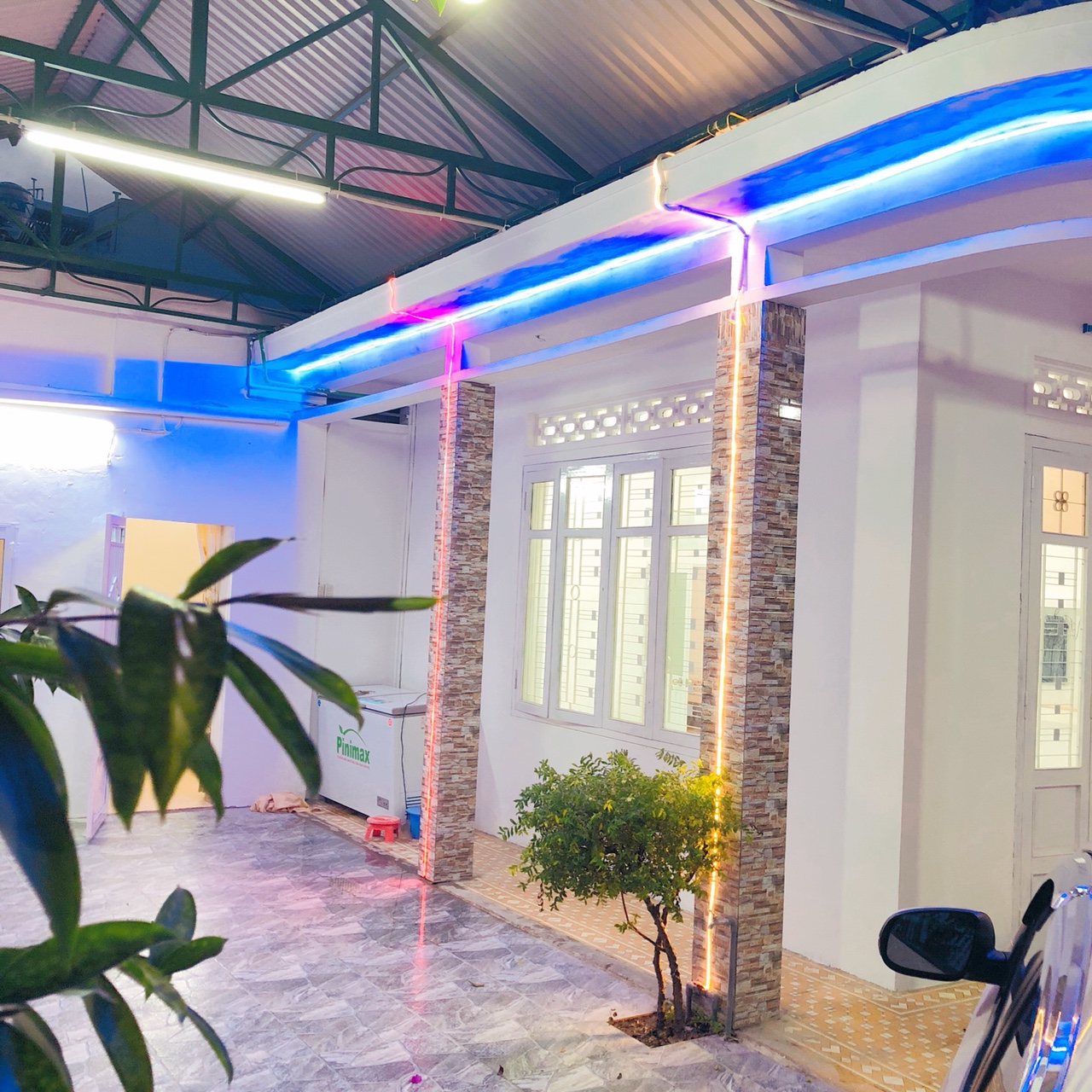 Simply furnished without fussy like other homestay, 57 Nha Trang homestay still provides full amenities for guests staying here. Every application in the homestay is quite new, giving customers a sense of enjoyment when experiencing activities here. Although there is only 1 floor, homestay 57 Nha Trang also provides up to 4 rooms with modern double and bunk beds.
17. A&C homestay & Coffee
Address: 37 Phú Xương, Vĩnh Hải, Nha Trang City, Khánh Hòa
Reference room price: 120,000 VND
To Hon Chong beach: 1.4 km
A&C is a Nha Trang homestay with a cafe with very nice view. Unlike Dalat, which stands out with unique homestays, the homestays in Nha Trang have a youthful and modern space not much. A&C homestay & Coffee has a lovely small space for renters and outside guests. The rooms of A&C are decorated simply but sophisticatedly and modernly. Rooms use bright, elegant colors such as white, cream, and beige along with green areas to make the room become clear and prominent.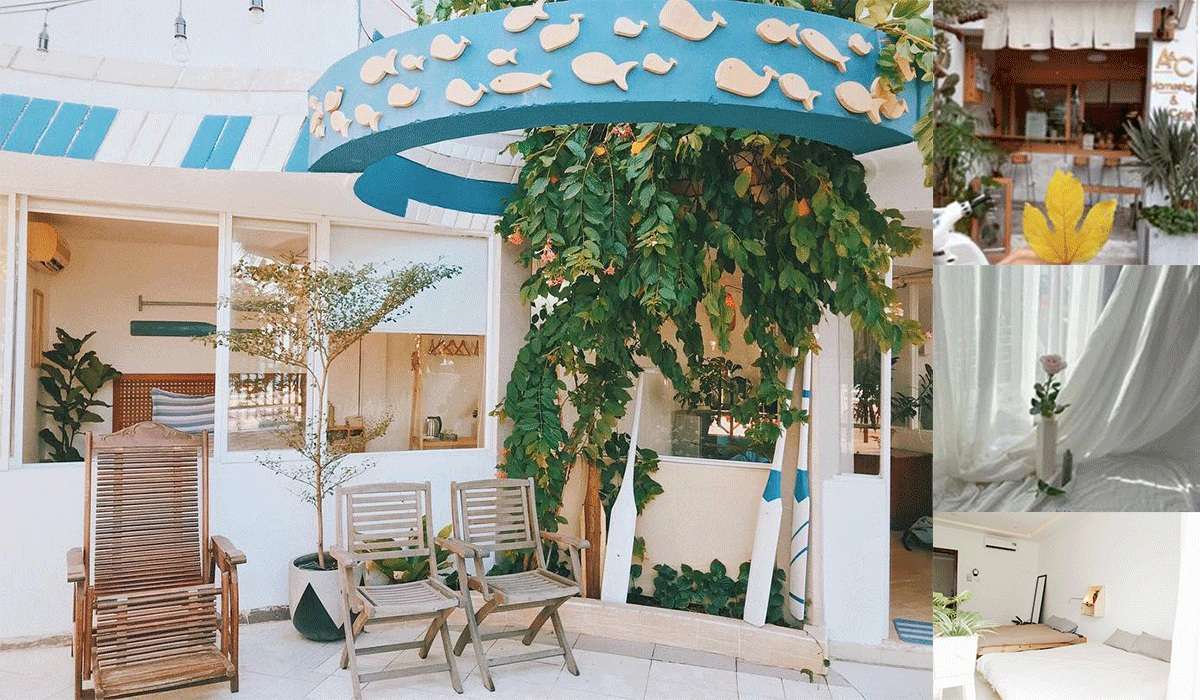 Guests will have 2 room options. Single room from 1-2 people with 1 double bed (580,000 VND / night). Double room with 2 beds is about 330,000 VND / room. Every little corner in A&C homestay & Coffee helps you to have a very virtual virtual background.
18. Seaview Muong Thanh Vien Trieu Apartment
Address: 60 Tran Phu, Loc Tho, Nha Trang
Reference price: VND 889,000 / night
Website: luxurynhatrang.muongthanh.com
Seaview Muong Thanh Vien Trieu is located on the beach of Nha Trang, overlooking the Hon Chong marine monument and the whole city of Nha Trang. This is also a very close location to the center, easy to move to the famous dining and playing areas.