1. Grilled spring rolls – Nha Trang snacks make up the brand
Price: 30,000 VND – 40,000 VND / interest
Origin: Ninh Hoa – Nha Trang
Type: Spring rolls / Salty dishes
Grilled spring rolls in Nha Trang? It sounds familiar … Nha Trang barbecue rolls are famous as alcohol among the sisters, devotees eating and drinking genuine sidewalk. Nha Trang grilled pork roll becomes one of the snacks in Nha Trang reminiscent of Tram's cuisine. Like Hanoi Pho, Hue beef noodle soup, Quang noodles, … Nha Trang grilled spring rolls impress customers with a unique and unique flavor.

Grilled spring rolls are Nha Trang snacks made from fresh pork that has been marinated and pureed. Wrap meat around bamboo sticks and bake gold on charcoal (it must be charcoal to produce the correct spring rolls). And only in Ninh Hoa can give the true baked rolls original Nha Trang.
A full baked spring rolls with full toping: raw vegetables, pineapple, mannequin, cucumbers, noodles … served with spring rolls and crispy fried rice paper rolls rolled in multi-spring rolls (rice paper) dipped in seasoning sauce. Grilled spring rolls have a very fragrant flavor, served with fried fried ram so support bored, mix with melon and delicious vegetables in the right way. Fish sauce seasoned with a little more spicy green pepper, numbness in the tongue. Or you can eat with a strange meat sauce is processed very special. Wrapped in rice paper and served with garlic sauce, the sweetness makes it more flavorful and makes a difference with baked rolls outside Hanoi or Saigon.
How to enjoy grilled spring rolls – delicious snacks in Nha Trang that make up the culinary characteristics of Tram Huong?
Basic information shop:
Dang Van Quyen grilled spring rolls
Address: 2-4 Phan Boi Chau / 16A Lan Ong, Nha Trang City
Opening hours: 10:00 – 21:00
Price: from 40,000 VND
Form: eat directly, bring back, ship goods via now / foody
Grilled pork rolls with Nha Trang Le Loi
Address: No. 15 Lê Lợi, Nha Trang city
Opening hours: 16:00 – 22:00
Price: VND 25,000 – VND 30,000
Form: eat directly, bring back, ship goods via now / foody
2. Nha Trang beating cake
Price: 30,000 VND – 40,000 VND / interest
Origin: Central provinces from Quang Nam – Khanh Hoa
Type: savory cakes
"Beating" is simply understood as the cake must be broken before it is eaten. The cake is a combination of hot crispy rice paper as the outer crust, wet cake sprinkled with onion fat served with shrimp, boiled pork, barbecue depending on the region. Biscuits are a snack food in Nha Trang and popular in the central provinces from Quang Nam to Khanh Hoa.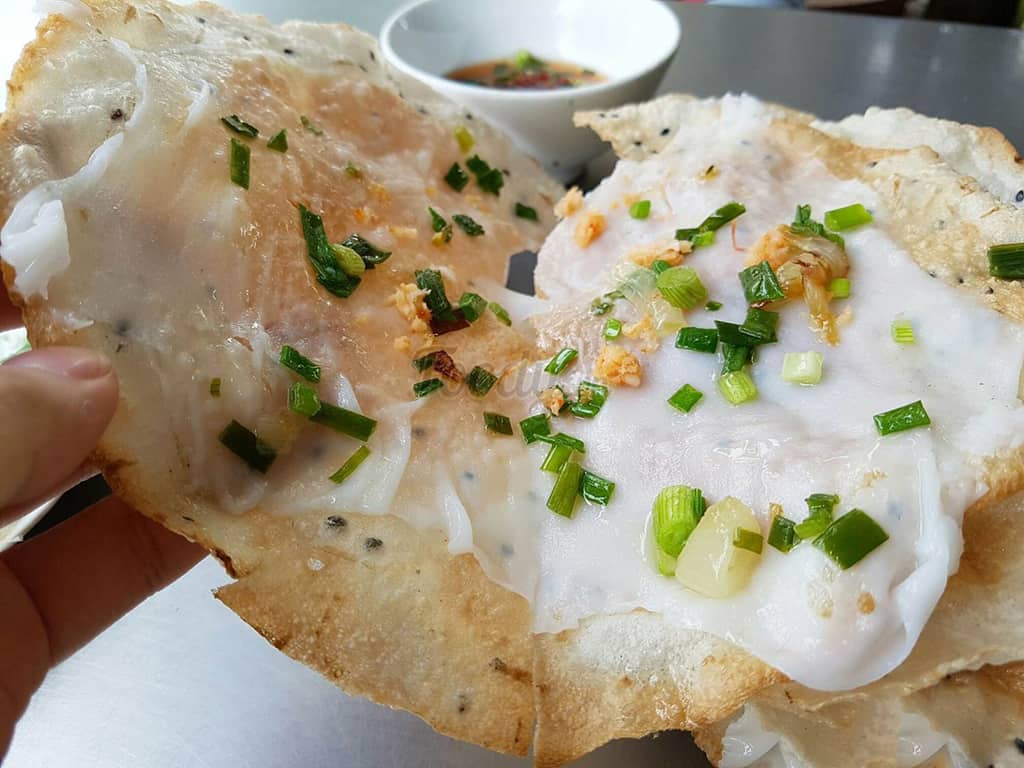 Delicious pounding cakes must be served with sweet and sour dipping sauce. Crispy rice paper with crispy crust, soft wet cake, fragrant scent of scallions eat spicy sauce, sweet and spicy sauce in the Central region.
Biscuits are not common in Hanoi, but if you are in Saigon, you can visit Beo Beo Cup Cake & Pavement Dam at Corner Nga 4 Le Loi & Le Lai, Go Vap District, Ho Chi Minh City. HCM. If you come to Nha Trang, you must definitely go to address 16 Hong Linh. If you go 2 people, the perfect meal for you will be 2 crackers, 2 egg cakes, 3 wet cakes plus 1 plate of grilled meat rolls with only 48,000 VND. Delicious but too cheap for a famous dish of Khanh Hoa land.
Region Name Quan Basic information:
Nha Trang Dap Hong Linh
Address: No. 16 – Hồng Linh – Nha Trang
Opening hours: 07:00 – 10:00 | 15:00 – 19:30
Price: 7,000 VND / piece, wet cake: 4,000 VND / piece, Cha lua: 3,000 VND / tree
Form: eat directly, take back
3. Banh cu – delicious snacks in Nha Trang
Price: from 20,000 VND – 150,000 VND / 6 wheel drive
Origin: Khanh Hoa, Ninh Thuan, Binh Thuan
Type: savory cakes
Banh Can is a special snack of the Cham people, so it is mainly popular in Khanh Hoa Ninh Thuan and Binh Thuan provinces. The pancakes look similar to the southern provinces, but if the pancakes are fried, the pancakes are baked in special molds. The mold is made of earthenware and has many small round holes for placing the mold. The cake is mixed with many different flavors from egg, meat, shrimp, octopus, squid.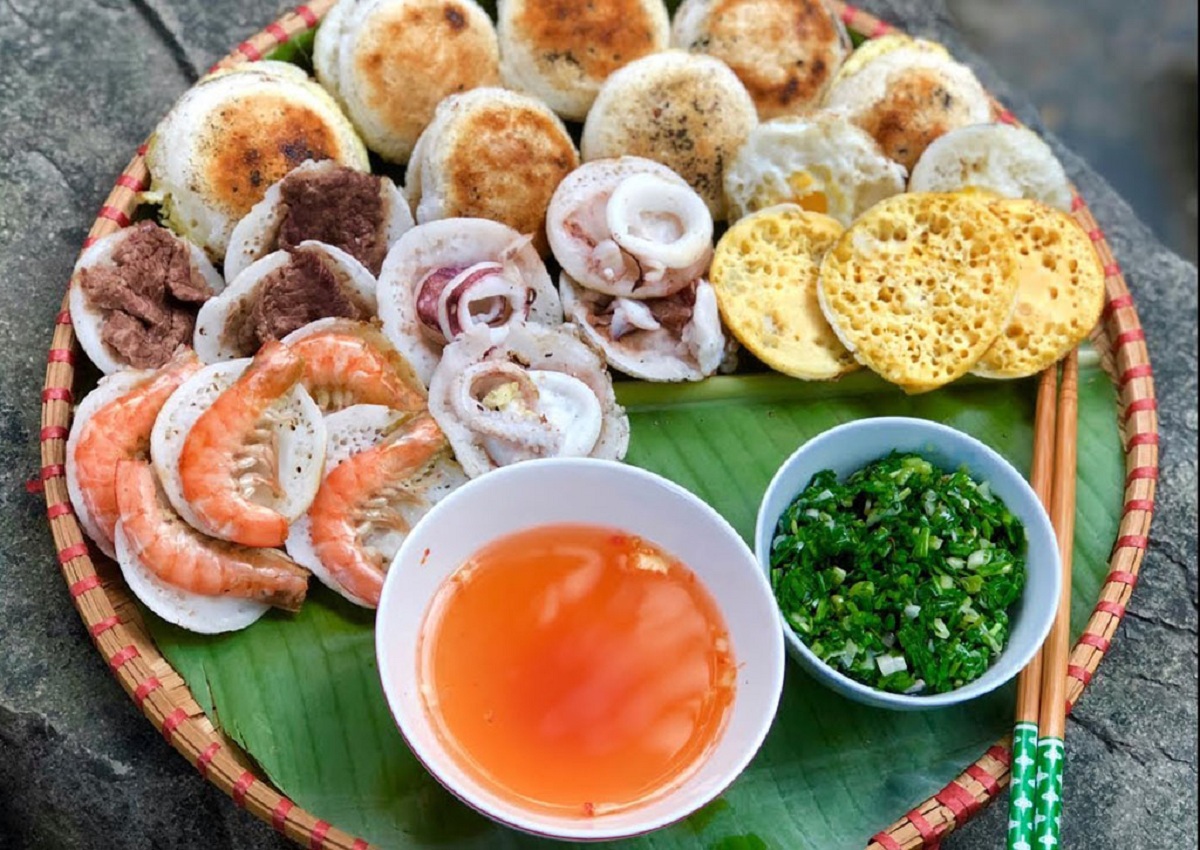 Banh Can is also a Nha Trang snack favored by locals and visitors. Serve pancakes with green mango, star fruit, cucumber, shredded carrots or sweet and sour salad. Can not help but mention the sauce is accompanied by fish sauce diluted with garlic, chili, sugar or braised fish sauce with hot onions.
Can Nha cannot help mentioning banh cuon at 51 To Hien Thanh. The title is the second best bakeries in Nha Trang land with quality cake worth the price. Also you can enjoy the cake base at many other locations in Nha Trang.
Basic information shop:
Banh Can 51 To Hien Thanh
Address: 51 Tô Hiến Thành, Tân Lập, Nha Trang City
Opening hours: 16:00 -21: 00
Price: from 20,000 VND – 150,000 VND / 6 wheel drive
Form: eat directly, bring back, ship goods via now / foody
Ut Can Nam Cake
Address: 127 Nguyễn Bỉnh Khiêm, P. Xương Huân, Tp. Nha Trang, Khanh Hoa
Opening hours: 15:00 – 21:00
Price: VND 16,000 – VND 20,000
Form: eat directly, bring back, ship goods via now / foody
Can Trang Cakes
Address: 3A Tháp Bà, Tp. Nha Trang, Khanh Hoa
Opening hours: 19:00 – 22:00
Price: 20,000 – 50,000 VND
Form: eat directly, bring back, ship goods via now / foody
Cakes are popular mainly in the Central and Southern provinces so any friend in Hanoi or the Northern provinces to eat Cakes, the only way is to come to Nha Trang immediately!
4. Grilled rice paper – student price – quality parents
Price: 5,000 -10,000 VND
Origin: South
Type: savory pancakes / rice paper
Baked rice paper (baked rice paper) is a kind of dry rice paper baked crispy on charcoal. The difference between a regular rice paper is that the rice paper is covered with a lot of filling on the surface. This type of instant rice paper is also given to a student by the student's name, pizza Dalat (baked rice paper in Dalat is the most famous).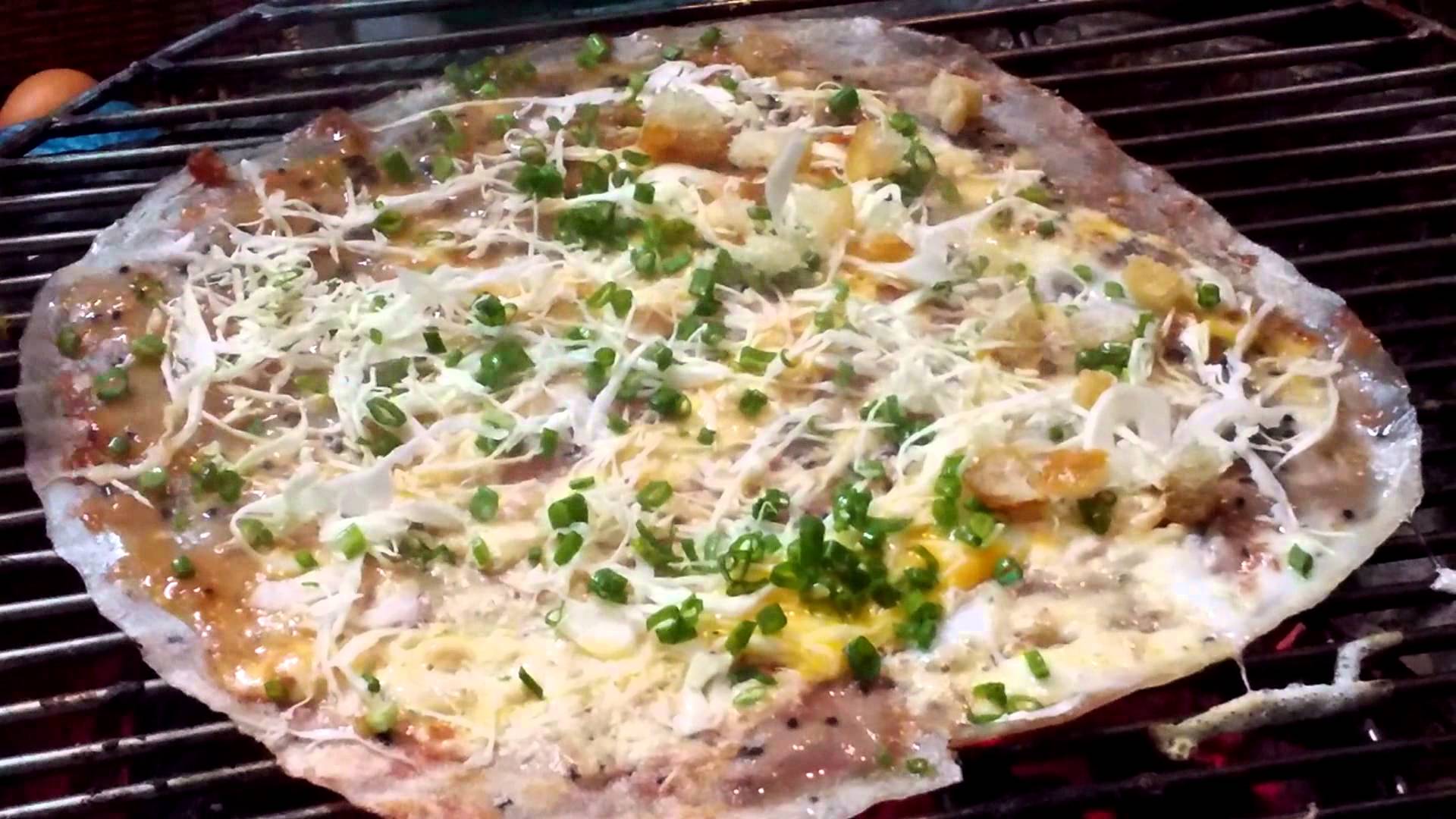 A delicious baked rice paper must be a kind of cake with a slightly thick base, hot and crispy baked bread. On top of a lot of toping like baked eggs, onion fat, pork rind, dried shrimp or dried beef. Eat properly with chili sauce and spicy hot and spicy sauce fish sauce.
Traveling to Nha Trang want to eat baked rice paper, do not forget to visit 2 Sisters. Nha Trang students often say jokingly that Nha Trang is a valuable gift of high quality student.
Basic information shop
Grilled rice paper with 2 Sisters
Address: Beginning De Po Street, Phuoc Tan Ward, Tp. Nha Trang, Khanh Hoa
Opening hours: 16:00 – 22:30
Price: 5,000 – 10,000 VND
Form: eat directly, take back
Pizza Dalat
Address: 12 Tran Quy Cap – Van Thang, Nha Trang City
Price: 5,000 – 20,000 VND
Opening hours: 15:00 – 22:00
Form: eat directly, take back
5. Curum charred rice
Price: 5,000 -10,000 VND
Origin: Vietnam
Type: dry rice / ready meals
Rubbing rice is a popular snack, sold in many places. Although similar by name, the difference that makes the special feature of elderberry is the flavor of rice served with burnt rice.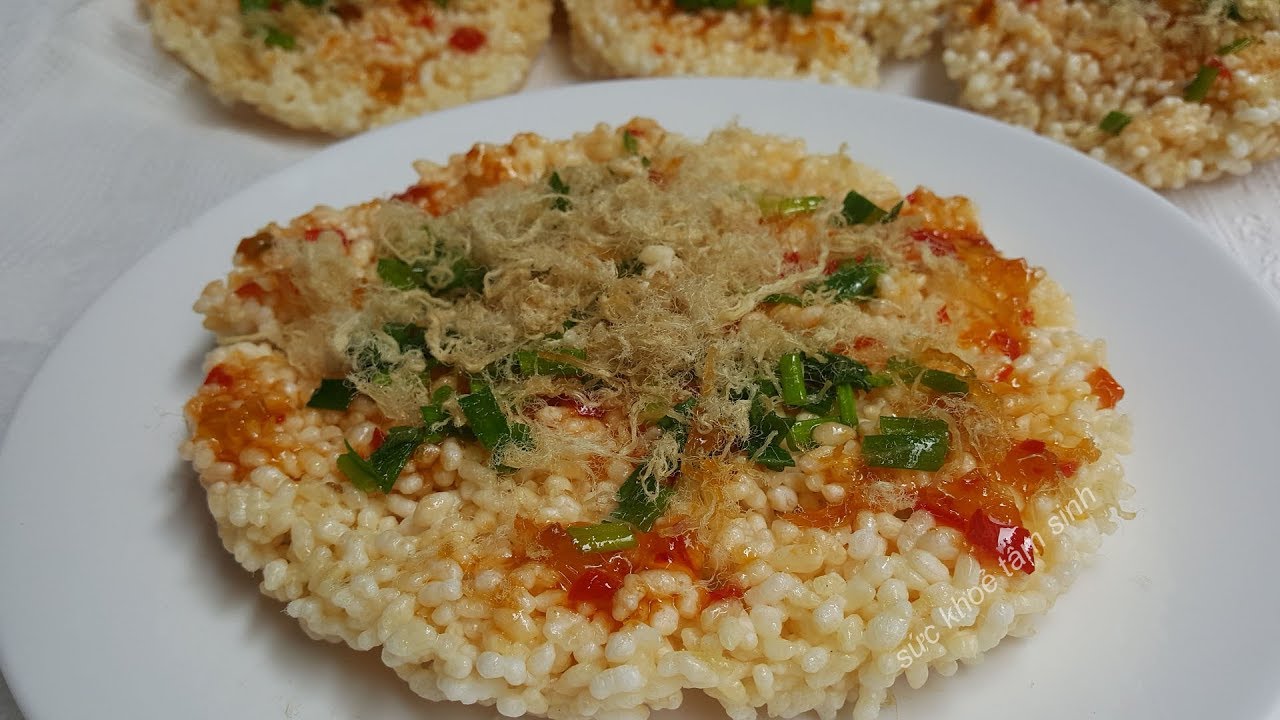 Scrub – one of the delicious snacks in Nha Trang must be mixed with cotton scrub (floss), dried shrimp, fried onion and a little chili powder. Eat burnt rice to add a bit of chili sauce is delicious right substance. Eating burnt rice on cold, rainy days is nothing better. You will feel like you are allowed to "be lazy" one day to enjoy a snack of childhood.
In Nha Trang, if you eat chilled rice and floss, you must mention the Curum burnt rice restaurant located on Nguyen Trai street. The burnt rice restaurant is just a shopping cart, so people often buy it to bring it, not eat it at the restaurant. If you want to eat at the restaurant, there are plastic chairs for children to sit on. The owner is super friendly and enthusiastic, the shop is open from 13:00 – 21:00, Sunday break, so every Saturday night I always reminded "I will not sell on Sundays, guys" very friendly.
Grade 10/10 for Nha Trang snacks – Curum burnt rice. Visit Curum burnt rice restaurant at 133 Nguyen Trai, Tp. Nha Trang, Khanh Hoa. From only 12,000 – 22,000 VND, you have a full and super delicious burnt rice.
6. Ba Bay fresh milk – a long-standing Nha Trang drink shop
Price: 10,000 – 20,000 VND
Origin: Nha Trang
Type: refreshing drinks
Ba Bay Fresh Milk is a refreshing and nutritious beverage associated with the people here. Mrs. Bay fresh milk shop is also a long-standing Nha Trang snacking restaurant, associated with generations of students. Traveling to Nha Trang and looking for a refreshing drink to stick with people, Nha Trang students, you can visit Ba Bay fresh milk shop located on Pham Hong Thai street.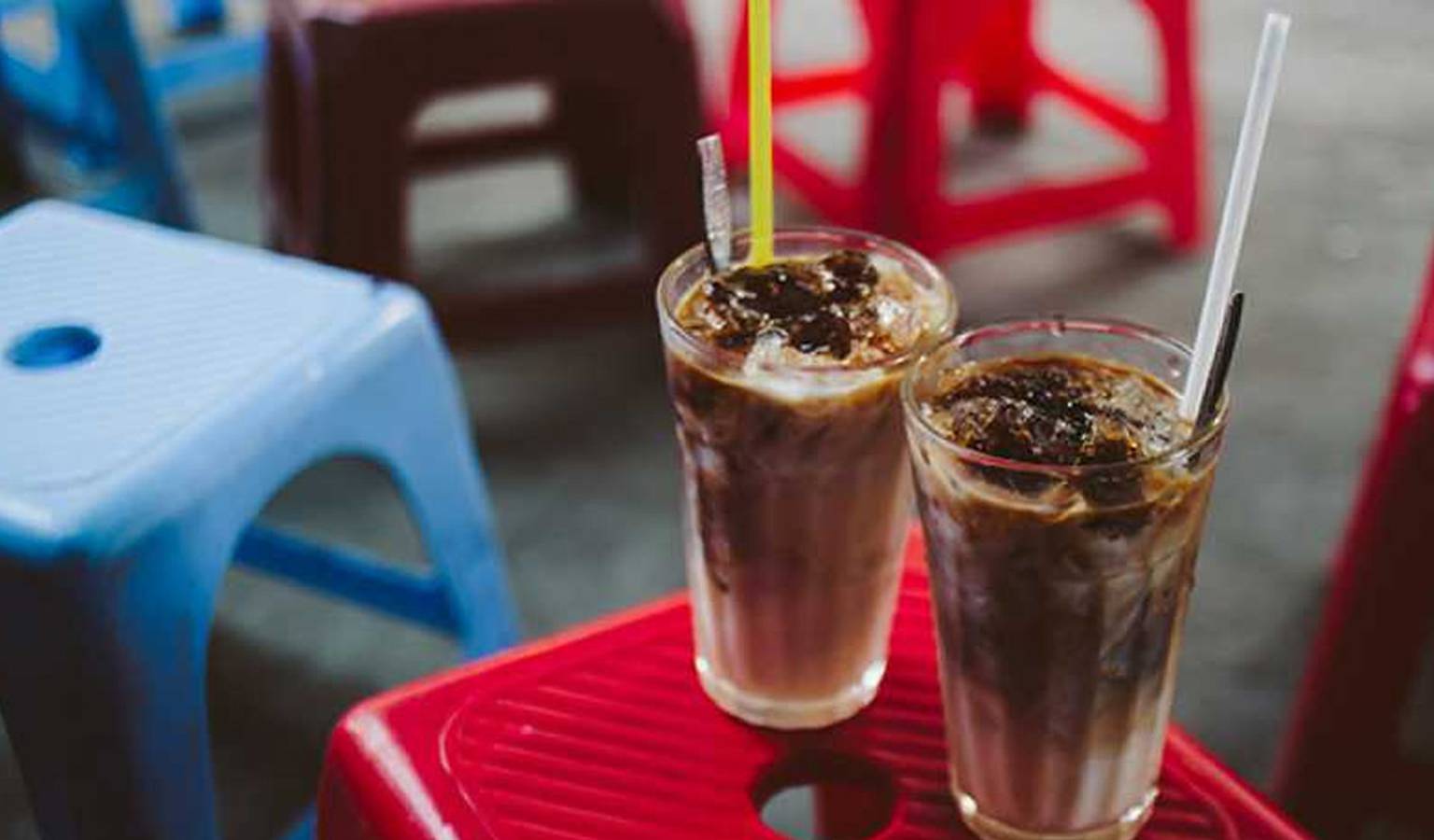 The menu is super simple with only 4 dishes of four fresh milk, tangerine milk, soy milk and pennywort juice, so it's easy to try them all. The smell of milk is sweet, but when drinking it has very little milk flavor. Fresh tangerine milk has a strong aromatic tangerine smell. Space is not large, but the one can sit on the road, so the guests sit on the road very crowded. Although the shop is crowded but the service is fast. The price is also reasonable from 7,000 – 10,000 VND / ly. To enjoy Ba Bay fresh milk, you only have to go to the address 7, Pham Hong Thai – Nha Trang city in the period from 06:00 to 11:00.
7. Snail alley 34 – Nha Trang junk food for girls who like "snails"
Price: 20,000 – 150,000 VND
Origin: Nha Trang
Type: seafood
Snails – a favorite snack of many Vietnamese people. To have a proper snail dish depends on many factors from the quality of the snail (snail must be fresh, large), delicious sauce, all tastes, how to cook snails. Choosing a good snail shop depends a lot on how the snail shop and its sauce are made.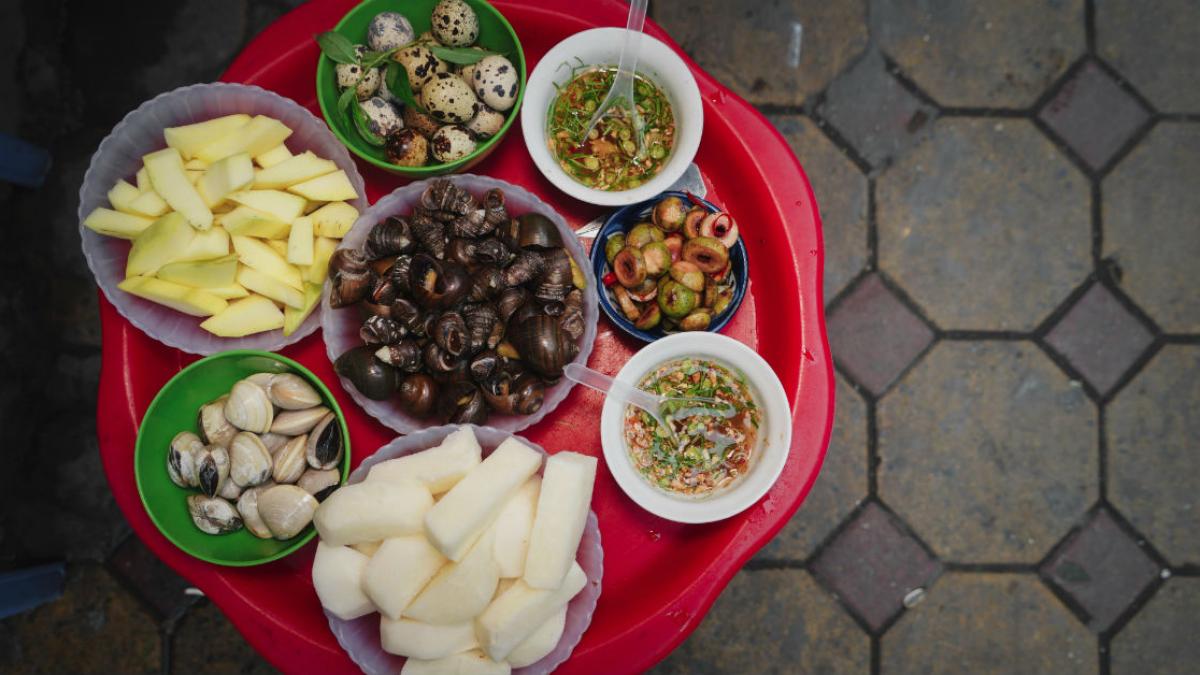 Coming to Nha Trang, if you are a girl who likes snail dishes, do not forget to enjoy Nha Trang snail. It is not too difficult to find snail shop on the way but eat delicious snail, it must be located in the alley 34 on Nguyen Thien Thuat street, Nha Trang city. Restaurant search, located in the alley away from the hospital 22/12. The shop is open from 4 -10 pm daily. The shop is super crowded, with seats indoors and outdoors. Spacious and airy.
Menu with all kinds of snails for customers to choose from grilled shrimp, fried oysters, onion, octopus, oysters … to all kinds of snails. The price must also be very cheap (from 20,000 VND – 150,000 VND) depending on each type of snails, different seafood. The best is the grilled snails with onion or fried with garlic butter. So if you have the opportunity to go to Nha Trang to eat snails, do not forget to visit snail alley 34. It is best to go early to eat the best food in the shortest serving time.
8. Stir-fried oysters with rice paper – Nha Trang snack has strange sweetness
Price: 30,000 vnd
Origin: Nha Trang
Type: seafood
Changing wind with Nha Trang snacks – Fried oysters with Trang cake, have you ever tried it? Marinated mussels are stir-fried first, when customers buy hot stir-fried with onions, taste to taste and served with crunchy rice paper very strange mouth. Delicious mussels, sweet, not gritty. Rice paper is also different from regular rice paper. The cake is tastier, thicker and has a tangy coconut flavor. Especially eating mussels must not be grit in the mouth is the standard.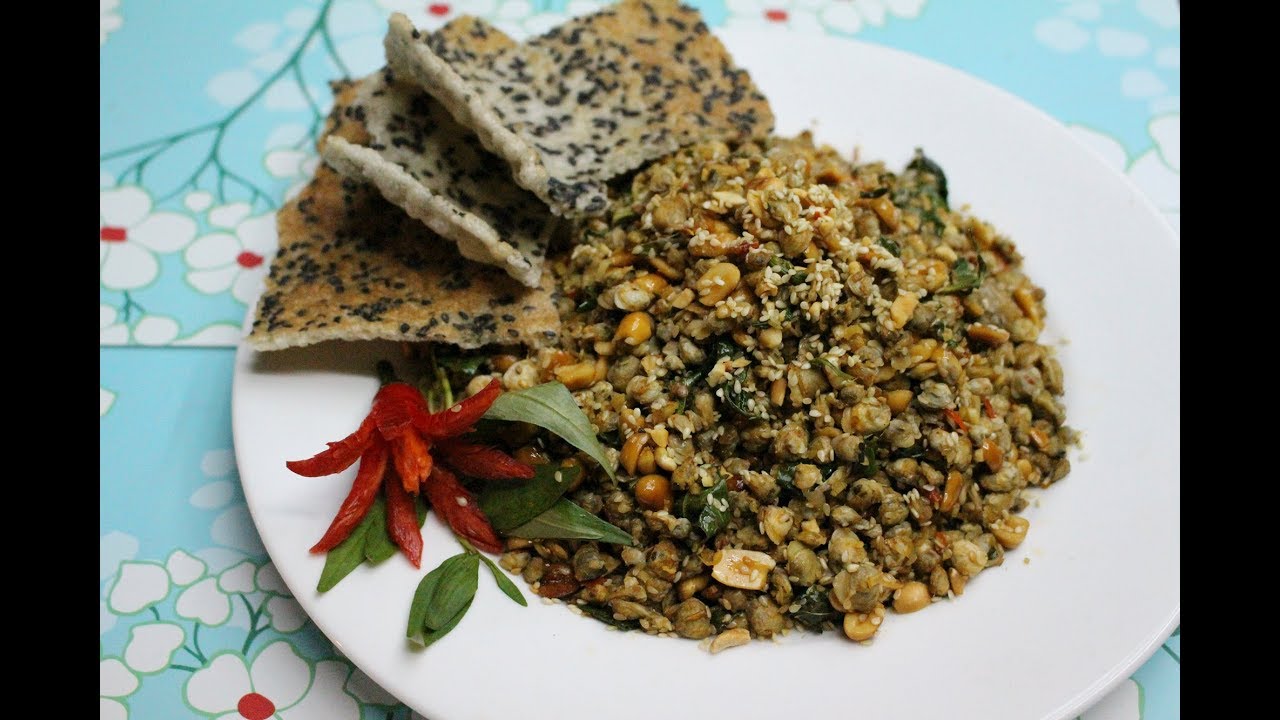 To eat the best fried oysters, the restaurant is located at 1, Ngo Gia Tu, Nha Trang City, the shop is open from 17:00 – 21:00 daily. 20,000 vnd for 1 mussel served with 1 rice paper, 30,000 vnd / serving with 2 rice paper. The owners are also friendly and enthusiastic. There is no direct seat so you must buy it.
Note that you should eat this Nha Trang snack while it is still hot, so it can be chilled and not cool. If you have not eaten promptly, the mussel gets cold, then you can saute the mussel to eat with rice paper.
9. Pancake Cake – delicious – nutritious – cheap
Price: 12,000 – 20,000 VND
Origin: France
Type: cakes
Pancake is a type of French cake that was introduced into Vietnam. Thin and round pancake. The ingredients for making bread from flour, eggs, milk and butter are fried on a hot surface like a frying pan.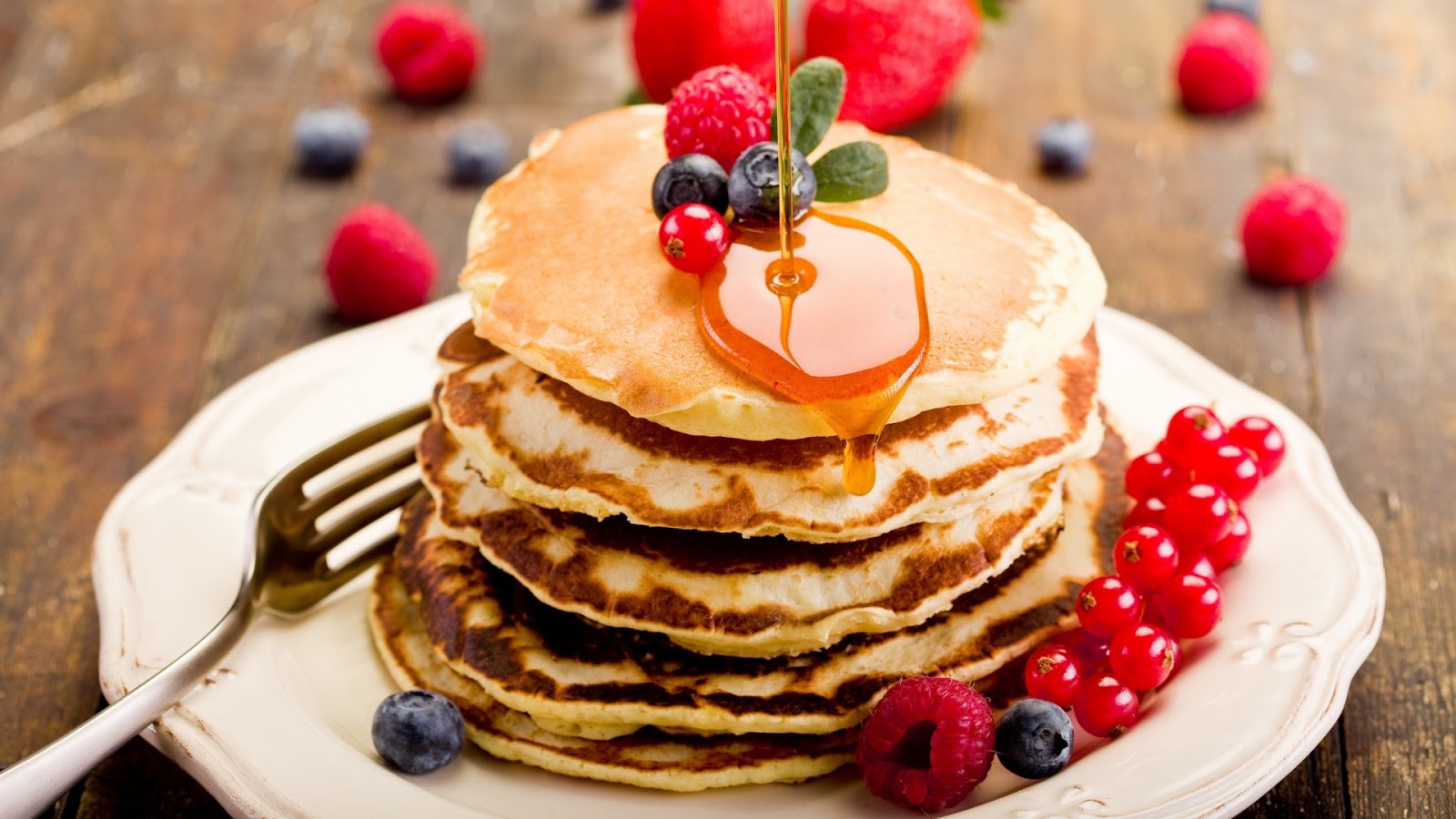 In Nha Trang you can find a place to sell super delicious pancakes located on Bach Dang Street. Pancake of the restaurant is located at 32 Bach Dang, deserves 5 stars for a delicious and cheap Nha Trang snacking restaurant. A lot of bread, clean, delicious. A special pance loaf of only VND 20,000 includes many fillings such as pate, egg, sausage, cold meat, cotton floss. If you like pastries, you can choose to add sweet, chocolate, ice cream and green tea. Big cake, fragrant and greasy.
The shop is just a stall selling on the sidewalk so you can stand to eat on the spot or buy it to take home. Take-home items are also packed extremely carefully, neatly and lovelyly at 32 Bach Dang Street, Nha Trang City. Only from 12,000 – 20,000 VND, you have a hot and fragrant pancake. Don't forget that the shop only starts selling from 15:30 – 21:00 so if you come in the morning you won't be able to buy cakes!
10. Fruit tea – seasonal snacks in Nha Trang
Price: 12,000 – 80,000 VND
Origin: Vietnam
Type: dessert / snack
When it comes to Nha Trang seasonal snacks, it is impossible not to mention special snack food in the summer. Nha Trang weather is quite hot, so stopping to make a cup of tea is also a good idea.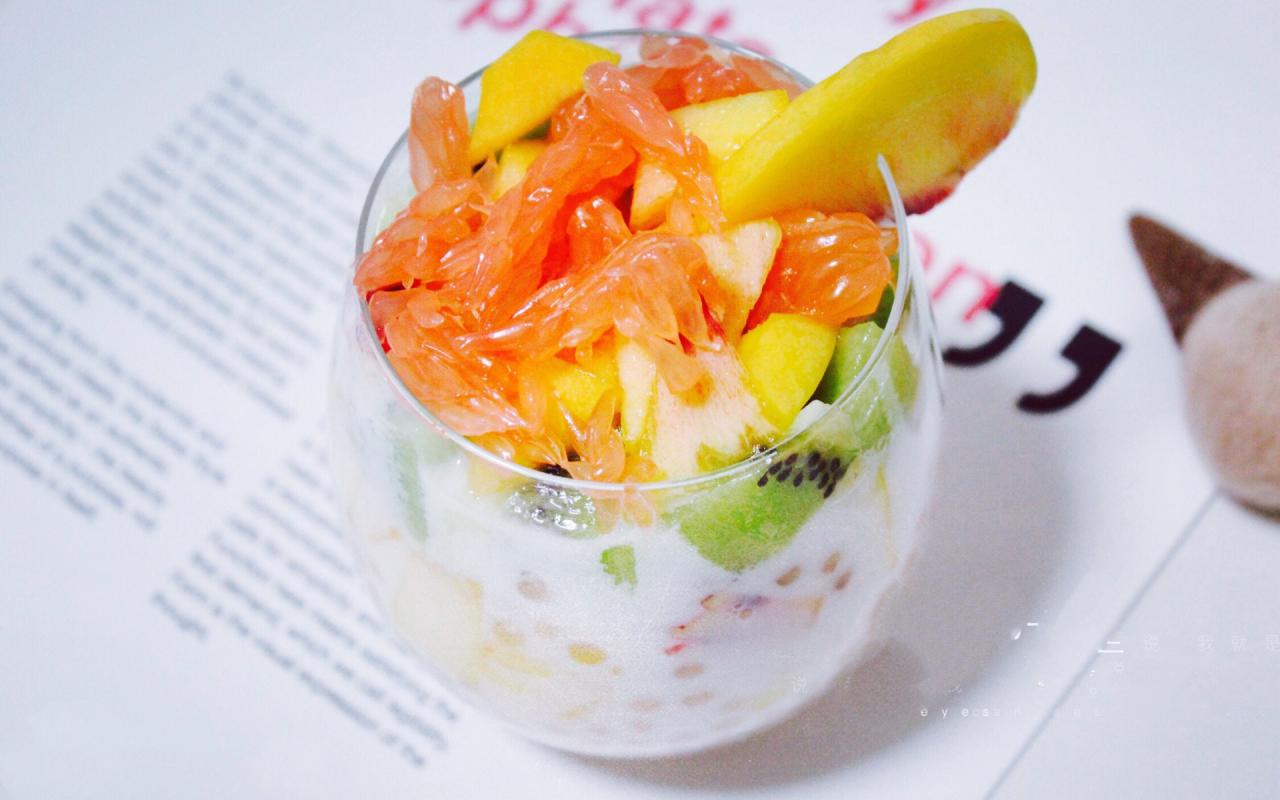 Tea is cooked from many different ingredients to give a suitable tea flavor from banana tea, sweet potato tea, mist tea, pomegranate seed, grapefruit tea, green bean tea … Depending on the preferences of each person, they like to eat Each dish is different. Coming to Nha Trang you can find many specialty tea shops with special delicious taste.
Quang Trung Tea No. 4: Tea shop No. 4 Quang Trung is a long-standing tea shop in Nha Trang city, so it has a lot of patrons. Tea here is all kinds of tea from hot tea to stone are available. Tea is cooked with a cool sweetness without being too harsh, the aroma of tea is sugar-flavored. In addition to tea, the shop also sells delicious fresh fruit bowl and side cakes. The shop is open from 9am to 9pm daily so you can enjoy this tea anytime. The price of tea here is also extremely affordable, only from 20,000 to 25,000 VND for 1 cup of delicious tea in tune
The shop is just a sidewalk shop but quite crowded in the evening. You can oder delicious flan cake, greasy egg and fresh egg. Choose fatty, durian butter that is not too sweet but smells durian. Grass tea is actually a pomegranate dew. Ginseng tonic bar, eat cool and cool. If you like to eat fruit, you can choose fruit tea of ​​all kinds and also have persistent dough, delicious and hard to resist.
26 Han Thuyen – Durian tea specialist: If you are a durian fan, you should visit 26 Han Thuyen, the shop is open from 10:00 to 22:00, the price is from VND 30,000 / bowl with large and special types but just to eat a bowl of 30,000 vnd is enough, the fresh durian is cut right after making the tea, the juicy flesh is filled with fried durian cake and soy milk. You can enjoy durian tea if you come to the shop between 10:00 and 22:00 daily. There will be staff to ship to your home there.
11. Tea Helping hunger – 34 Ngo Duc Ke
Price: 5,000 – 7,000 VND
Origin: Vietnam
Type: dessert / snack
Hunger tea is a special tea only available in Nha Trang. It is not due to the special method or materials for making tea, but what makes the difference of Savior tea is from the price of the tea. Too cheap for a cup of super delicious tea only 5,000 – 7,000 VND.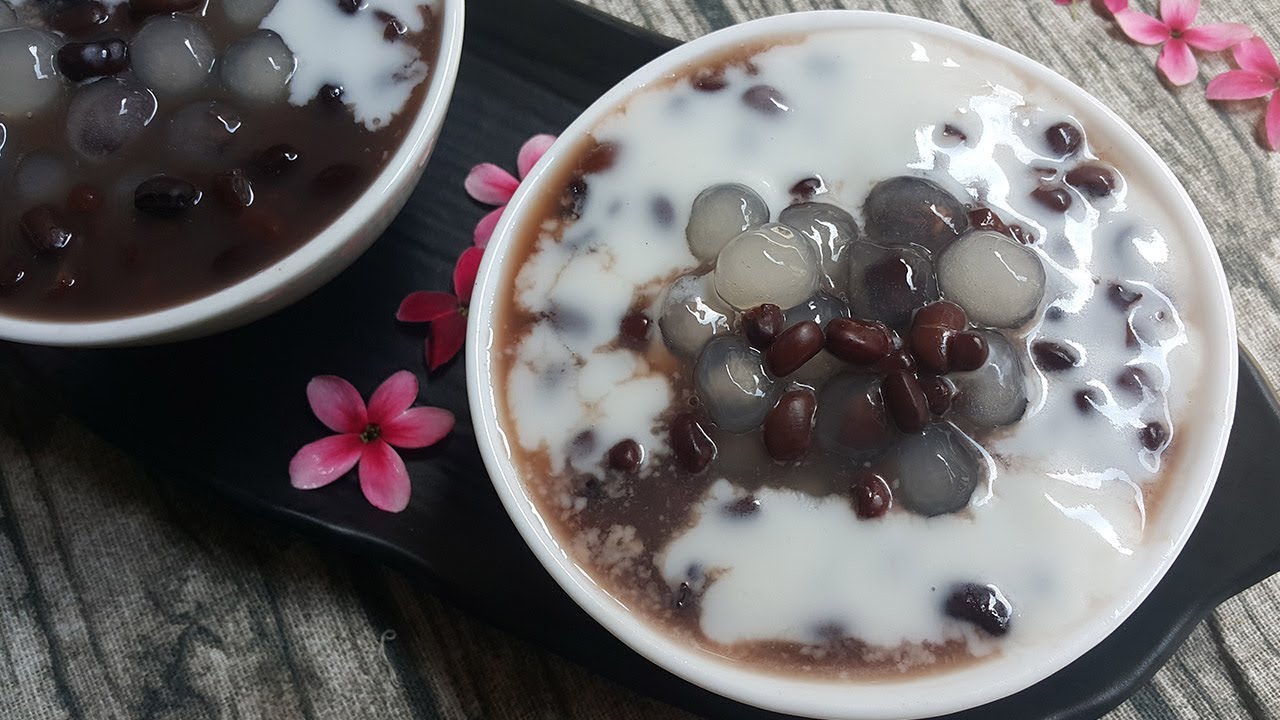 Rescue tea is all kinds of: banana powder tea sold, regular tea, black bean tea, green ginseng seeds, ginseng green tea, … Each cup will add coconut milk to eat very delicious, there are peanuts . In addition, they also sell fresh milk bottles, mango fish paste, frozen coconut mist cup, purple potato tea to buy or take at home.
Savior tea is a snack shop in Nha Trang that specializes in tea for a long time. The shop is open from 11:00 am to 17:00 pm, the price is only 5,000 / cup, the owner is friendly and friendly, so the customer always comes back, there is mixed tea, fresh taro, cool banana, coconut or coconut tea If you have a Bui Bui, eat at a restaurant or take home, you won't be charged extra. The shop is the most crowded around 11 noon, students are crowded school study. And at noon, around 1:00 am – 2:00 pm but there is sunshine.
Famine relief tea is only sold at 34 Ngo Duc Ke, Tp. Nha Trang, Khanh Hoa. Remember to note right in your travel handbook if you have the opportunity to come to Nha Trang and have the opportunity to enjoy this interesting snack.
12. Korean food – ũ's Kimbap snack shop in Nha Trang specializes in Korean food
Price: 20,000 – 50,000 VND
Origin: Korea
Type: savory dishes
Korean cuisine is also one of the most popular cuisines. So when coming to Nha Trang if you like Korean food, where should you eat it? Kimbap ũs is an appropriate choice when looking for Nha Trang snacking restaurants at night, specializing in Korean food in the evening.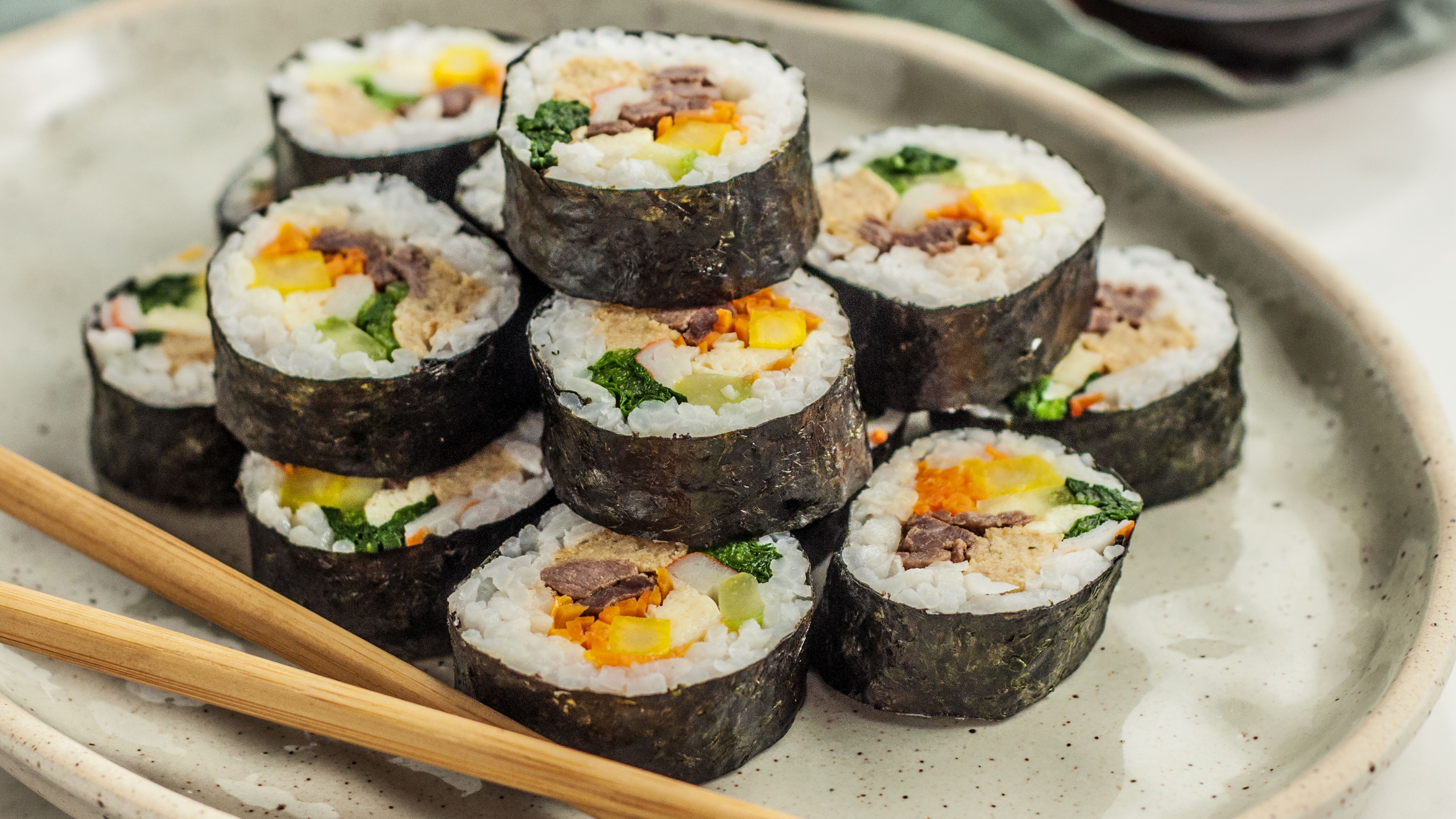 Diverse menu with different dishes from rice – hotpot – cake, tokboki, noodles … with all prices, all kinds. The price of food here is quite ok. The restaurant is delicious, cheap and clean, so it is visited by many local residents. Because the restaurant is quite small, if you want a seat you should go early from about 5-6 pm.
The restaurant only sells food from 17:30 – 21:30 so want to enjoy food at ũs Kimbap, you should come during this time. Fast service but sometimes too crowded, staff forgot oder for guests. This is also a limitation of ũs Kimbap. However, the price of food at the restaurant is also extremely affordable, only from 20,000 to 50,000 VND for 1 dish. With 100k, you can fill your stomach when enjoying food at ũs Kimbap!
13. Jelly milk tea with kernel at V2 "National Milk Tea Shop"
Price: 13,000 – 18,000 VND
Origin: Taiwan
Type: dessert / refreshment
Milk tea – an indispensable snack for young people originating from Taiwan. Milk tea becomes a snack often found in many localities of our country. Different from the usual milk tea, jelly milk tea has a special feature in that when you eat pieces of milk tea jelly, you will always eat the fruit of the jelly. There are many different types of fruits from grapes, apples, pears, mangoes, dragon fruits … to make jelly.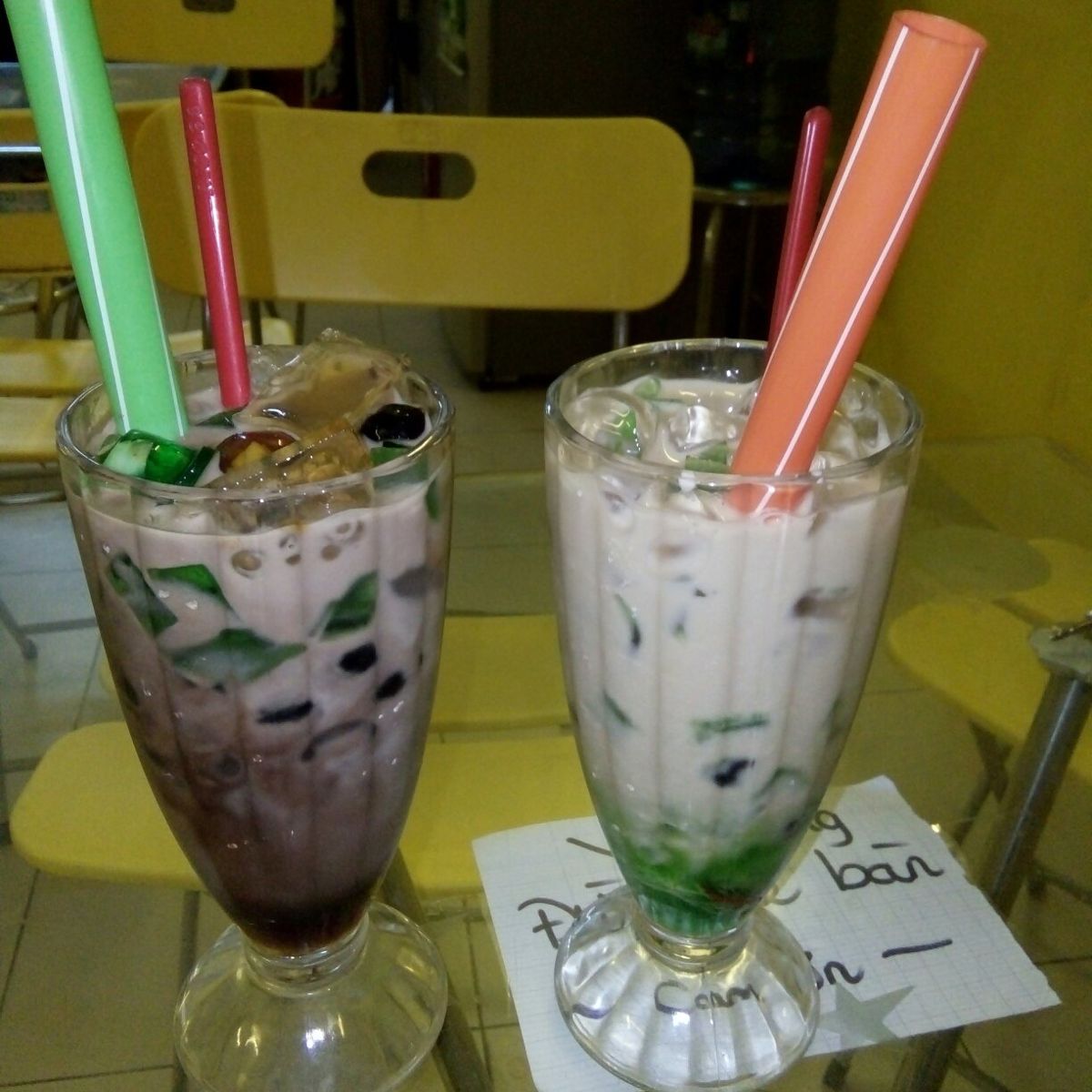 If you enjoy a milk tea flavor with fresh milk jelly flavor, V2 at 62 Hoang Van Thu Street is the address you should not miss. V2 was dubbed the "national milk tea shop" in Nha Trang. V2 is all class of Nha Trang students no one is unaware. Especially in the midst of the current milk tea storm, V2 is still a reliable and friendly address for all ages.
Compared to other types of milk tea here, the price is quite cheap, although the tea flavor is not strong, just a normal level but the topping is very good, diverse jelly pearls, delicious, especially white pearls also have a greasy aroma. coconut. A small restaurant should be suitable to take home or go in small groups. The shop is open from 11:00 to 21:00 daily with prices ranging from 13,000 to 18,000 VND for 1 cup of milk tea. True quality students need delicious but cheap dishes.
14. Bread of Solidarity
Price: 10,000 – 15,000 VND
Origin: Nha Trang
Type: savory cakes
Bread is a dish containing Vietnamese culinary culture. There are many ways to make a delicious bread. Try the dipping bread in Nha Trang on Doan Ket Street if you have the opportunity to come to Nha Trang!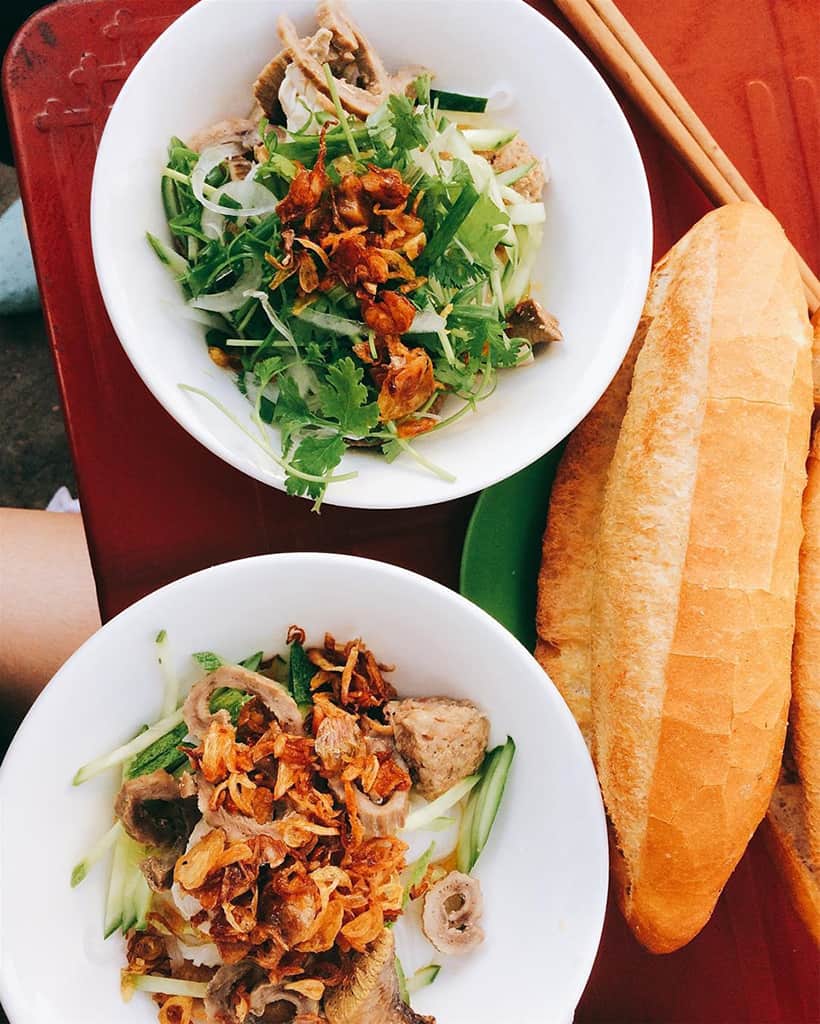 What makes the bread special dot Solidarity not only from the way it is different from the usual but also from the taste of bread served with bread. A bowl of dipping sauce, including chicken egg sauce, green onions, chutney, cucumber, quail eggs, fried eggs, fish cakes served with 1 loaf of special Nha Trang bread. A combo like this cost only 15,000 VND. Too delicious for a dipping bread.
Doan Ket dot bread is also a favorite snack place in Nha Trang not only for locals but also for many tourists. The shop is crowded so often run out of things very soon. The shop is located deep in a small alley so the parking is limited, it is a bit difficult to find the way to. You can go to Doan Ket Street and ask people to find their way into the shop. The shop is only open in the morning and afternoon during the hours of 06:00 – 09:30 and 14:00 – 18:00. If you want to enjoy the famous bread, you can come to the time frame above. Surely you will be completely captivated by this wonderful gift!
15. Papa Churros
Price: 10,000 – 15,000 VND
Origin: Spain
Type: cakes
If you do not like Vietnamese-style snacks, foodies can change to enjoy the "Spanish" flavor of snacks in Nha Trang. Churros – Spanish snack with crispy, long, sweet, delicious, dense crunchy pancakes. Cake feels a bit greasy. The cake looks like a long stick, looks small but it's super quick to eat!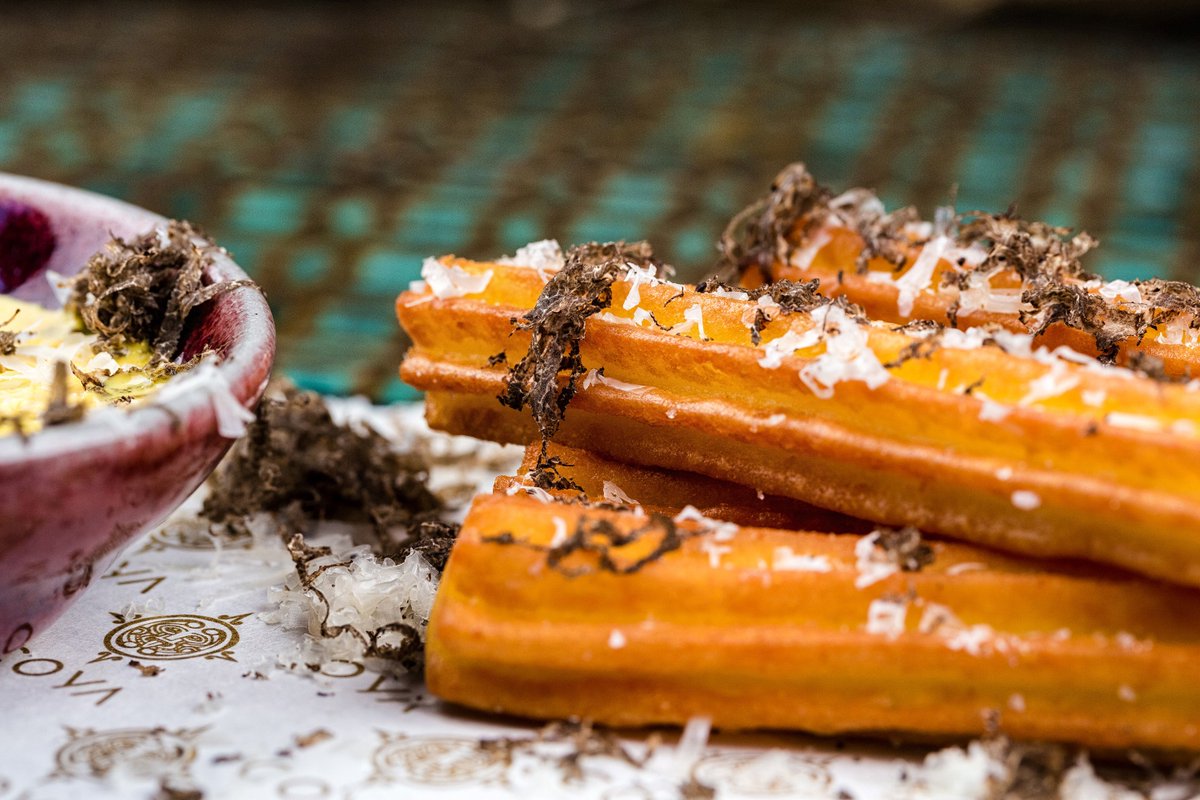 You can choose between 2 flavors salty or sweet depending on your preference. Salty cakes are eaten with hot dogs and cotton balls, the feeling of eating is also much less boring. Sweet cakes with many different fillings for you to choose such as chocolate, coconut, peanuts. The owner is very cute, eat a lot, buy a lot of friends and get a free dessert drink. Combo 5 trees (35,000 VND / 5 plants) are given free 1 glass of cocacola or sprite. The shop is located on the sidewalk of Villa Street opposite Liberty Hotel, right in front of the coffee shop. Coming to 121 Nguyen Thi Minh Khai – Tp. Nha Trang at the time of 4 – 9 pm daily to be able to enjoy Papa churros!
16. Vfruit clean fruit
Price: 15,000 -45,000 VND
Origin: Vietnam
Type: dessert
Fruit is also a favorite food for many people. Fresh fruits can be eaten directly or processed into many different dessert dishes such as fruit tea, ice cream, and smoothies. Looking for a place to sell fresh processed fruits in Nha Trang must include clean fruits Vfruit 24 To Hien Thanh, Nha Trang city. Super clean junk food tp. Nha Trang Khanh Hoa – Vfruit fruit is trusted by many people.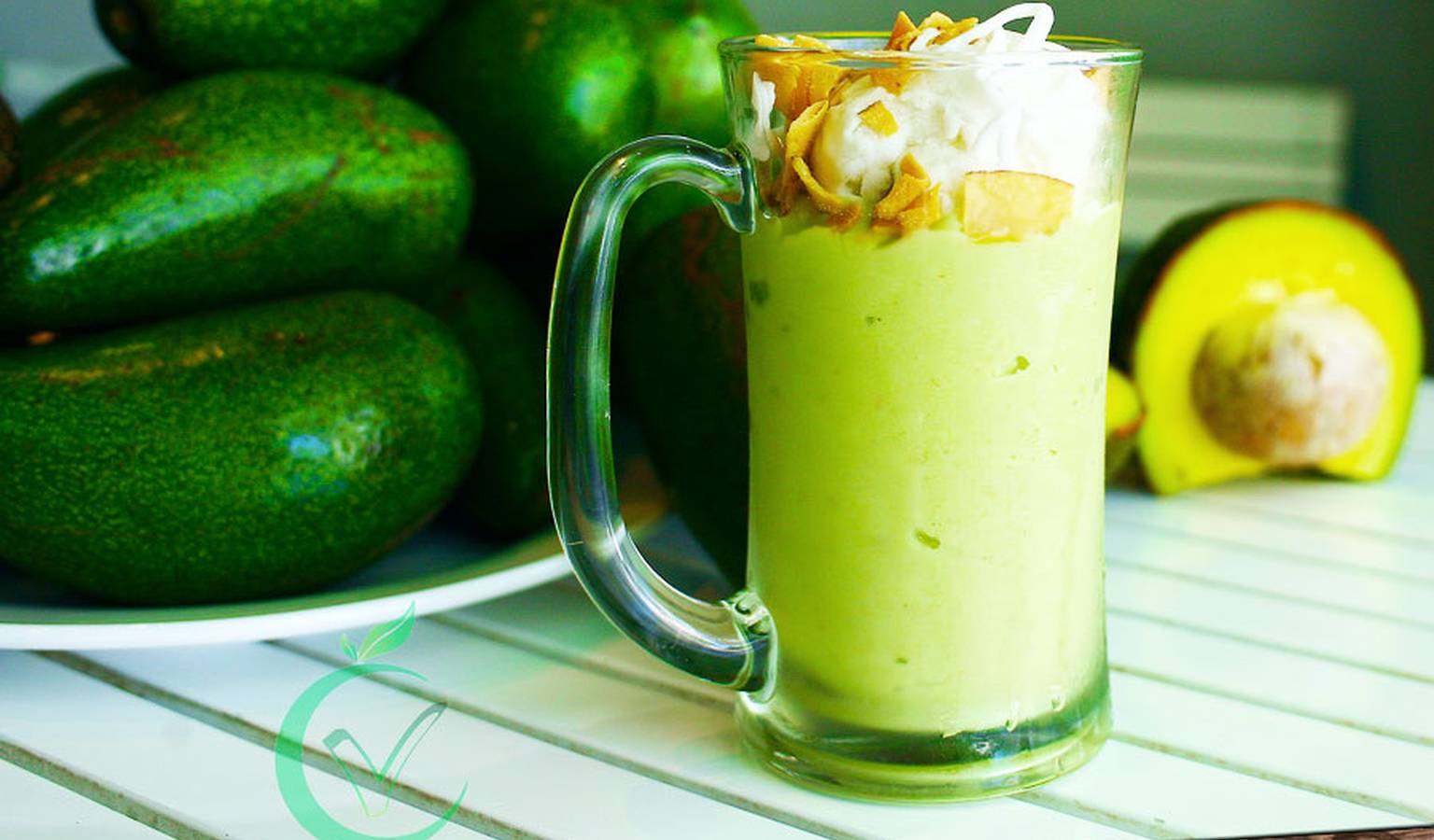 Many visitors passing by the shop sometimes think that the shop is selling so much so but it is not. Shop east because the quality is super delicious and the price is "super smooth". Fresh fruits, diverse types. The most impressive is butter cream. Delicious ice cream without being too sweet, butter viscid, aroma.
Delicious and delicious coconut stir-fry is very enjoyed, buttery and moderate to cool people on hot days. The open space looks fresh and upstairs. However, the bar is sometimes crowded, so guests sit right in front of the restaurant. Although the shop is crowded, the service is extremely fast. Visitors to buy ice cream or fresh fruit all over 5 glasses taken away. You can eat right at the shop, take it home or order via now.vn if you cannot afford to go to the shop to buy it during the lunch and afternoon time from 13:00 to 21:00 with the price ranging from 15,000 -45,000 VND depending on the dish.
17. Phung Phung Cream 110 Ngo Gia Tu
Price: 20,000 – 50,000 VND
Origin: France
Type: dessert / sweet dish
Ice cream is a sweet dish in the frozen form made from milk, fat cream, chicken eggs with added sugar, vanilla, chocolate, or fishpellets whipped evenly crystallized in the form of smooth ice cream. Ice cream was introduced to Vietnam during the French colonial period due to the French recipe for processing to Vietnam. Ice cream is now the most popular dish among young people and children.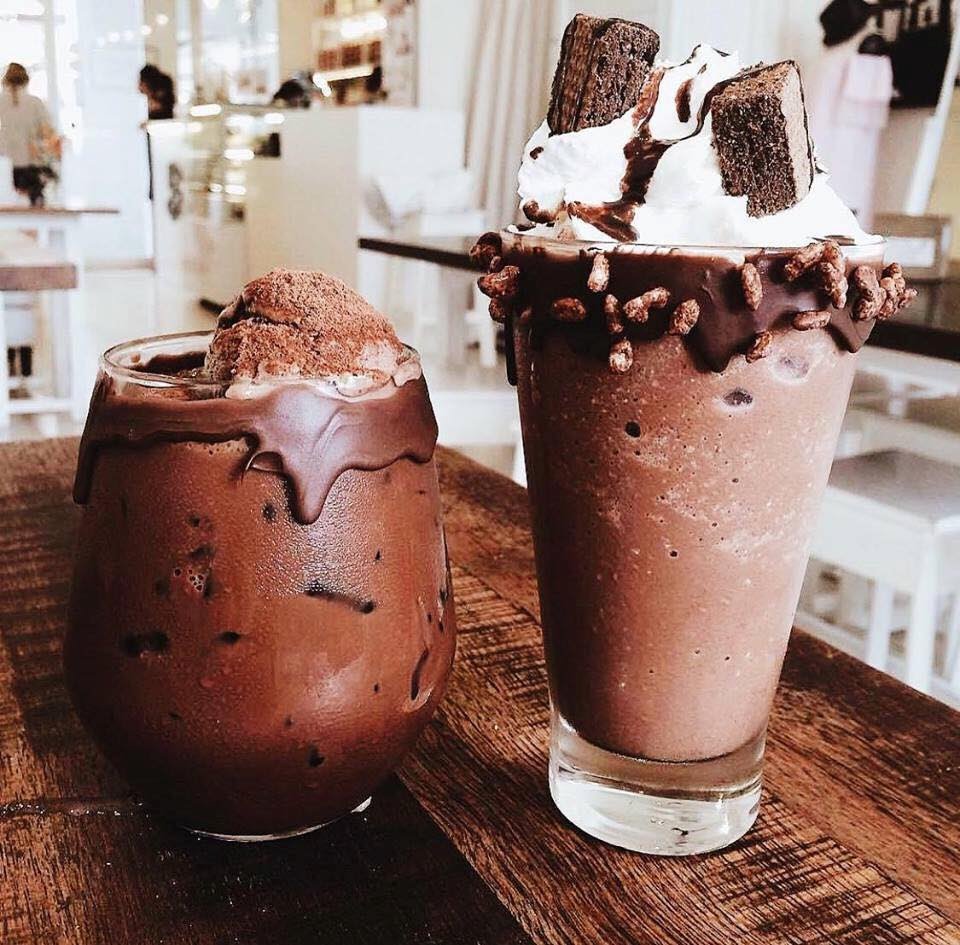 In the list of delicious snacking restaurants in Nha Trang this time, DulichToday would like to recommend to the culinary lovers at Phung ice cream restaurant located on Ngo Gia Tu street. Kem Phung is located at 110 Ngo Gia Tu, impressed by the spacious and beautiful space. Eat off all other Nha Trang snacking restaurants by design style and facade. Phung Ice Cream is decorated with a bright and impressive space. If you are a virtual live team, never miss Phung cream when coming to Nha Trang.
Delicious ice cream, though not too varied menu. You can choose from a variety of ice cream flavors like durian, butter, and chocolate. If you do not like to eat sweet, please avoid the chocolate. Friendly staff, fun. The price of ice cream seems to be higher than in some other places, but if the overall from space to cream quality, DulichToday found that the price of 20,000 – 50,000 VND is too good.
18. Pizza Giang 18/6 Tran Hung Dao
Price: 50,000 – 200,000 VND
Origin: Italy
Type: savory / flatbread
Pizza is an Italian dish with a crust made from fermented wheat flour. The top surface is covered with cheese along with toping many ingredients. Depending on the flavor of the cake, the filling may vary. Pizza served with tomato sauce and chutney. When introduced into Vietnam, pizza is still processed according to the familiar baking recipe. The only difference is probably the smaller sized pizza to better suit the taste of the Vietnamese.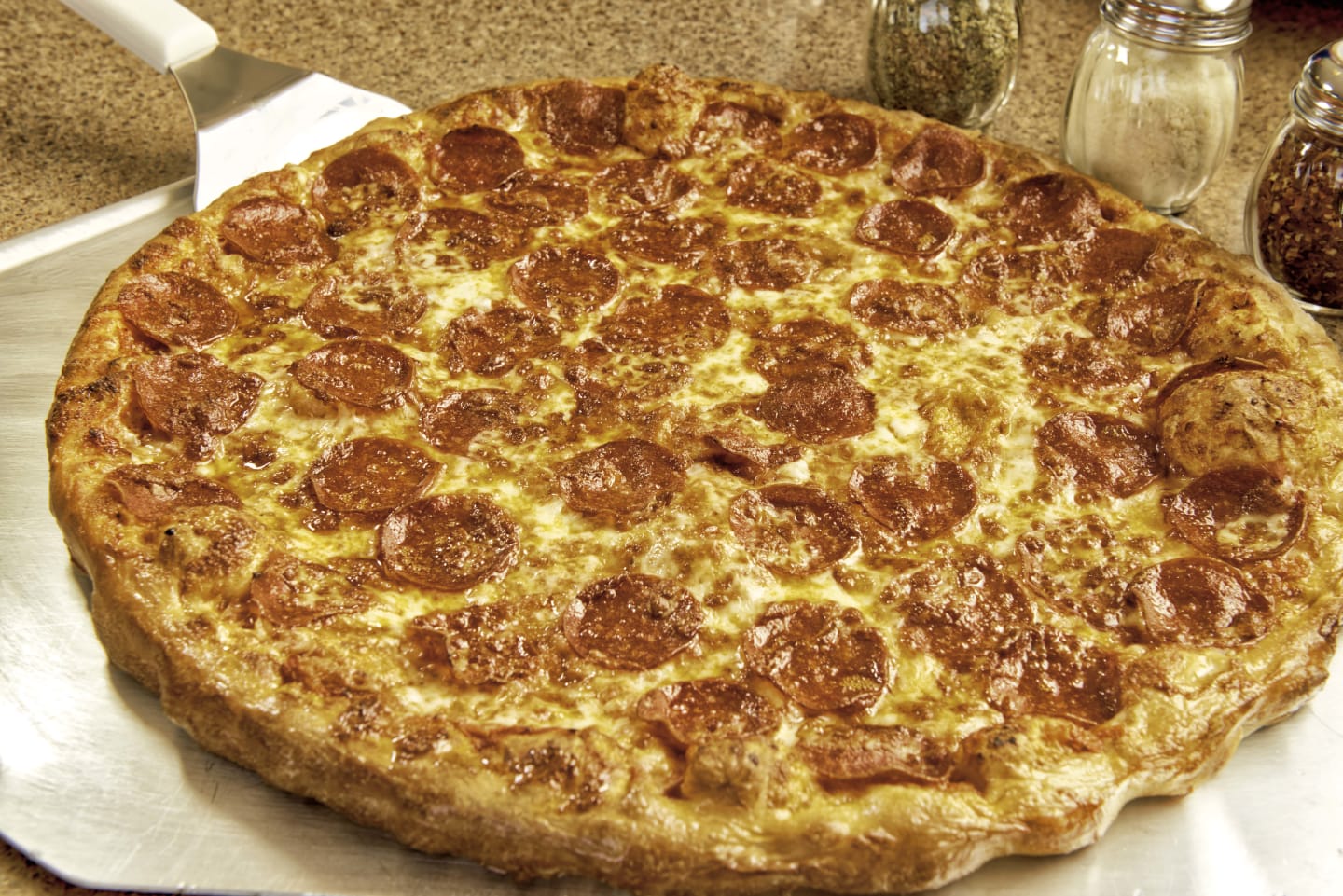 If you are a teen addicted to pizza then traveling to Nha Trang do not forget to visit Pizza Giang. As a famous snacking restaurant in Nha Trang, Giang pizza now has 2 establishments in Nha Trang (June 18, Tran Hung Dao and 97B Van Don). The shop has many different pizza menus with very affordable prices from 50,000 VND – 200,000 VND / 1 serving. The taste is not too dry or too sick or too baked.
Pizza Giang's space is not wide though it has opened upstairs to sit. Pizza Giang has the characteristics of the restaurant, such as the slightly thick and filling base and the base that is not sticking together but a bit loose, but generally good to eat. However, one thing tourists are not very satisfied with is that the price of water sold in Giang is a bit high compared to a pizza shop. The softer water price is great. The restaurant starts to open from 15:00 daily and closes around 21:00. You can come with friends or relatives to Giang Pizza during this time to enjoy many delicious pizza flavors.
19. Hung Thinh Beef Dry Salad
Price: 10,000 – 22,000 VND
Origin: Vietnam
Type: savory dishes
Dried beef salad in Nha Trang is one of the snacks in Nha Trang different from other places. In Nha Trang, eat dried beef salad with fragrant crispy shrimp chips. Beef jerky is not fibrous and reddish like many other places but it is chopped into small pieces, dark dark brown, slightly wet, made from liver and meat. Salad includes crispy shredded papaya, beef jerky, herbs, peanuts added a little soy sauce and chili sauce.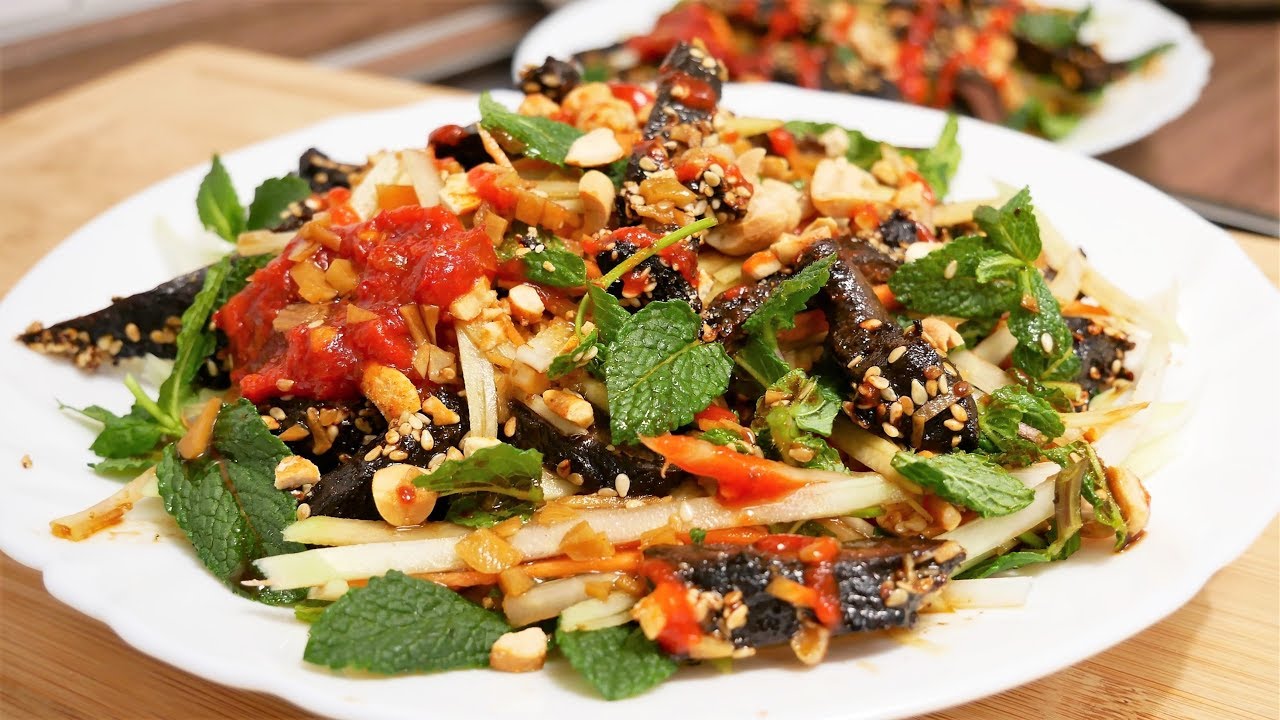 Eating dried beef salad in Nha Trang, you have to eat dried beef salad in Hung Thinh fork at Han Thuyen – Hoang Van Thu. Hung Thinh dried beef salad at Han Thuyen crossroads is one of the oldest restaurant in Nha Trang with people here. Although the price is more expensive and less meat than the previous day, the taste is still the same. Papaya salad here is crispy papaya, meat with more liver than before. If eating on the spot, about 2,000 VND cheaper than bringing it back (perhaps the shop owner charges an extra box). Large staff should serve super fast, wait 3-5 minutes to have things on the table. The shop is near the sea, so it is very cool and only open in the evening from 4 – 9 hours.
You can also call with tofu stones. Homemade stone tofu is very delicious, flexible, fleshy, fragrant and sweet. Combo called cow + tofu boat is 25,000 VND / 1 person per person. If you see some meat, you can order more meat dishes to eat as well. Parking at the sidewalk opposite the shop, someone to watch!
20. Pancake pan
Price: 12,000 – 20,000 VND
Origin: Vietnam
Type: savory dishes
Pancake is made from glutinous rice flour outside. In the cake includes shrimp, meat, bean sprouts are fried gold cast into a circle or double into a semicircle. Pancakes in Nha Trang filled with seafood such as shrimp, squid, scallions. It is these added ingredients that make the characteristics of Nha Trang pan and pan different from other regions.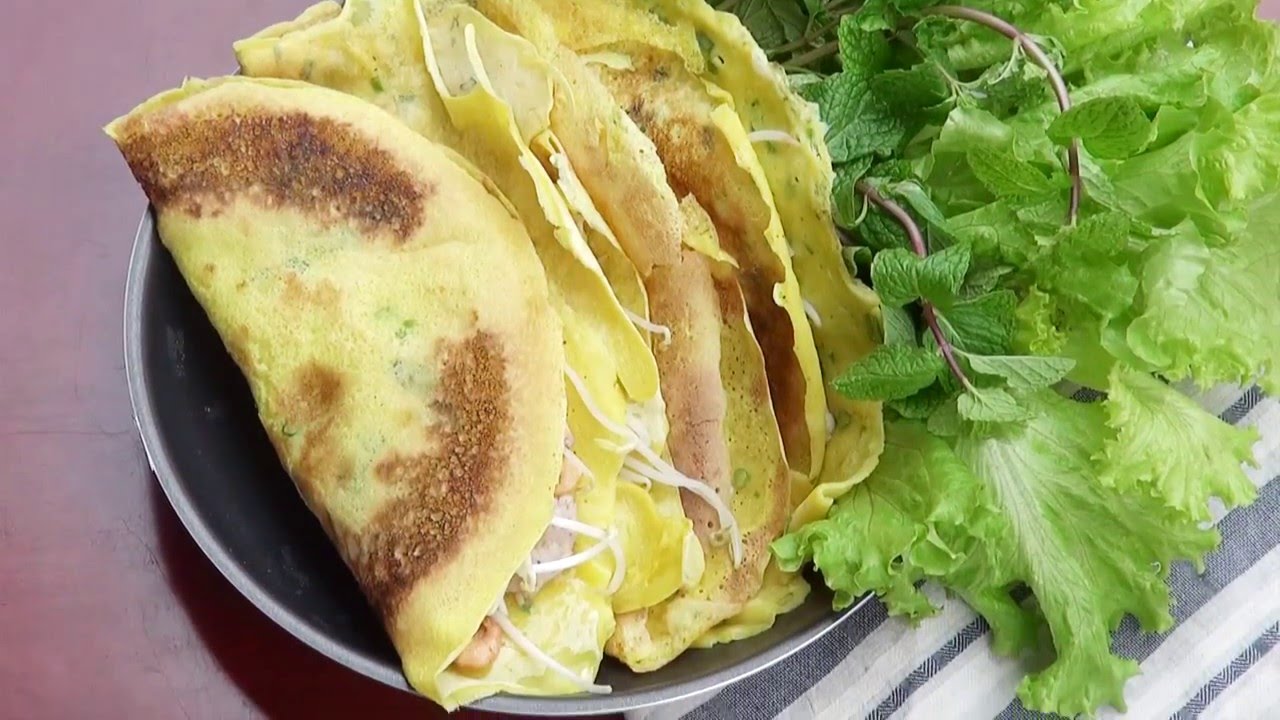 If you are a fan of pancakes, don't forget the pan cake at 87 Hoang Van Thu Street in Nha Trang. Super quality pancakes with delicious filling. You can choose mixed cakes served with raw vegetables dipped with sweet and spicy chili sauce.
Favorite is the crunchy bread. Crispy tan cake, yellow. The price at the restaurant is super loving with only 15,000 VND for 1 mix cake. Other human cakes are also different but are not too expensive. The shop is open from 3 pm and the most crowded around 5 pm-7pm. So if you go in when crowded you may have to wait quite a long time. But a good cake is worth the wait.