Nha Trang Bay Management Board: Propagating to keep the green environment and fight plastic waste!
In response to the National Tourism Year 2019, the Nha Trang – Khanh Hoa Sea Festival Program in 2019 and the World Environment Day 05/6, World Ocean Day June 8, Vietnam Sea and Islands Week In 2019, Nha Trang Bay Management Board organized propaganda programs with the theme "Keeping green environment, combating plastic waste", attracting women and youth union members in coastal communes and wards. .
In the afternoon of 10/5/2013, at the hall of Vinh Tho Ward People's Committee, the propaganda program with the participation of nearly 20 women from the residential groups led by Nha Trang Bay Management Board, organized in collaboration with Division of Natural Resources and Environment, Nha Trang Women's Union, Women's Union of wards: Vinh Tho, Vinh Hoa, Vinh Phuoc.
Nha Trang Bay Management Board has propagated about solid waste solution according to 3R principle (minimize, reuse, recycle) and guide the use of environmentally friendly alternatives (such as: plastic bags containers of biodegradable foods, paper cups, bagasse …); then divide the discussion group into topics, present results, announce awards, and have additional questions for the audience.
The program is a useful playground for women to exchange, learn and improve their knowledge on environmental protection, biodiversity protection and marine environment in Nha Trang Bay and thereby widely propagating for family and surrounding community.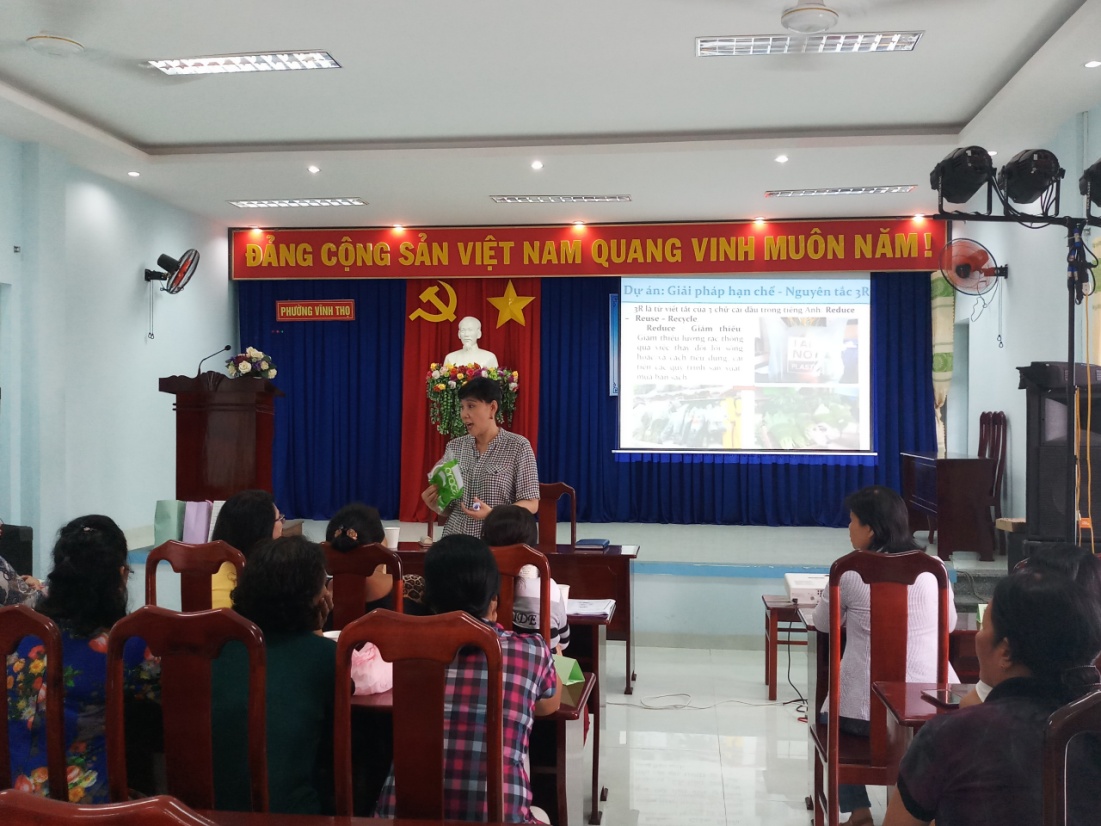 View of the propaganda session
Members join the discussion
At the same time, on the morning of May 11, 2019, the unit coordinated with Youth Union members of 05 coastal communes including Vinh Nguyen, Vinh Truong, Vinh Phuoc, Vinh Tho, Phuoc Dong and employees of business units. services on the sea (Sailing Club diving club, Tri Nguyen Co., Ltd, Vinpearl …) organize a propaganda and collection of floating waste at Cau Da tourist pier, Bao Dai port, Nam Hon cape Bamboo, Tri Nguyen jetty, Tri Nguyen Aquaculture area, Quan Truong estuary, Vinpearl jetty.
As a result, 8 bags (50 kgs) of rubbish floating on Nha Trang Bay, mostly foam boxes and nylon bags. Through the program content, participants are more responsible for the overall environmental protection of Nha Trang Bay.
The youth union members are participating in scavenging
Hoang Vy